Microsoft Publisher for Mac Alternative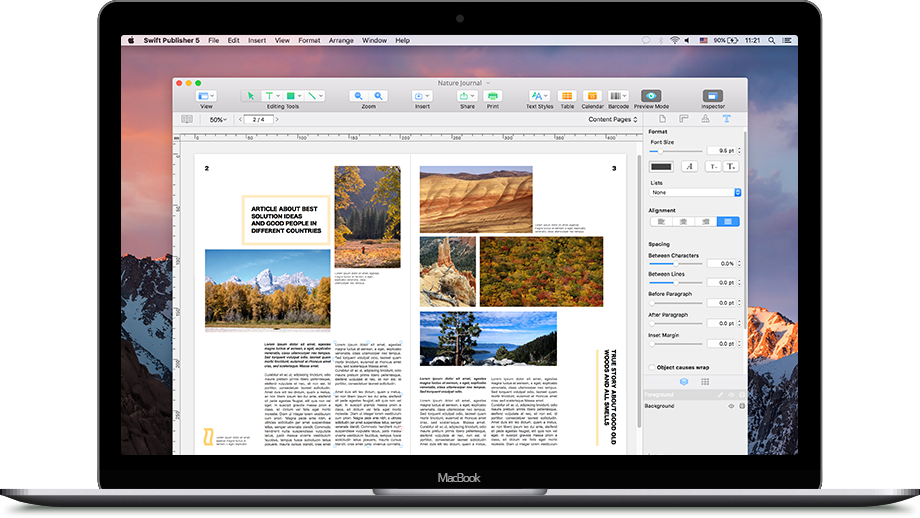 If you've just made the transition to the Mac and were using MS Publisher as your desktop publishing application, it's likely you will be looking for an alternative. That's where Swift Publisher for Mac comes in handy.
It's a native Mac application, which means it doesn't depend on the Internet such as browser-based applications and takes full advantage of your Mac's power and capabilities. Plus, it supports iCloud Drive, so you can easily access your documents from any iCloud-enabled Mac.
Whatever your project is, you can print it out with your home printer, have it printed by a printshop (thanks to advanced export to PDF or TIFF), or share on a social network.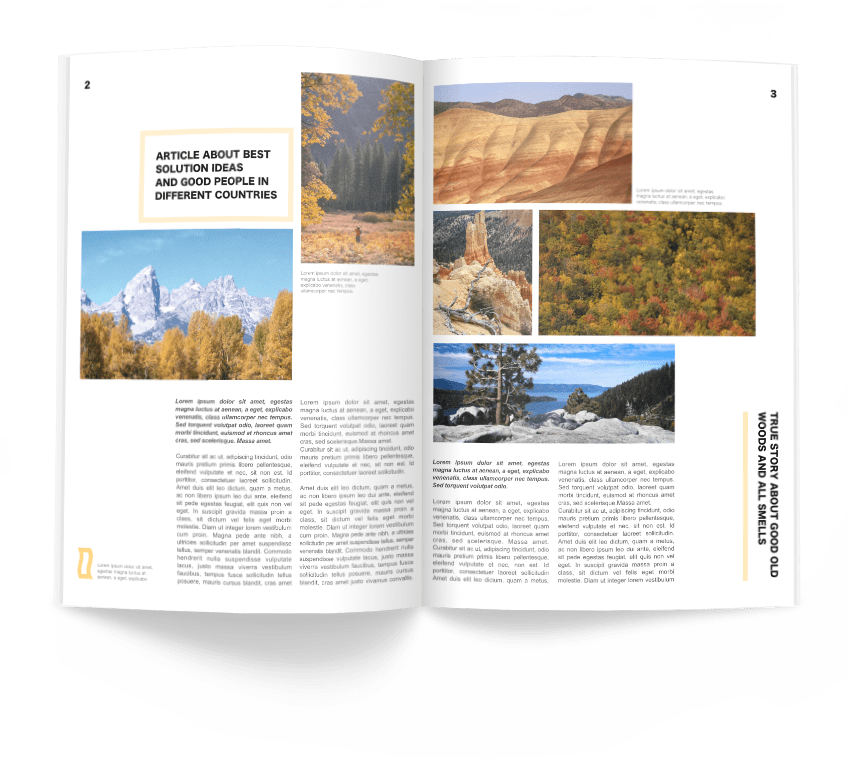 Diversity of Projects
Flyer or magazine—Swift Publisher does it for you!
Choose Your Size
Whether you need a single-page flyer, a tri-fold brochure or a multipage magazine, you can rely on Swift Publisher for Mac. In addition to an extensive set of pre-defined document sizes, you can set a custom page size, orientation, units of measurement and other settings.
Books and Magazines are Welcome!
Books and magazines are often designed as spreads (facing pages), so that the content can be spanned across the spread. That's where the Facing Pages mode in Swift Publisher comes to good use.
A One-Stop Solution
You don't need to look any further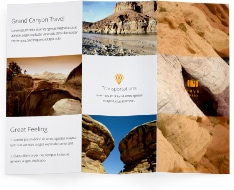 Ready-Made Templates
Jump-start your projects using any of over 200 templates created by professional designers. All you need is replace the placeholder text and images with your own ones.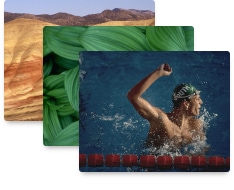 Royalty-Free Images
The app comes with about 2,000 royalty-free images, and over 40,000 are available as an in-app purchase. For anything beyond, we offer integration with one of the largest online clipart collections containing over 50 million of stock images and vector drawings.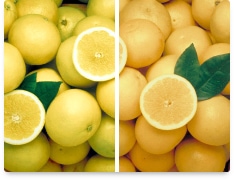 Handy Extras
With Swift Publisher, you also get a feature-rich image editor and a collection of stylish 3D headings—at no extra cost.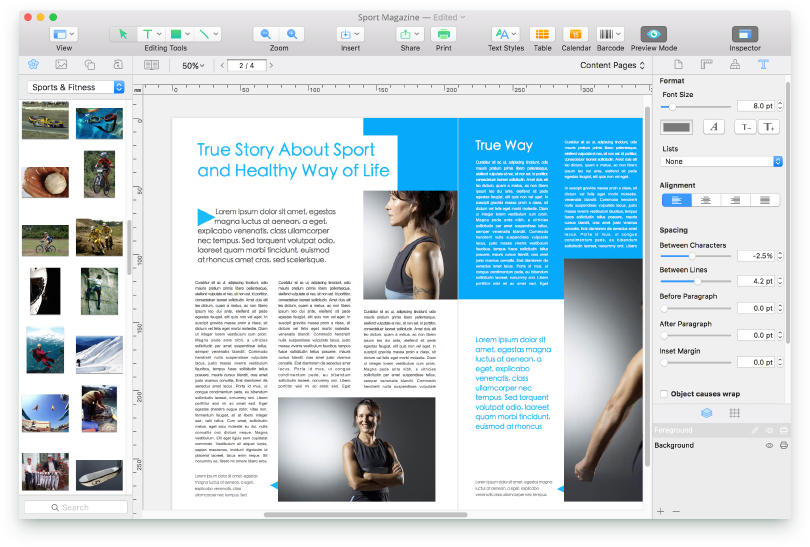 Affordable and Intuitive
Smooth learning curve and low price
It's Easy!
Swift Publisher, being a great Microsoft Publisher for Mac alternative, is very straightforward—it only contains a handful of tools and relies on drag and drop. A series of video tutorials explains all the main aspects of working with the program in less than an hour.
No Subscription
We know software subscription costs can eat away at your budget, that's why we set a flat fee for Swift Publisher. Unleash your creativity and get professional results for the price of a couple of movie tickets.
Robust Capabilities
Power at your fingertips
High-End Layout Tools
Swift Publisher is a powerful Mac alternative to Microsoft Publisher providing the features that are usually found only in expensive DTP packages—Master pages, guide lines, grid, layers, tables and many more.
Mail Merge Tools
Use data from Apple Contacts or a text file to boost the personalization of your newsletters, cards or letters.
Industry-Standard Barcodes
Create barcodes of most popular types such as QR, EAN, UPC, Data Matrix or Code 128 to label your products, publications or store links to your website.
Calendars and Maps
The smart Calendar object lets you design monthly or yearly calendars in a snap. Then Google Maps integration makes it easy to display directions on your flyer or brochure.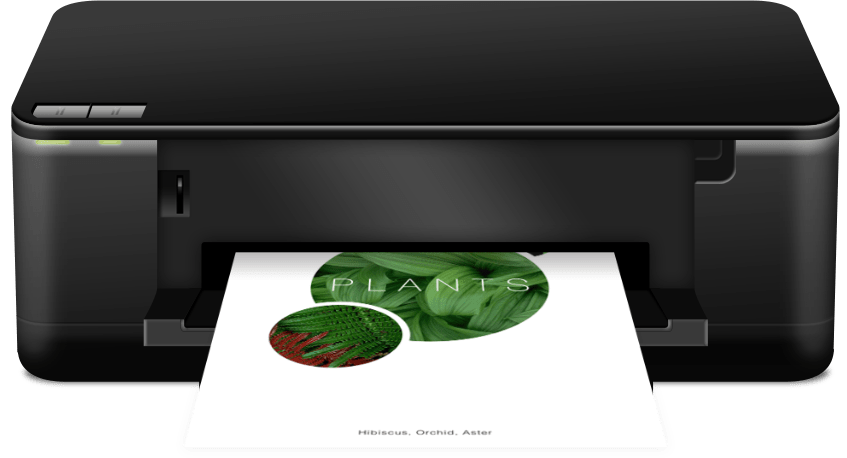 Professional Output
Publish in a way which is best for your audience
Print It at Home
That's the fastest and easiest way for small circulations. Thanks to our Booklet printing feature, the software lays out the pages two per sheet in such a way that you get a single book with the correct page order.
Have It Printed
Should you choose to take your publication to a commercial printshop, it's easy, too. With Swift Publisher, you can control the resolution of images, output texts as curves, set bleeds and cut marks to meet the requirements of a print shop.
Share It
You can share your creation on Facebook or Twitter with one click, or send PDF by e-mail. Besides, your documents can be saved to iCloud.
Swift Publisher 5
Desktop Publishing Software for Mac