Layout
Rulers
Rulers can be displayed along the top and left sides of the canvas.
To show or hide rulers, use View > Show Rulers and View > Hide Rulers (Cmd-R) in the menu.
The zero coordinate of any page is its top left corner. The exact position of an object is defined by the top left corner of its selection frame.
The measurement units for the rulers and controls in the Inspector are indicated in the corner of the rulers. To quickly change the measurement unit, click on the current measurement unit in the rulers' corner, for instance "in", and choose another measurement unit. Alternatively, you can choose measurement units in the Document tab of the Inspector.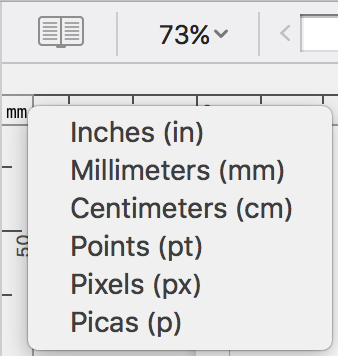 While you are moving an object with the mouse, the rulers display the coordinates of its center and sides.