Edible Printing 101: Fall-Inspired Designs
Edible printing allows you to add special customized designs onto cakes, cookies, and other treats using safe, food-grade inks. With a specialized printer, you can easily make your baked goods unique for each season or celebration. With the Fall season approaching, creators and bakers have the chance to try their hand at printing autumn leaves, pumpkins, apples, squirrels and cute themed illustrations–all to eat. Read on to learn some easy edible printing basics and get inspired for the season.
What Is Edible Ink Printing?
Edible ink printers apply an image from your digital screen onto icing sheets or icing paper using edible ink coming from an ink cartridge. The edible paper is then cut to size and placed on cupcakes, cakes, cookies or any other baked treats. The designs you make transfer directly onto the item, for an artistic customizable finish.
Another way to do edible ink printing is referred to as DTF printing or direct to food printing. DTF printing is the method for specialized printers to print directly onto the cookies, cakes or macaroons themselves. Edible ink printing offers an easy way to uniquely customize treats according to the season. This Fall is a perfect time to get your ideas started and try out printing on treats you can eat!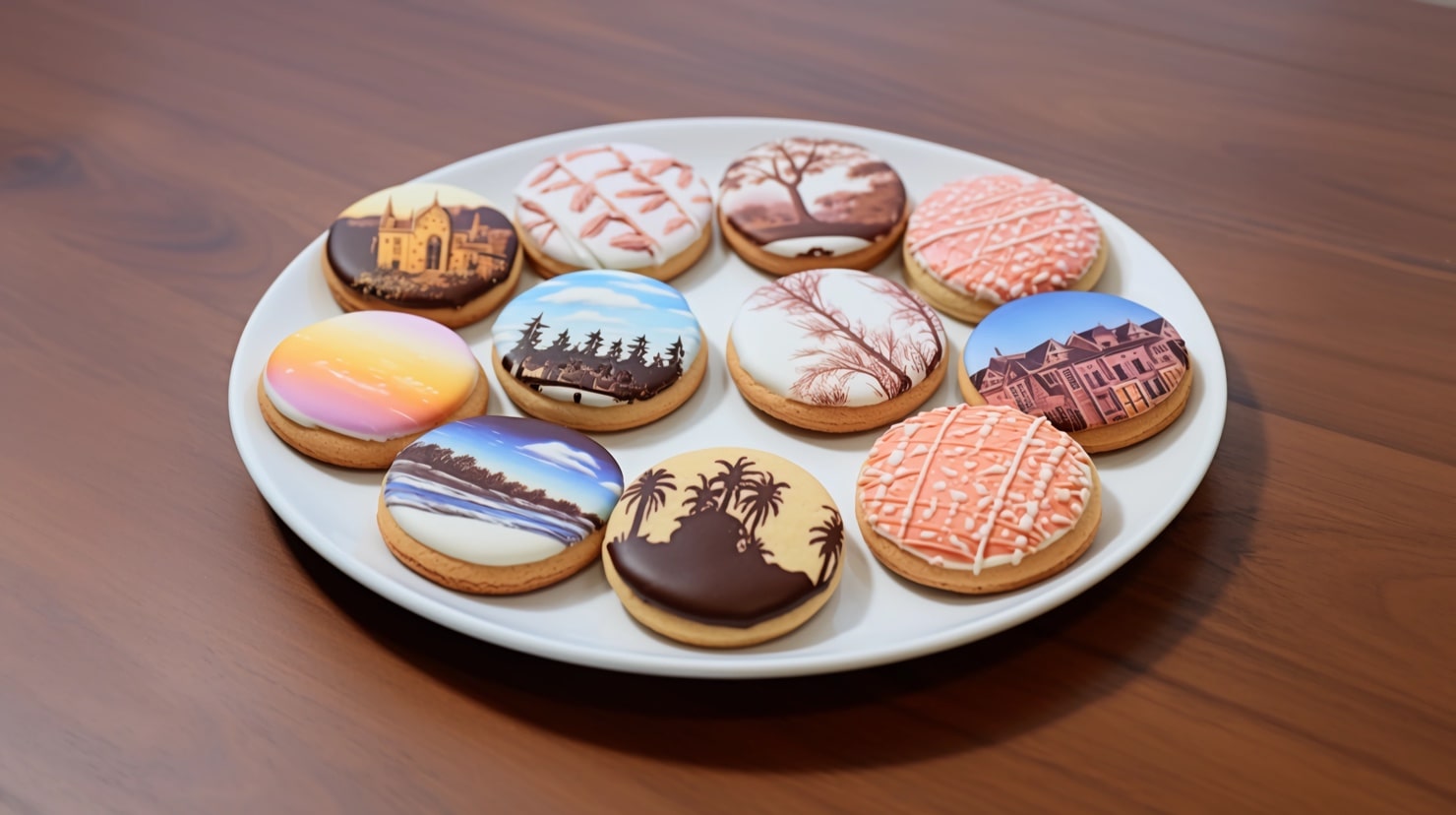 Essential Tools for Edible Ink Printing
An edible ink printer is a specialized tool that only uses safe to consume inks. There are many versions of printers, ranging from $250 to over $4000 for professional heavy-duty ones for large cookie quantities. If you're not ready to invest in a printer yet, you can still create your own digital designs, and send them to an edible ink printer at a local bakery or on Etsy. These services print your designs and mail them to you on edible sheets of ink. Then you personally punch out the rounds of ink or cut out the shapes, then apply the designs to your cookies or cupcakes.
If you are planning to purchase a printer, make sure you can find edible ink readily available that is compatible with the printer you choose because not every ink is interchangeable with each printer.
Embracing the Fall Theme
Autumn is perfect for creating designs that work with all kinds of baked treats. Fall lends itself to all the warm colors, such as orange, red, yellows and ochres, brown and tans, and various shades of green. It's also a season with many design options for various holidays like Thanksgiving and Halloween, for harvest time and the start of football season.
Fall is a time for embracing warmth as the weather changes, so imagine cozy afternoons sipping apple cider, going on a hayride, or wrapping in a scarf to walk in the windy weather as the colorful leaves swirl around you. Popular Fall patterns are plaids, like those worn on warmer clothing and things with a nature motif, like patterns of leaves or woodland mushrooms and little forest animals before they hibernate. There are so many enjoyable fall traditions that have their own icons to incorporate into designs you can print on your confections.
Creative Ideas for Your Cookies
For Harvest party, try designing:
Maple leaves
Oak trees
Apples
Acorns
Pumpkins
Pine cones
Squirrels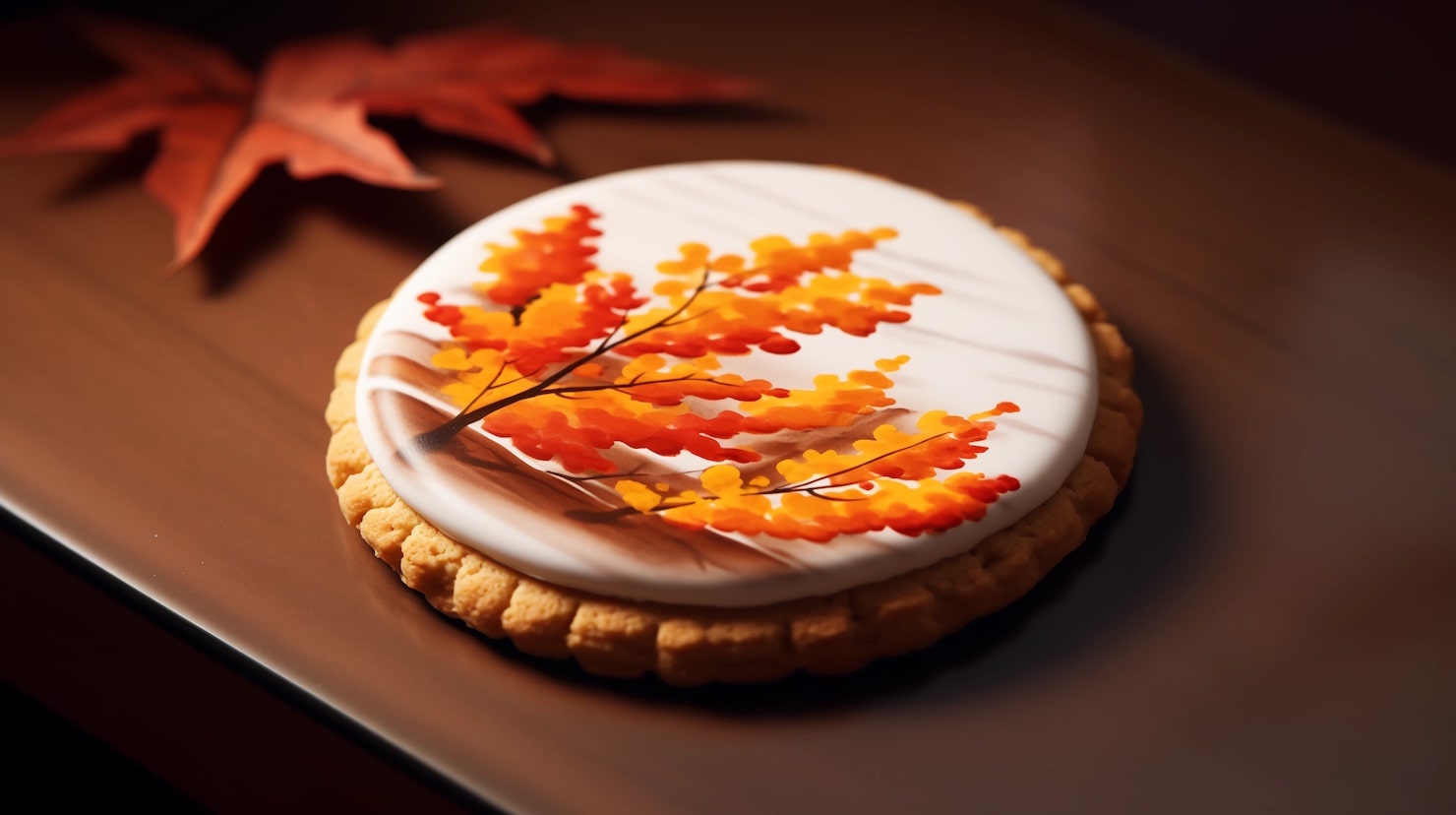 For Halloween, you might draw:
Bats
Pumpkin decorations
Ghosts
Spiders and spider webs
Witches hats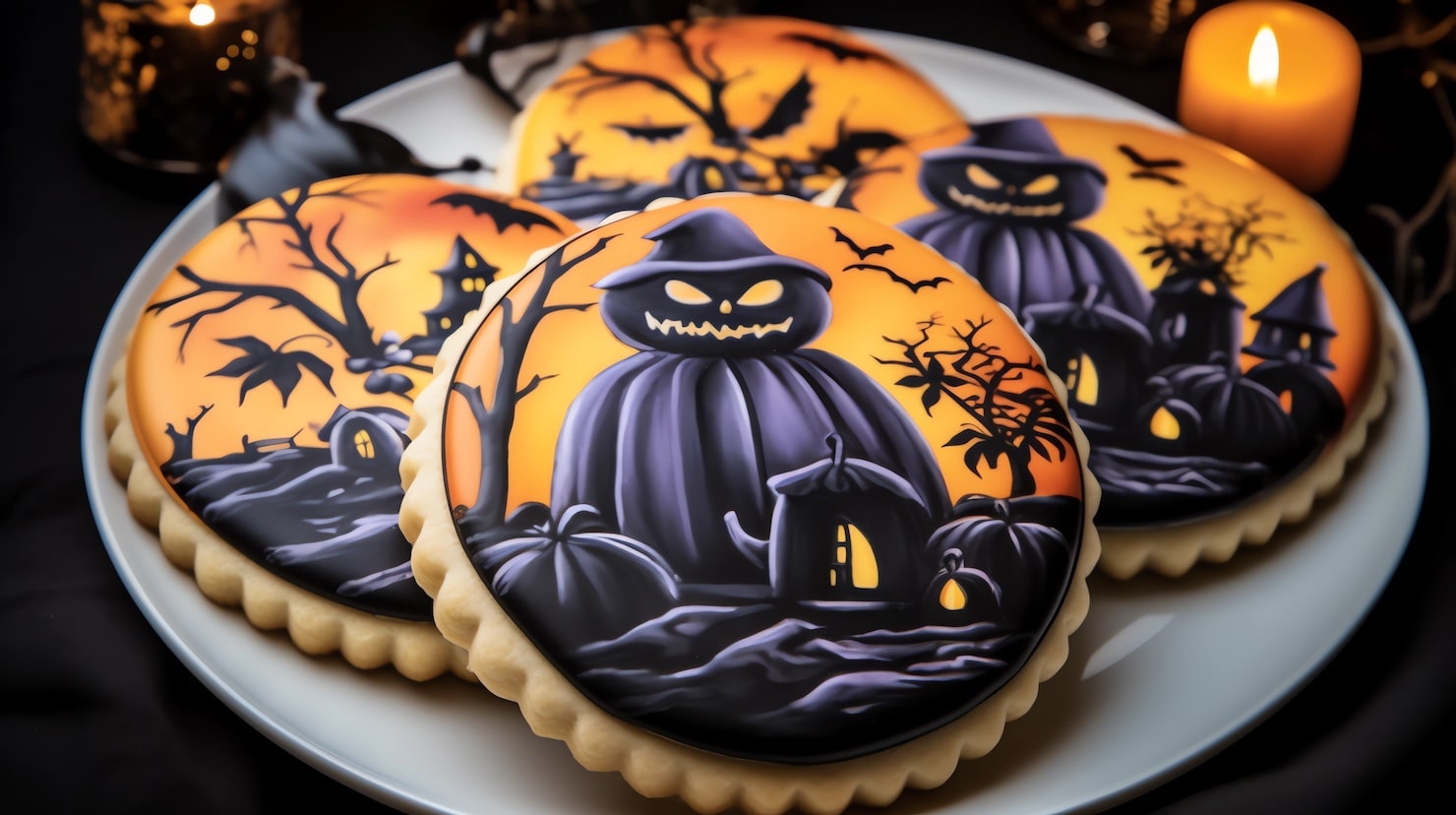 For Thanksgiving, there are loads of ideas like:
Turkeys
Autumn wreaths
Squashes and gourds
Pilgrim's hats
Phrases like "Thankful" and "Give thanks"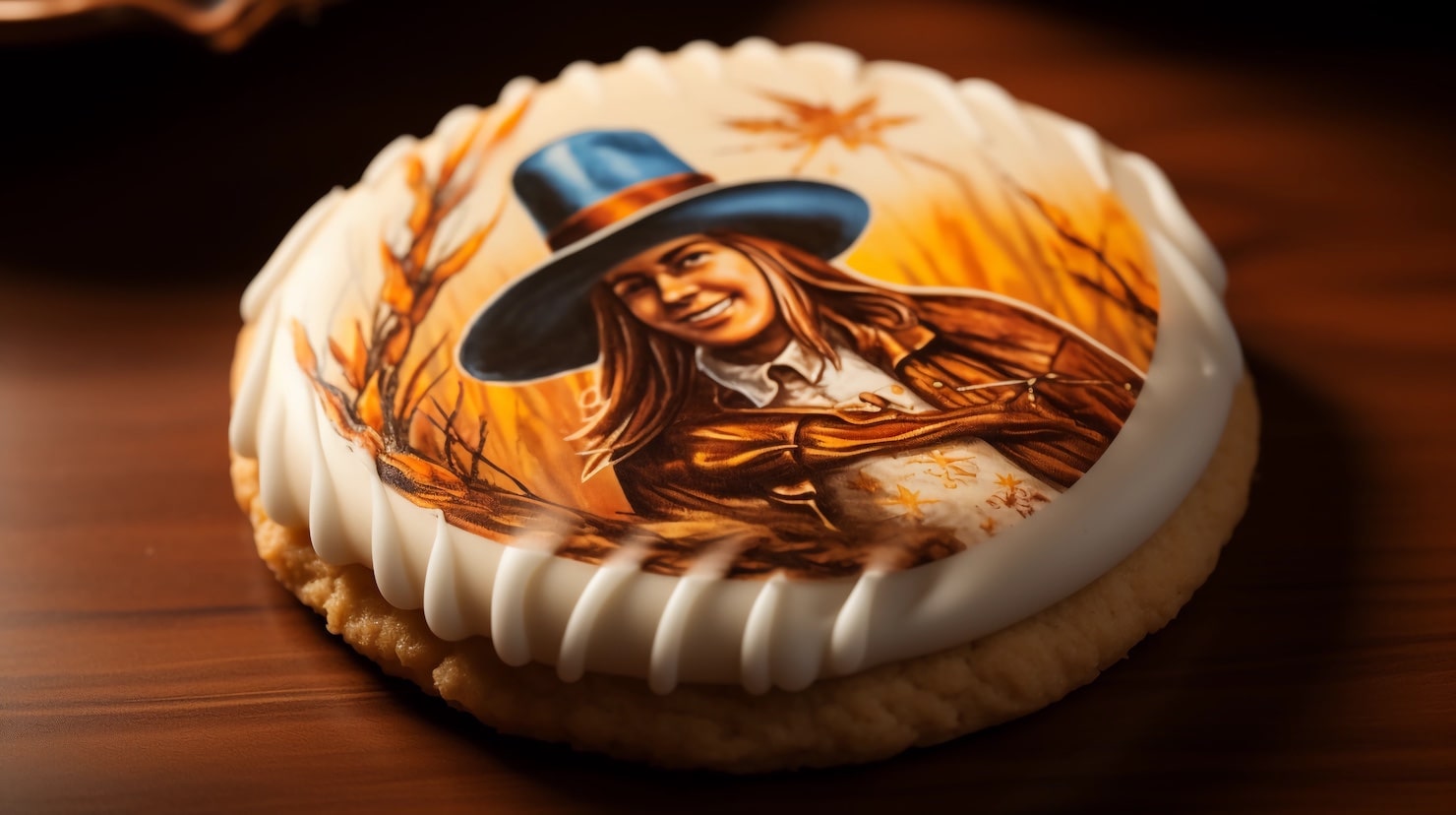 For football fans these are popular ideas:
Favorite football team mascot or logo
Names written in colors of their favorite college football team
A football helmet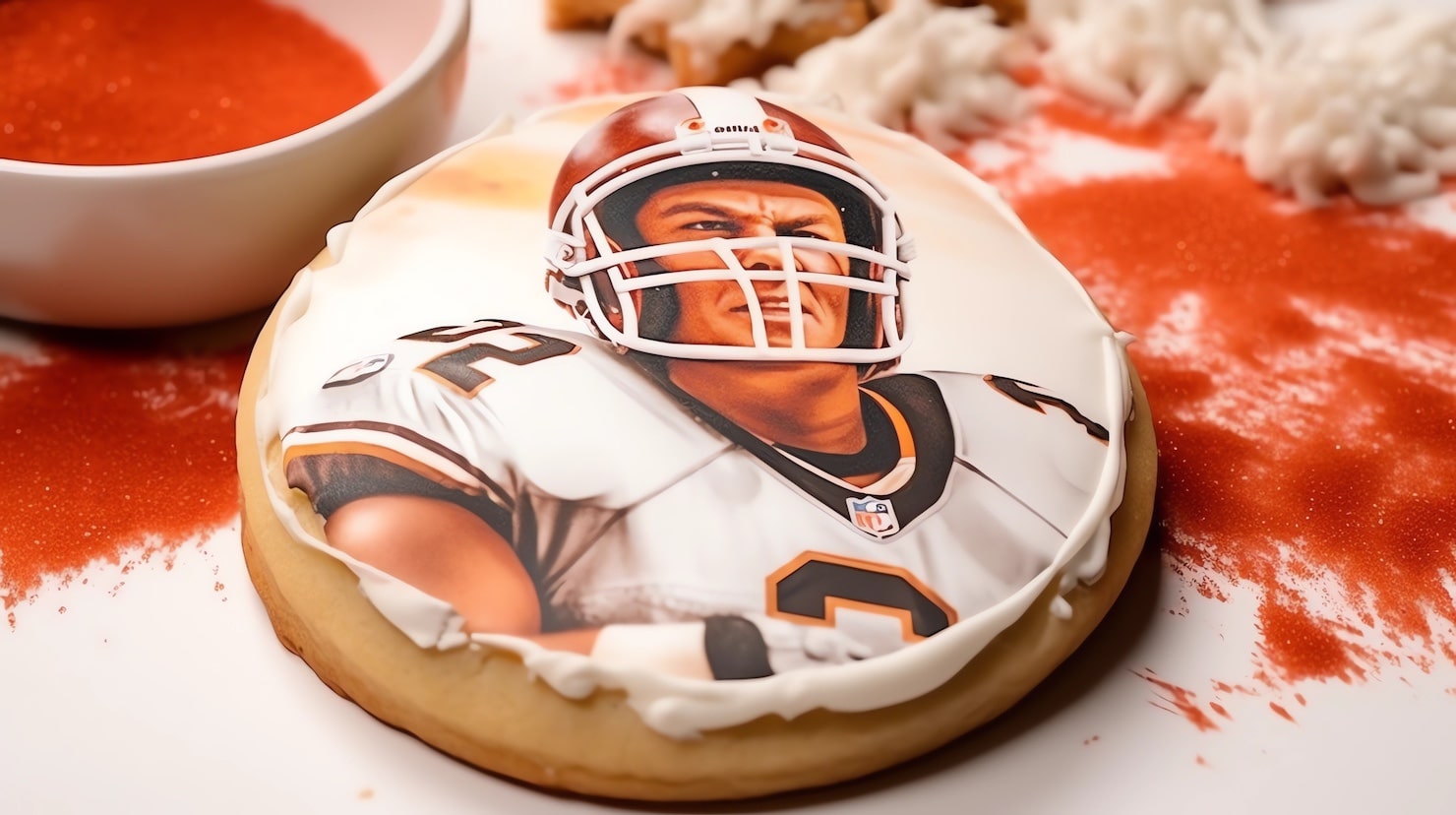 Edible ink printing also opens up many possibilities for seasonal goods to give, eat and share with friends.
A few ideas are:
Print orange and red fall leaves right onto a spice cake–or simply your favorite cake.
Top sugar cookies with printed maple leaves, mini pumpkins or pine cones.
Personalize Thanksgiving-themed cookies with guests' names for each person at your table.
Design an edible "Happy Thanksgiving" banner to place on a pie crust atop an apple or pumpkin pie.
Surprise trick-or-treaters at Halloween with customized silly monster faces on mini cookies.
Make mini pumpkin loaves and print pumpkins with pretty vines for the tops to give to school teachers or neighbors.
Give out Halloween cupcakes to family or neighbors with sayings like "Boo" and a ghost or a spider web.
For friends gathering to watch a football game, make cookies, and decorate half the batch with the logo of one team and the other half with the opposing team's logo.
For football fans, make a cake with a football field scene, complete with players and a scoreboard showing their team winning.
The options are open to imagination when you use edible printing to decorate desserts. The receivers of the goodies may find them so beautiful that they're hard to eat! One bit of the tasty edible icing, however, will convince them that it's not just ink.
Quick Tips
When exploring the theme, keep these tips in mind:
Allow the edible icing to dry completely before you work with it, so ink won't smudge or bleed.
Print designs in mirror image mode so they transfer the right way onto the baked goods.
Use a gentle touch when you place the prints onto food surfaces.
Store unused icing prints between pieces of parchment paper to prevent sticking.
Clean the edible printer head regularly so the quality of your printing stays sharp.
If you're careful, edible prints will transfer cleanly to your chosen treats for beautiful and impressive results.
Wrapping Up
Edible printing means that even if you're not a professional using icing and a piping bag, you are not limited to creating amazing artistic cakes, cupcakes and cookies. You can personalize any confection you dream up, with just an edible ink printer and some creativity.
A simple and easy way to plan and design for edible printing is to use Swift Publisher for Mac. You can use the pro drawing tools, gradients and shadows and all kinds, plus shape clipping masks to bring your designs to a professional level. You can also use layers to make complex designs. Using layers make scenes that incorporate text easier to design and edit.
Swift Publisher allows you to design circular text, or curved text in any style and font you can think of, which makes it easy for designing text for round cookies, macaroons and cupcakes. It's easy to design the shape you need for your treats, using the layout tools so you get the dimensions just right.
With a specialized printer and some creativity, you will enjoy creating fun and delightful autumn-themed motifs to make your desserts ready for gift-giving or setting out at any table. This fall, embrace edible printing to take your baked gifts and treats up a notch.
Published: September 2023