Comprehensive Guide to Flyer Sizes
From standard dimensions to unconventional options, learn about the various flyer sizes available and explore expert advice on effectively placing them to maximize visibility and engagement.
The Importance of Flyers in Marketing
Printed flyers are not new to the marketing world, but they are still one of the most effective ways to physically promote a business or product or display information. Flyers can be distributed in many ways. They can be passed out by hand to people walking by, posted on bulletin boards or signposts in public places, left on car windows or inserted into envelopes and mailed. Flyers are economical to produce and can be printed on something as small as a home printer. That's why they have become a cost-effective marketing piece for businesses and individuals. Flyers are particularly useful for small businesses with limited marketing budgets because they can reach a large audience quickly.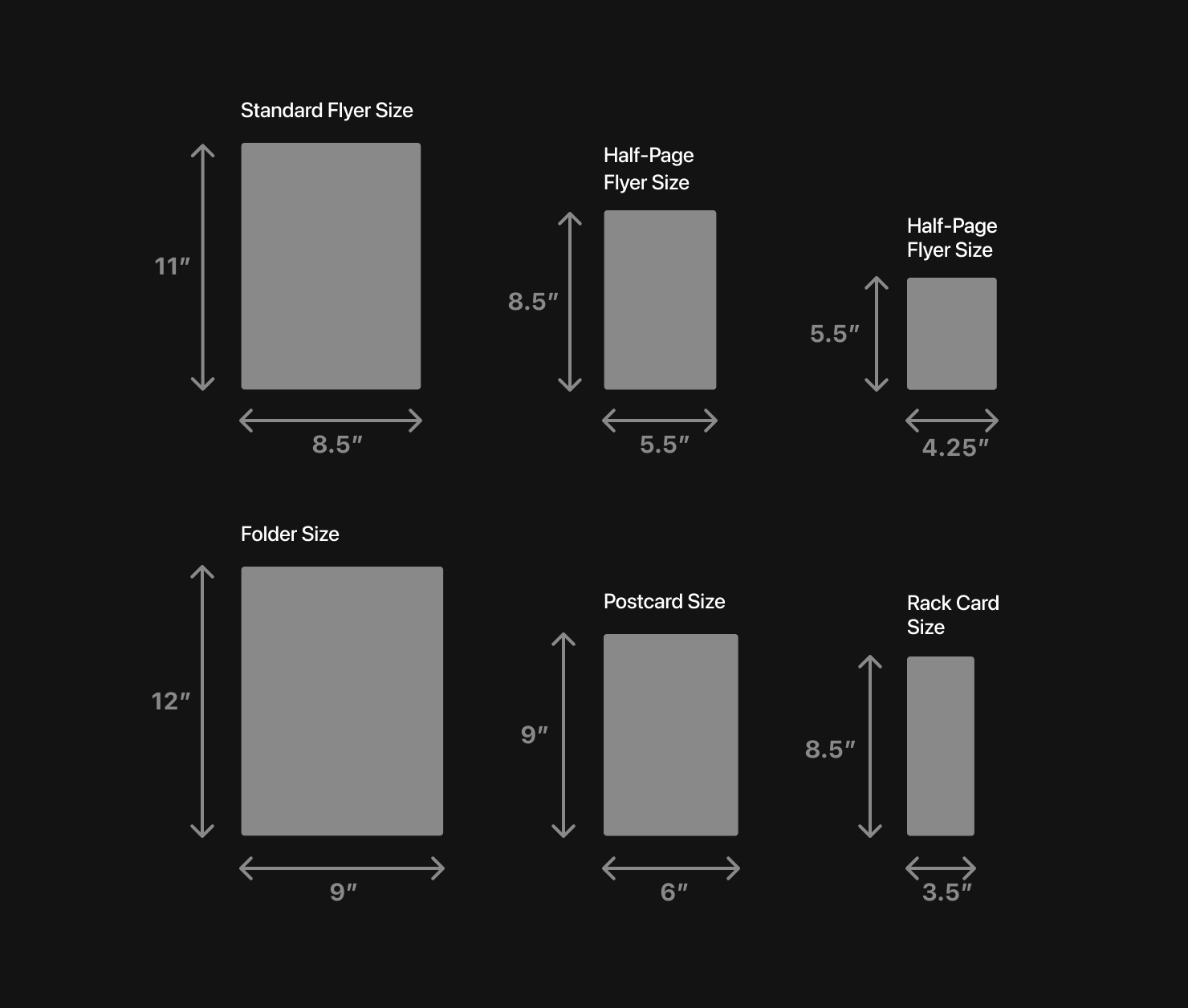 Your Guide to Flyers
As a time-tested way to advertise in print, you might want to consider flyers for your own marketing efforts. In this article, we'll discuss all the standard sizes of flyers and explain in detail how you can create one. This guide will help you understand everything you need to know about flyer sizes, so you can decide what type will work best for your purposes.
Flyer vs. Brochures
What is a flyer and how is it different from a brochure? Flyers are simply unfolded sheets of paper that contain promotional messaging or information in the form of text and images. Brochures are flyers that are folded, usually into thirds. Flyers are a useful format to use to attract visual attention and capture a few important points all at once on a page.
They are often used for these marketing purposes:
A promotional event, like a sale
A business opening—for a restaurant, bar or service business
A political candidate's campaign
A concert, play or local event
A fundraiser
A sporting event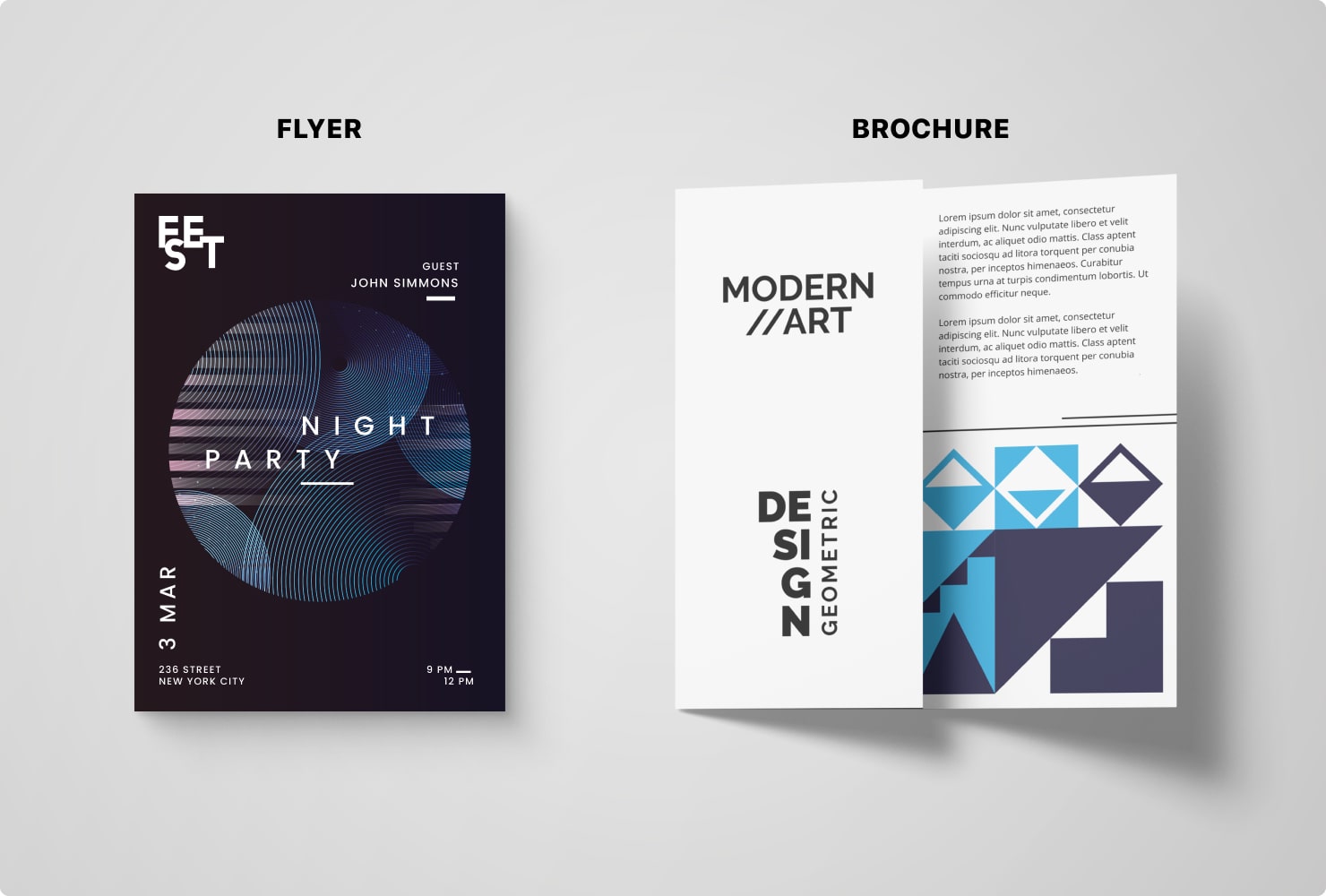 Flyer Sizes
Here are some flyer sizes, starting from the standard ones and moving to more original options, so you can indulge your imaginative ideas or requirements of your pickiest client.
Standard Flyer Size
The standard flyer size is 8.5″ × 11″ or, in North America, a sheet of printer paper. In the rest of the world, A4 is the standard size, or 8.27″ × 11.69″. This is the best option when there is a lot of information to include, such as menus, event schedules or product catalogs. Standard size Flyers work well for displaying on a bulletin board or wall.
Half-Page Flyer Size
The half-page flyer (5.5″ × 8.5″), or A3, is a good size to choose if the information to convey is succinct, like event announcements or product launches. Half-page flyers are easy to distribute and can be handed out in public places or posted in high-visibility areas. These are also a good size for simple mailers without an envelope.
Quarter-Page Flyer Size
The quarter-page flyer size is 4.25″ × 5.5″. This size is ideal for promoting sales, discounts or limited-time offers. This size is economical, since one full sheet of paper yields four flyers. This is a perfect size for handing out in high-traffic areas, like public transportation centers or shopping malls. The drawback of this size is that there is not a lot of room for text, so the message must be concise and the use of images limited.
Rack Card Size
This size flyer (3.5″ × 8.5″) is perfect for stacking in a stand on a countertop or desk at a business. Rack card flyers are ideal to convey information about a promotion or a description of a service. They are an easy size for customers to pick up and take with them. This size will also fit in a standard envelope for mailing.
Postcard Size
This size (6″ × 9″) is perfect for mailing. It is often used for a full-color image with a small amount of text, such as an ad for a new business or a real estate offering.
Presentation Folder Size
This is a unique size (9″ × 12″) for a flyer that can also take the form of a presentation folder to hold standard size documents. This size could be the right choice if you need to present a luxury image and have a lot of information and several images to show.
Choosing the Right Size for Your Marketing Materials
When choosing a flyer size, consider budget, the information to be included in the marketing message and whether the flyer needs to contain images, text or both. Think about where you plan to distribute the flyers, since distribution plays a major part in choosing the appropriate size of your materials.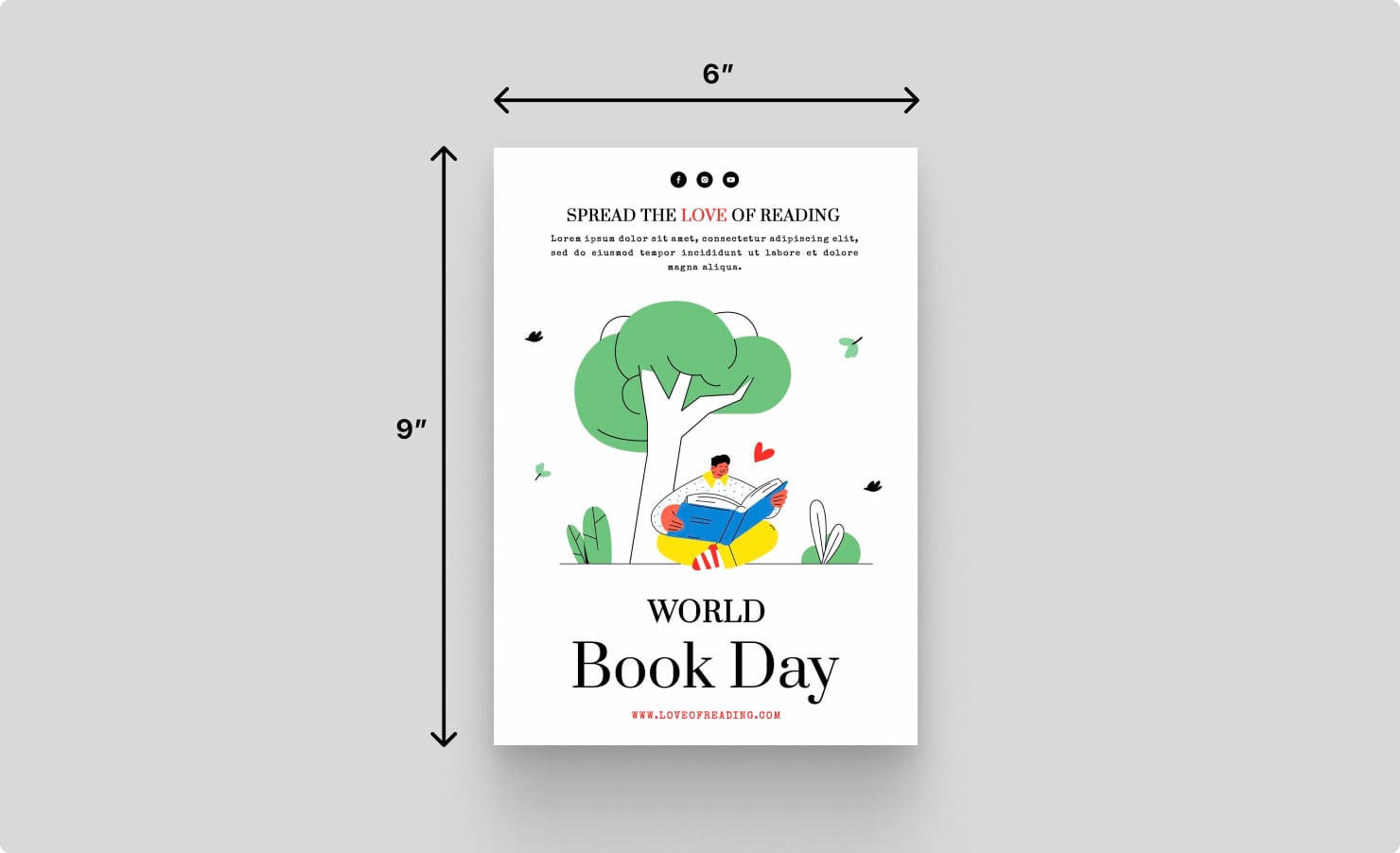 Tips on How to Decide Which Size Is Best Suited for Your Needs
To decide what size of a flyer is best for your needs, first consider where and how you plan to distribute your marketing materials. Generally, for display on bulletin boards or walls, the standard size flyer is best. If the flyers will be handed out at a trade show, stacked on a counter or mailed, choose the half-page, quarter-page, postcard or rack card size.
Next consider your budget. If your budget is unlimited, and you want to go for maximum impact with big images, choose the largest size that your distribution method will allow. With larger sizes, the text and graphics will have more visual impact and attract attention. If the budget is constrained, aim for quarter-page flyers, since these are more economical to print and easy to distribute by hand.
If the flyers will be mailed, the 6″ × 9″ postcard-size is a budget-friendly option.
Conclusion
Flyers are an essential marketing piece and a great way to promote your business or product or reach an audience with a message. Flyers are versatile with several sizes to choose from and distribution methods limited only by your creativity or budget. They can be used for all kinds of events—from concerts to guest speakers. And they are useful promotional tools for new products, sales and special offers.
This guide contains all the information to facilitate choosing the right size for your flyer design. Consider how you plan to distribute your materials, how you want customers to see them, the marketing message and your budget. With these things in mind, you can design a flyer that is an impactful marketing tool perfectly suited for your needs.
Published: June 2023