How to Design and Print Certificates on Your Mac
The variety of certificates can't help but amaze. From business to American sports, legal to education layouts—the main purpose of this piece of material or digital paper is to acknowledge some services or skill training that were offered to the recipient. Their meaning in the professional field can't be underestimated; with this certificate, an enthusiast can increase his/her value on the employee market.
Another way to use certificates is to prepare presents for your colleagues, friends, relatives, etc. Food, gaming, retail, books, music and more—these are just a few of the widespread options.
What is the universal way for beginners to skip a complicated learning curve and start styling the best certificate templates on a Mac without a hassle? These are some steps to achieve that goal.
Create a Certificate Layout from Scratch
Choose the Right Size
Of course, to make a perfect-match solution, you must first determine the final goal of your creation. For instance, the most common choice for a certificate of achievement is a so-called letter size, which equals 8.5×11 inches. The orientation may vary, but the landscape option is preferred in the majority of cases.
Other common dimensions are:
8.5″×14″;
11″×14″;
11″×17″.
Whether you prefer a portrait or landscape orientation, what really matters is that the space available is enough for all the elements you would like to implement into your customizable gift certificate on the Mac.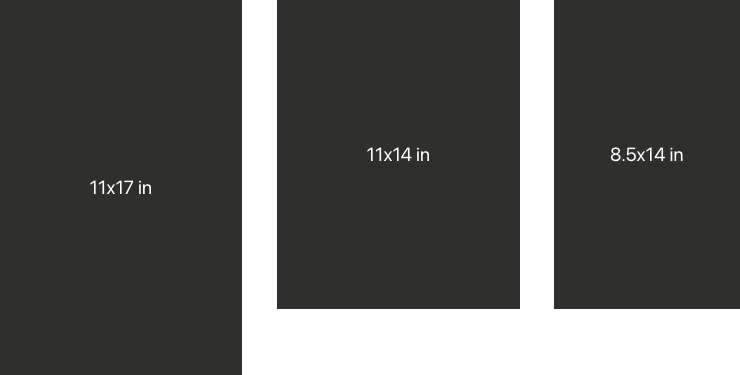 Think over the Design Idea
There is no need to create a separate layout for each recipient, but to make it represent the basic flow of your training course or any other services offered to the target audience will be a great idea. In terms of design, one of the crucial points of focus should be picking a "wow factor" background style. Let's be more precise. If it is a certificate of appreciation for participants of a special course for painters, why not include watercolor techniques, accompanied with interesting elements of cubism, impressionism or contemporary art to make the piece more eye-catching and meaningful for knights of the brush?
To simplify this challenge a bit, feel free to use ready made customizable templates. And, here is where such profound software like Swift Publisher will come in handy. Just browse the menu to find the numbered custom gift certificates─only limited by your imagination and objectives. You will adore most of them and can alter them, if desired.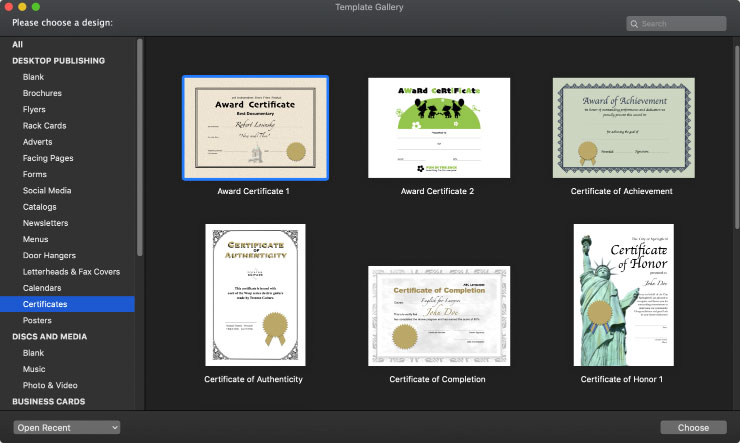 Text Matters
Without a doubt, text content is critical for those who would like to print gift vouchers online. Excellent readability and visibility isn't up for debate. That means there should be a certain contrast between your visual effects and important information, including the addressee and addresser. Don't forget to leave space for signing—this is a requirement for any certificate─from corporate works to units for Halloween, Christmas and other occasions.
With the help of professional programs like Swift Publisher, Mac users are able to make changes and adjustments to opacity and spacing and object orientation on the layout, and you can also add filters, if desired.
It is beneficial to use big decorative fonts for the headers. People are accustomed to Times New Roman, and its functionality is great, but the title and other essential data have to be highlighted. Don't forget about illustrations or icons to personalize your masterpiece. Modern vector design trends will help turn a high school or college diploma into a fancy-looking award.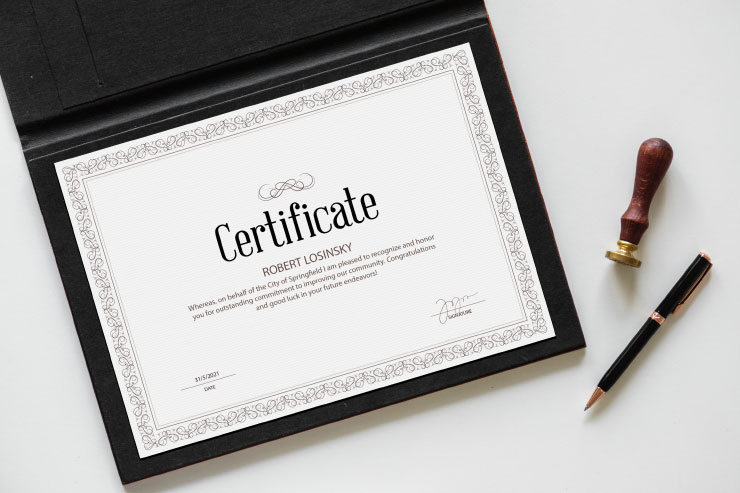 Dealing with the Results
When you are searching for stock materials presented by publishing centers, it is a daunting task to scan those pieces to make their downloadable and shareable versions on the Mac. Instead of facing such a daunting task, it would be better to start working with digital files and then prepare a gift certificate print-out process. The right wording may be spoiled if the quality of paper chosen to print your gift cards leaves much to be desired.
The paper selected is an indicator of the overall impression that your certificate conveys. It is one thing just to print your own gift voucher but quite the opposite to ensure it looks and feels like it was printed by a reputable institution. Durability is important, so parchment paper is the best choice, not just to stay on the safe side but to make your recipients feel proud to receive your brand's certificates.
Linen paper will work well, too. If you would like to add a polished-granite look to their layout on the Mac, then granite paper is a lifesaver. Laid paper with a handcrafted finish will require additional measures to extend the longevity of your Mac piece.
Undergoing various certificate design procedures on Swift Publisher allows customers to save their files in any format, which facilitates the further sharing and offers the ability to print their own gift certificates without difficulty with very little probability of failure.
What Are Gift Cards Used for in the USA?
A gift card is an analog to common credit cards. These formats of payment can be applied in different institutions—from restaurants and retail stores to gas stations. When it comes to gift cards, however, it is important to remember they are mostly non-reloadable. In turn, the fixed amount of cash can be spent on goods/services.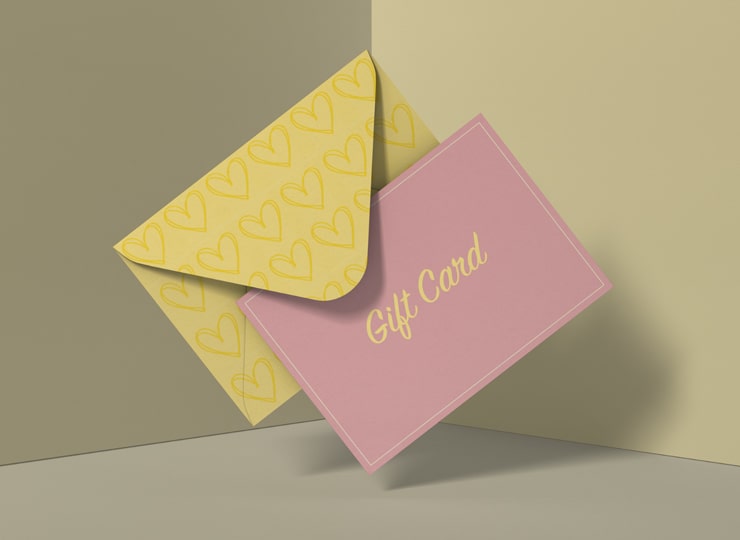 Such cards are activated automatically. These certificates are modern intensifiers of branding, increasing customer awareness of your deals in the niche market. Through gift cards for small businesses, enthusiasts increase consumer engagement and receive more useful data to analyze their audience's behavior. Overall, gift cards are preferable in the following cases:
They are convenient tools for offline and online shopping. In both cases, they are convenient and instant substitutes for fiat money.
The name of the gift certificate is self-explanatory. If you aren't sure about the best gift, make it personalized and universal at the same time.
Since gift cards are non-reloadable, some consumers utilize them as a means of spending control.
Americans love gift cards more than many other nations. The GDP of over 100 countries is less than the amount US residents spend on credit card alternatives for special occasions. Christmas and birthday gift certificates are among the most popular options, but types of US gift cards are also defined by other criteria, apart from their thematic value:
Electronic—digital cards are simple and convenient to use and spread. They can be purchased online and then sent to the target recipient as a gift.
Barcode—these certificates are material versions of gift cards. Thanks to the barcode technology applied, they become reusable and reloadable. On the contrary, the risk of losing these pieces increases.
Gift certificates—such a traditional format is a good way to enhance your branding quality in the eyes of your recipients. The production cost is more affordable, especially compared to plastic options.
Magnetic stripe—this format gives you a full vibe of common Visa or MasterCard solutions.
What Are Open Loop and Closed Loop Gift Cards?
It is as simple as ABC to buy gift certificates. More and more brands simplify searching for presents for interested parties, allowing them to enjoy their goods/services in a smoother and more hassle-free manner. Along with all the types of gift certificates highlighted above, there is one more crucial division:
Open loop gift cards—this design is much more versatile and flexible. For instance, when the Visa logo is on the card, it can be used for shopping anywhere that Visa payments are accepted. That is the main differentiator and advantage of open-loop cards.
Closed loop gift cards—on the contrary, closed-loop pieces are more personalized and limited. They are functional only within a particular branch of goods/services. For example, if you purchase a gift card from Dove, you won't be able to use it for Amazon or Starbucks.
Selling Gift Cards
The weather caused by the COVID-19 thunderstorm has significantly changed the rules of the marketing game. Though such formats as online shopping, deliveries and takeaway aren't new, their popularity has dramatically increased since the pandemic outbreak. Another means to support your small business (or the organization you like) is to distribute gift cards.
The benefits of vouchers are clear:
Who doesn't love gifts? Gift certificates offer a chance to attract the attention of customers to your business, building and increasing brand awareness in the process.
Gift certificates are functional year-round. However, they are particularly useful and appreciated during sales and holiday seasons, making shopping more convenient for end users.
For small businesses, the notions of gift and loyalty go hand-in-hand. Your loyalty program is welcome to include special enticing measures to create a solid bond between your brand and your audience. Loyalty gift cards are second-to-none when it comes to improving your establishment's cash flow. At the same time, this option really makes people more aware of your services.
Aside from the fact they are convenient and secure, these gift certificate cards allow the collection of useful data about your customers and their tastes. In turn, any company selling gift cards can work on their offers and match them more closely to consumers' needs and expectations.
Gift Card Systems for Small Business
Thanks to modern gift card management systems, information about purchases made by customers can be monitored and tracked. If you desire to reach the next level of gift certificate marketing, POS gift cards are a good option. These are means of integrated Point-of-Sale and loyalty program systems in one functional entity. For any small business, such units are advanced tools for retaining existing customers, as well as attracting more foot traffic.
For paper gift cards for small businesses, Swift Publisher offers dozens of customizable templates and unique publishing tools to make the card on the screen and the printed one look identical. To make access to gift certificates easier, ensure that your customers can use credit cards to buy gift cards on your official website.