Easy-to-use Menu Maker for Mac
What if you can cook mouth-watering delicacies, and all your family and friends are looking forward to your invite for dinner or a small cocktail party? Maybe it's high time to start your own cafe, bar or even a restaurant!
Get Free Trial
Buy Now $19.99
Represent Your Dishes
Your menu is the first thing customers take a glance at before ordering. So, it's essential to make your food not only taste delicious but presented elegantly in the menu layout.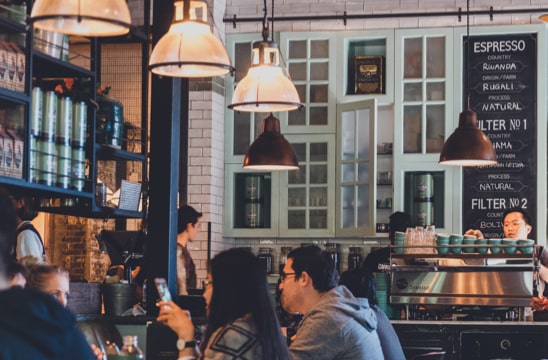 Menus are used in just about all public eating places:
Cafes
Bars
Fine Dining Restaurants
Fast Food Restaurants
Buffets
Coffeehouses
Pubs.
Tools to Design a Menu for Your Bar or Restaurant
Use ready made templates or create a new menu from scratch; you are only limited by your imagination.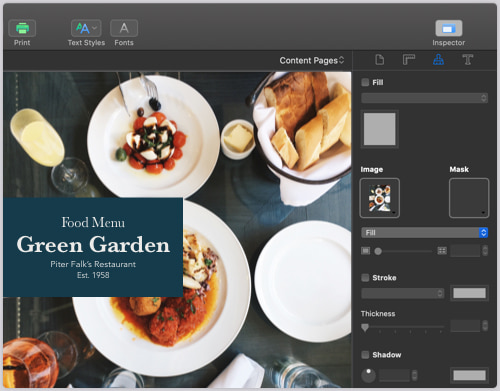 Work With Images
Images are part and parcel of an eye-catching menu. Import your custom-made photos from your Mac or take advantage of more than 2,000 royalty free clipart images.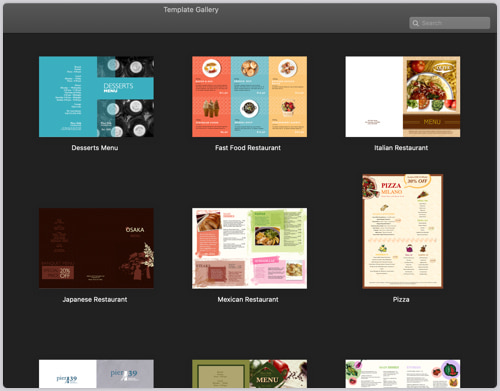 Various Menu Templates
If you're having trouble imagining your own layout, all you need to do is choose one of the pre-designed templates, replace the images with your own and change the prices, of course. Then simply export for printing in the print house or print by yourself.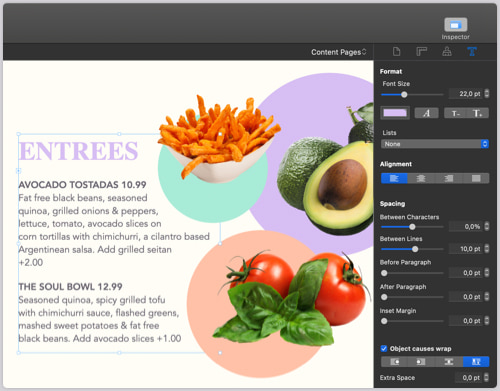 Flowing Boxes to Organize Your Text
Spice up your menu with personal elements such as information about the ingredients in your dishes or share a short narrative of your delicacy. Swift Publisher's The Flowing Text Box tool will do all the work for you so you can create customized menu text.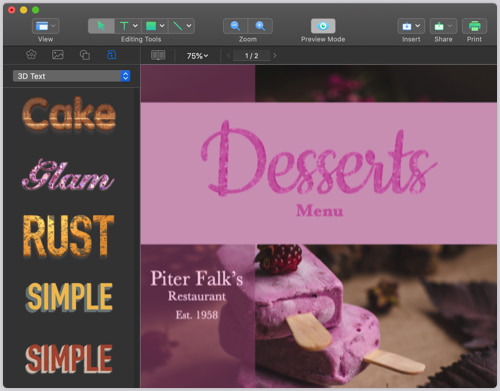 Easy Art Text 4 Integration
Text style is another essential part of any menu, so be sure to choose a font that will be easy to read and create a heading that will stand out, catch the reader's attention and guide your customers through the elements of the menu. All this can be created in a matter of minutes in Art Text 4 and then imported to Swift Publisher with just one click.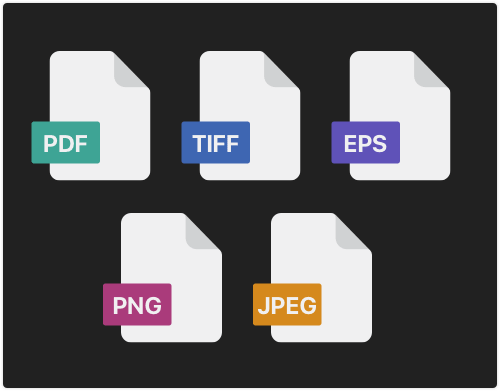 Wide Range of Export Options
Export your project to PDF, TIFF, JPEG, EPS or PNG formats for printing in the print shop. Bleed feature will prevent your images from being cropped during printing.
Swift Publisher has a free trial to test all the features.
We've got you covered with the informational background in the article about menu creation.