How to Create a Restaurant Menu
Without a doubt, the menu in a restaurant is equally important to the way servers work with customers or the general interior design of the establishment. Unfortunately, some companies underestimate the impact of a food menu design. If you want all the communication channels with consumers to work to the full extent, it is high time to gain deeper insight into what a menu is and how to create it effectively.
If you're a Mac user looking for a user-friendly tool to bring your restaurant menu to life, check out our restaurant menus maker for Mac, designed to streamline the design process and maximize your creativity.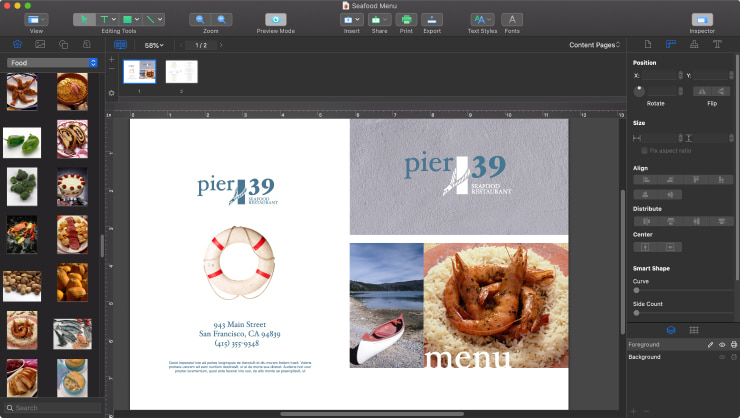 General Planning
What you need to do first is investigate the market to uncover the best ways to popularize your current offerings. In this case, it is not necessary to focus on what other restaurants make. The research may and should be more divergent. For example, it is a great idea to find out the influence that different colors have on the customers' desire to eat or drink.
It is also important to discover modern trends in the creation of custom restaurant menus along with the properties of printing solutions. Taking into account the number of positions on the menu, you have to consider how many pages your template should include and whether you will have a separate menu for alcohol beverages, for example.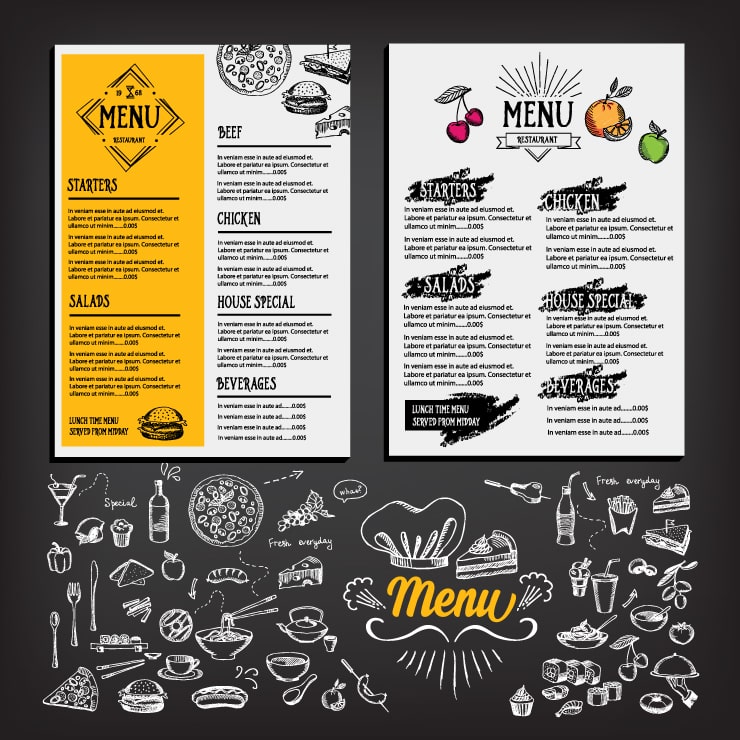 It is critical to choose a reliable design application to create any projects without serious difficulties, even if you don't have experience in the field. Depending on the program you select, you might be able to choose a cover size from standard options like 5.5″ × 15″, 8.5″ × 14″ or 11″ × 25.5″ or create custom menus.
When printing and exporting your ready made project, you shouldn't forget about the bleeds. If a company sends the file to a print shop without selected document edges, the final result will be disappointing—the location of elements may be altered or printed in the wrong way, some parts of the image may be missing, undesirable white edges may appear, etc. To prevent such inconveniences, make sure you set up your Mac application in the right way.
Working with Menu Text
The meaning of the menu sections should complement one another. The principles of complementarity will help you to arrange your menu meals in the best way possible. If you want to group items in a logical manner, then you need to subdivide the dishes you have into categories such as appetizers, entrées and desserts.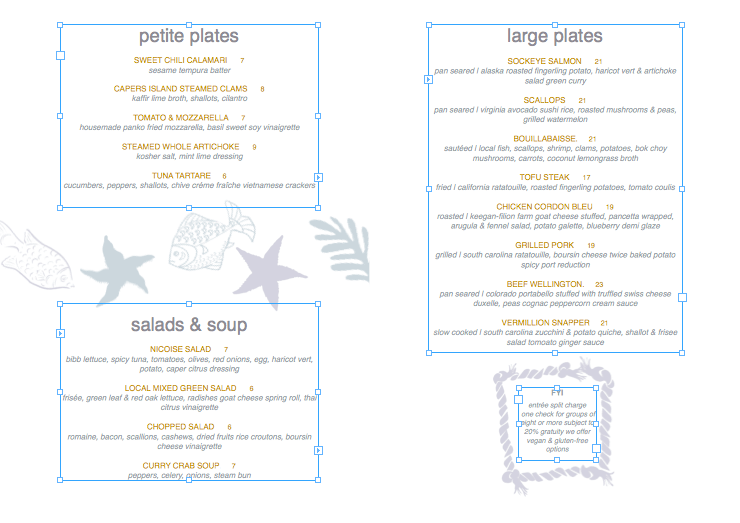 In addition, it is highly recommended to highlight special offers on the menu that are key to the concept of the restaurant. For instance, if a business is focused on Chinese cuisine, it would be a mistake to make a burger the leading meal of the day.
When using a restaurant menu app to fill the text boxes, don't list the menu items from cheap to expensive ones (or vice versa). Using an alphabetical order of menu items when creating a layout is literally forbidden. It is necessary to mix the offers you have to make visitors explore the assortment and prices in a search for things they would like to taste. Apart from the names and prices of meals, you may include information about the particular ingredients, calories of the serving portion, etc.
Another thing to consider is patterns of menu reading. Many businesses are convinced that the overall reading scheme should look like a zigzag—from the right upper corner to the left bottom of the page. However, according to recent research, the majority of consumers read menus like a book, so consider this information when creating your menu design.
Adding Images
Colorful pictures are an effective way to highlight a dish. However, it is not critical to implement them into your menu layout. If you have a large assortment of meals to add to your project, then it would be nice to add some visual "appetizers" to increase the general readability of the text information you include and reduce clutter.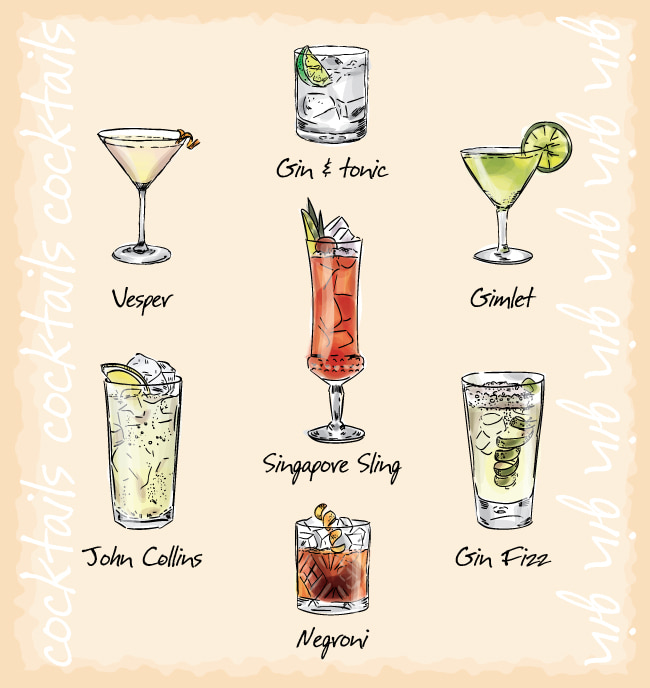 So as not to spoil the work that you have done, the pictures should be of a premium quality since photos taken by non-professionals may be less productive and eye-catching. So, if you decide to use more visual effects in your menu, it would be beneficial to utilize a professional photographer's services. Of course, the photos and the final appearance of the meals should be identical.
If you have positions in the menu that are not commonly known for some customers (for instance, you represent the traditions of Indian cuisine), and, even if you don't, it is a good idea to illustrate what customers will receive. Apart from listing the meals' ingredients, don't miss the chance to attract customers' attention with tempting and promising images. Usually, this approach is realized by enumerating photos with the same number as the dish on the menu. Misa Mash Poora will satisfy real gourmets, but the supporting illustration of grilled shrimp on banana leaves served on charcoal tells them much more. A picture is worth a thousand words!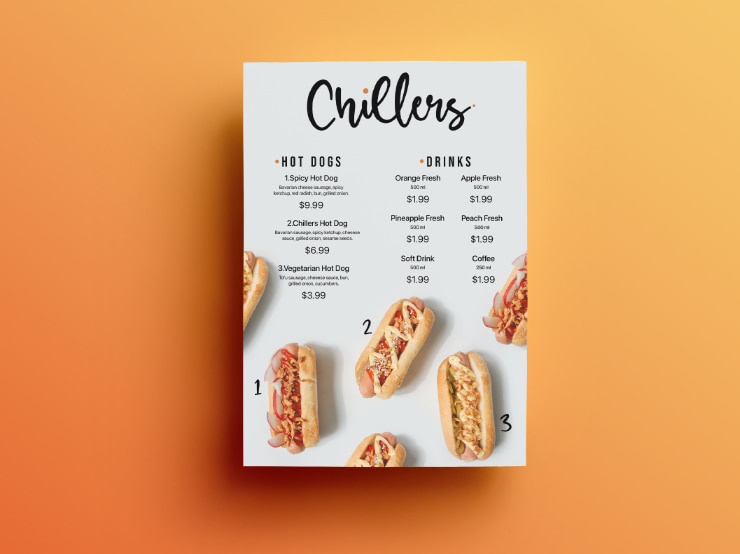 A/B Testing
It is impossible for a business to improve and enlarge their target audience and customer loyalty without any updates or changes. When it comes to the food industry, each element is highly important. Creating a restaurant menu is just one of the tasks. The final variant can look stunning, but it is essential to test whether this option is the best for your particular case.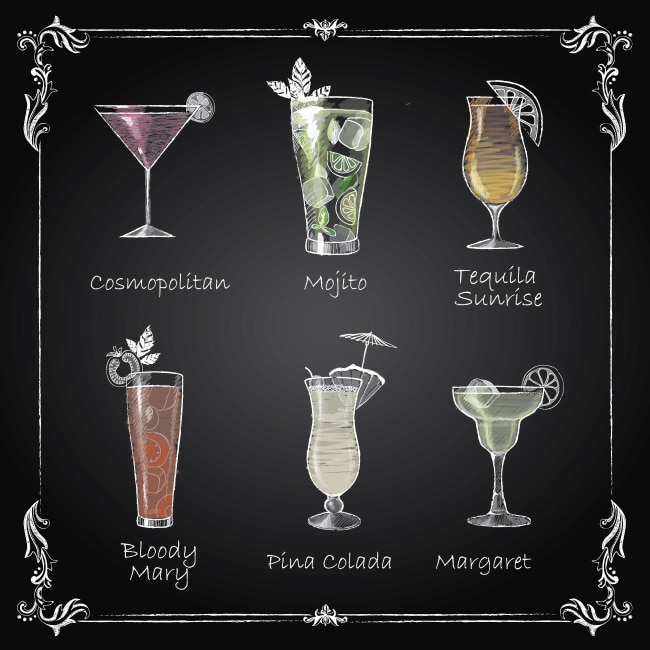 A/B testing is a highly effective way to check the suitability of your menu design to the overall restaurant concept and meals offered. Using this method, any company will be able to test the consumers' insights, which will promote a better understanding of what customers really need and expect to see and try.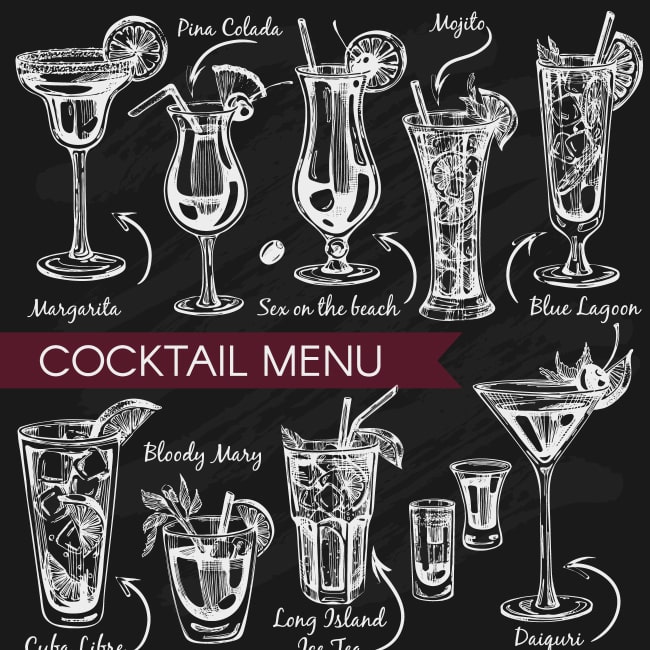 In simple words, this form of testing is aimed at comparing the functionality of two or more restaurant menus. For instance, you can offer different styles of layouts to your test group to determine how they influence the level of sales, popularity of dishes and overall understanding of the main establishment's concept.
With the help of professional software for the Mac, you can try any restaurant menu card you would like and ultimately improve your services.
All in all, a menu is a summary of all the work you have done and will serve as icing on your cake. To ensure the project will be worth the resources spent, organizations must utilize a multifunctional program with a powerful set of features. Swift Publisher is truly one of them.
Revised: May 2023