Swift Publisher: A Creative Tool to Help You Make Money With Etsy
Swift Publisher is a user-friendly layout and desktop publishing app for Mac. You may be familiar with this app for its ability to create professional-looking layouts for brochures, magazines, posters, social media templates, logos and endless other materials. And, if you're a budding entrepreneur who would like to start your own creative business, Swift Publisher can empower you to make money online by selling your creations on Etsy.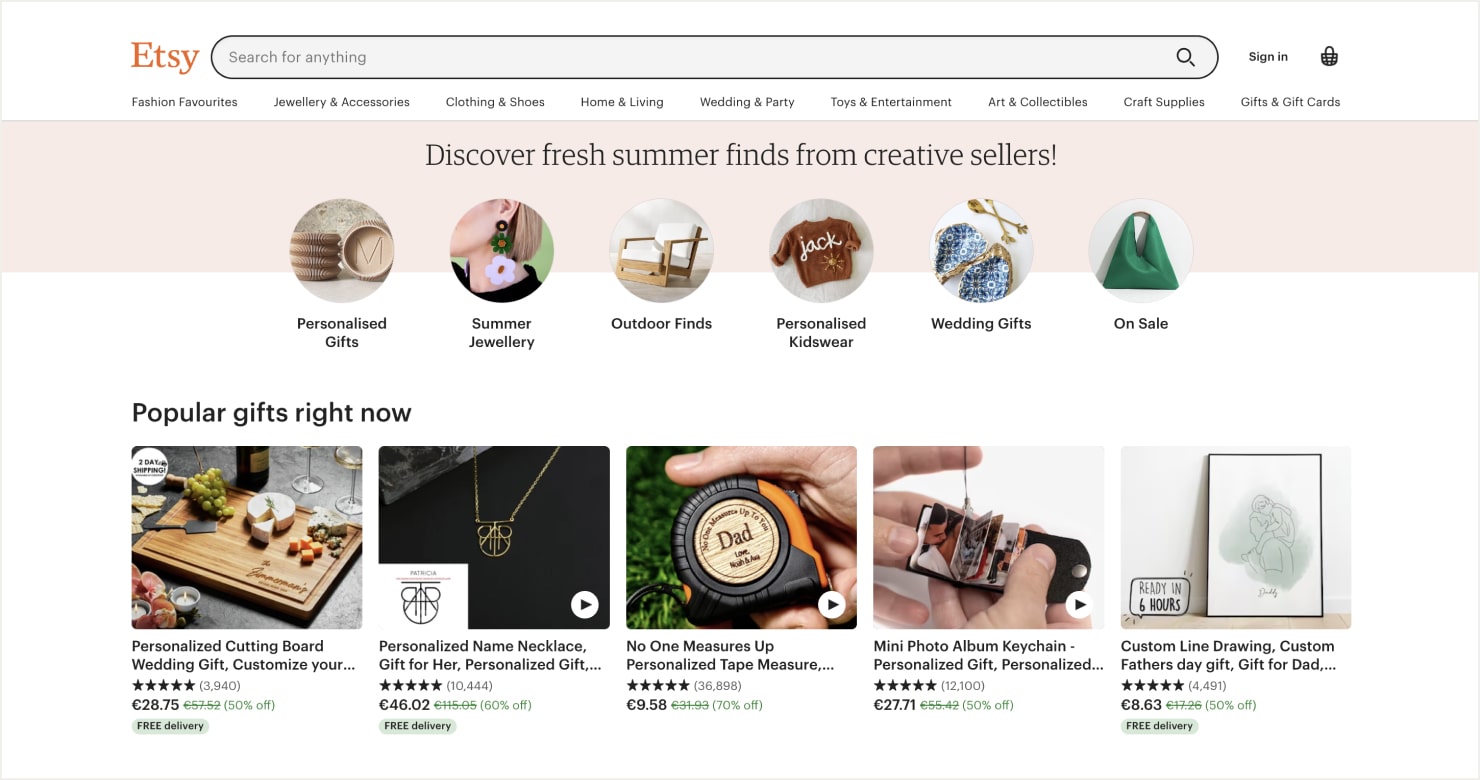 No matter your skill level, the simple platform software allows you to design amazing graphics and turn them into creative digital templates or graphic files that customers buy. With Swift Publisher, you can set up your own line of unique, marketable printables or digital graphics to sell online.
What Can You Make With Desktop Publishing Software to Sell on Etsy?
Selling printables or designing merchandise is an easy way to turn your creativity into a business. The online printables market is growing as creators find ready buyers on sites like Etsy. From designing calendars to making birthday cards and invitations–the possibilities of items to sell are endless.
What Are Popular Digital Printables That Customers Buy?
Here are just a few digitally designed items that customers actively purchase on Etsy:
​​Graphic design services: logos, banners, social media graphics.
Print-on-demand items: custom merchandise, such as t-shirts, mugs or posters.
Menus for restaurants.
Brochures for businesses.
Flyers to market special events.
E-books to publish.
Printable templates for lesson plans or study plans.
Worksheets for kids to help with learning.
Digital art files.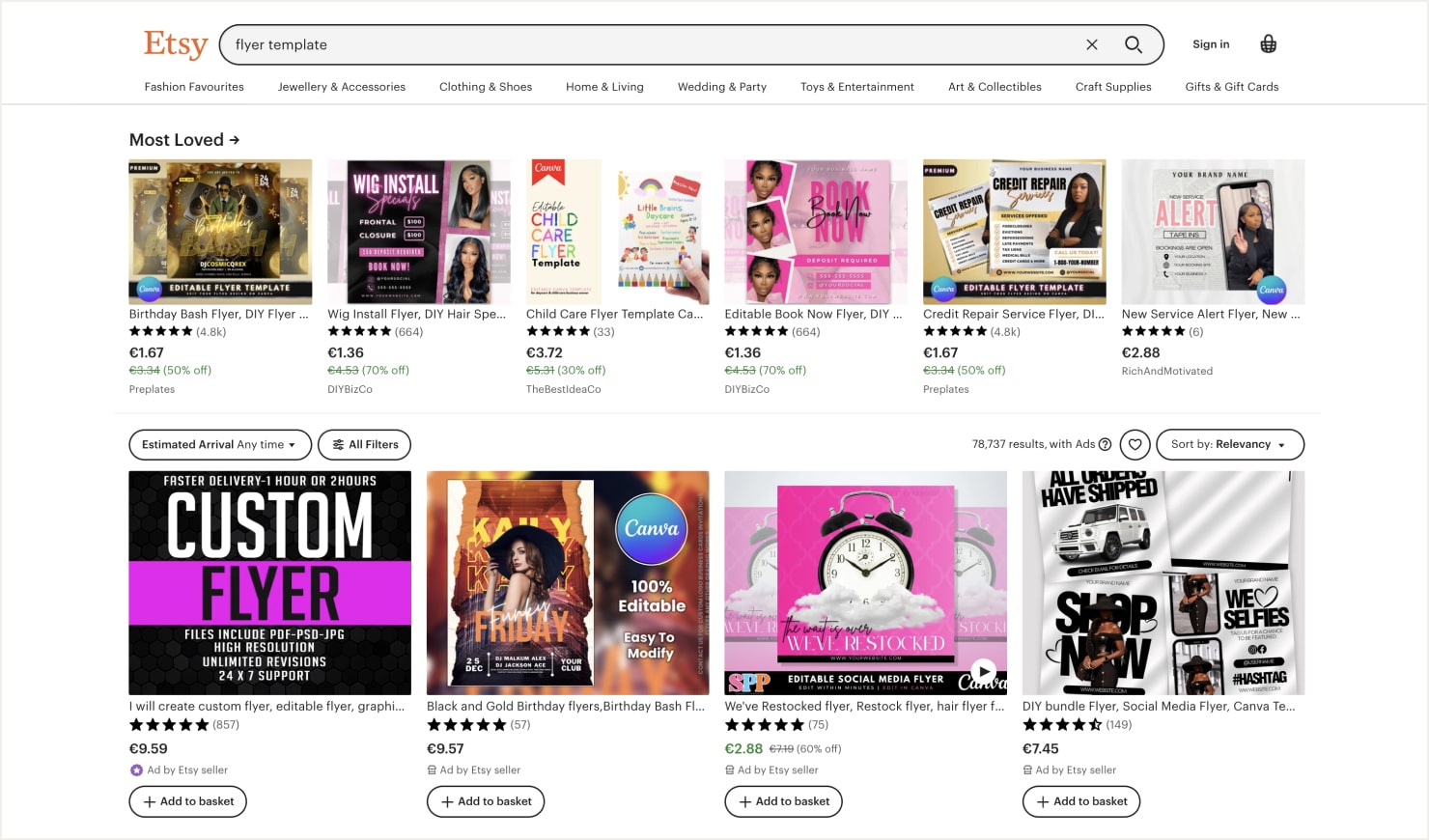 Selling Handmade and Unique Products on Etsy
Etsy is the ideal online marketplace for a new entrepreneur to begin selling what you create, because there are 91.5 million active buyers on the platform. Your designs can be seen by a wide, global audience of people actively searching for all kinds of items to purchase.
To set yourself up for success as an Etsy seller, think of specific categories that will suit the items you create through Swift Publisher. After you try your hand at creating designs, determine what looks the most professional, and what you enjoy making. For example, if you've worked in accounting, perhaps you enjoy creating spreadsheets for budget planning. Or if you enjoy making art, you might create designs for customers to print on t-shirts or sweatshirts.
Choose Your Market Niche
You'll also want to choose a niche, or a market segment for your products. For instance, if you are interested in food and cooking, you could choose restaurant owners or chefs to serve with your creations. Maybe you've had a career in education, so you might create worksheets or other planning templates for school teachers.
It's best to choose a niche that aligns with your own passions, so you'll stay motivated and so you'll know how to best solve problems for that audience. As a new seller, it can take time to get your items seen on Etsy and to gain a customer base. You'll be more likely to persevere if you choose something you genuinely enjoy thinking about and creating.
Think About Who Your Customers Are
Next, conduct market research to find out what customers in your niche are buying. You can use Google Trends, or paid platforms like Semrush or Ahrefs to find out what general online trends and preferences are. This will help you create products that people are already looking for and want to buy.
For example if your customers are tennis players, find out what the top trends are in tennis this year. Are there tennis events people are talking about online? Is there a trend in design that you see a lot in tennis now? What are all the related products and designs that tennis players might buy?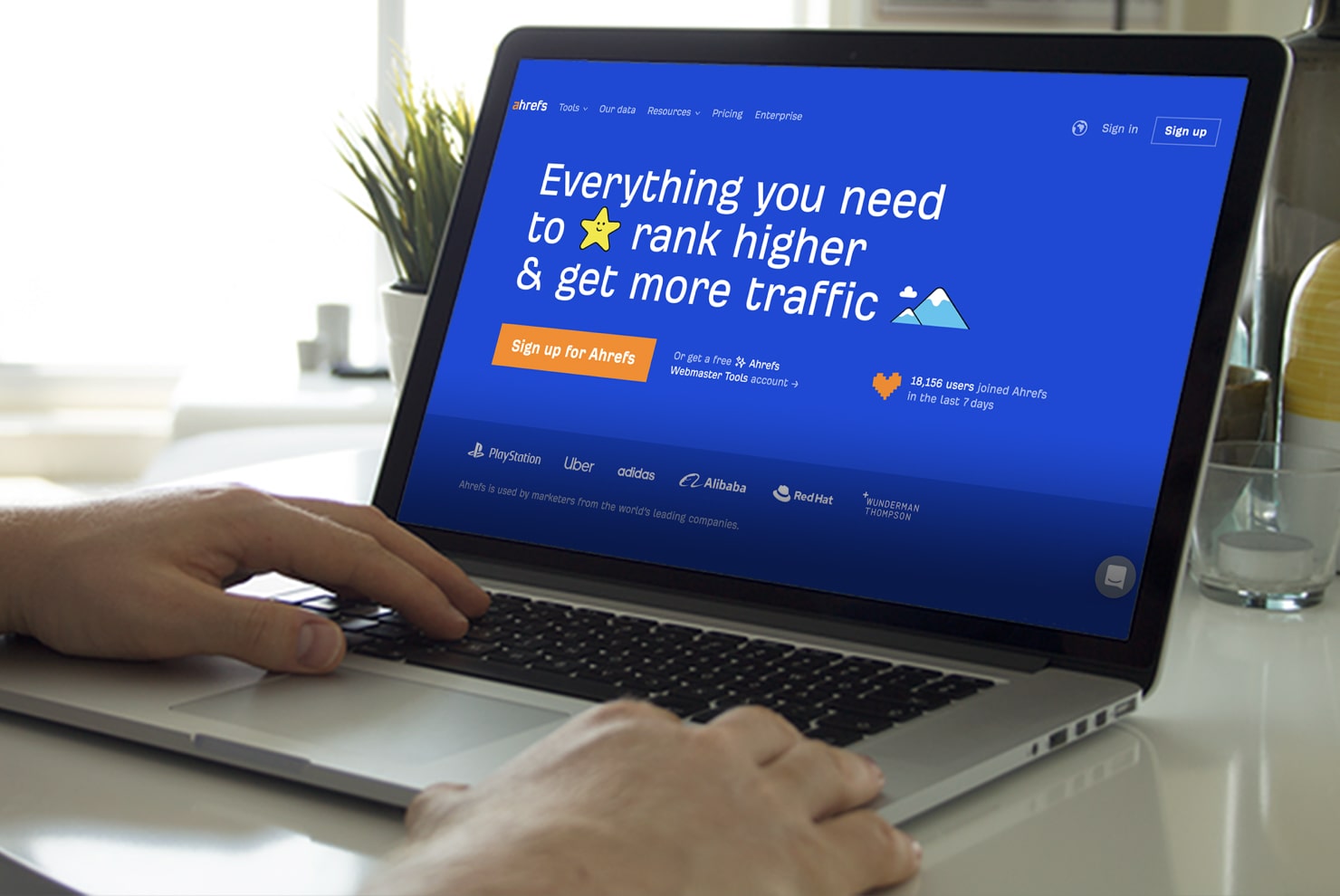 Researching Trends and Customer Preferences in the Chosen Niche
Research trends and preferences to know what are the hot trends among your specific group of customers. One way to do market research on Etsy is to explore what other shops in your niche are selling. Read reviews of top selling items, and see what customers like most by looking at Star Sellers on the platform. It's important to spend time on Etsy browsing around, to get insights about what successful shops do, as well as figure out how you can stand out with your unique offerings.
There are also tools like EverBee and Sale Samurai that help you identify what is selling on Etsy and what customers are searching for. You'll want to know not only what to create, but how to describe your product on Etsy so you can rank higher in Etsy search and show up in customer searches. These tools can show you insider information, so you can position your products with the best chance of being seen and purchased.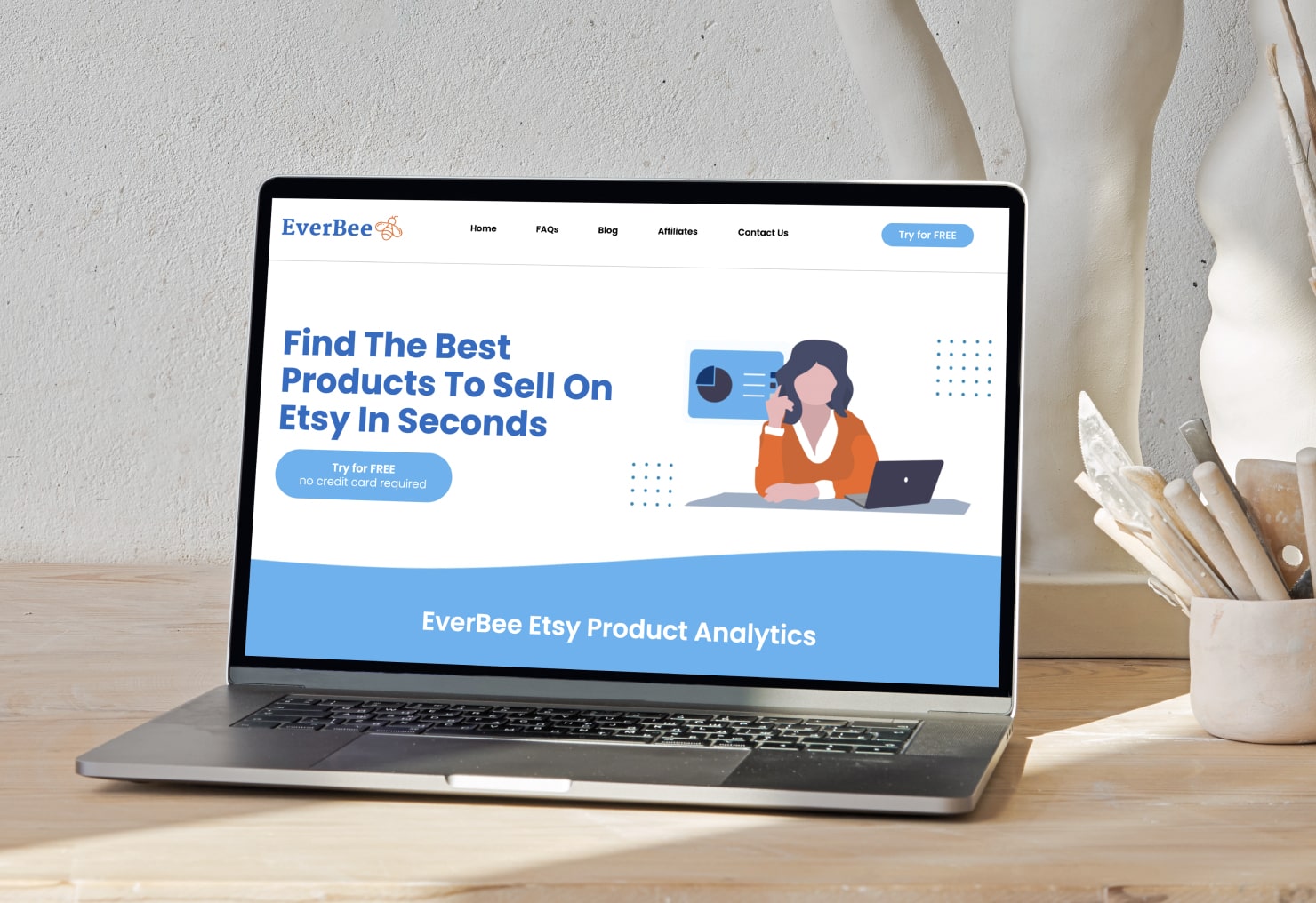 Setting Up Your Etsy Shop
It's simple to get set up as a seller on Etsy. There are a few steps to start your shop, then you're ready to start adding the products you create.
Create an Account on Etsy
This will need to be linked to your bank account so you can receive payments.
Choose a Shop Name
Your shop name can be anything but something descriptive that highlights what you sell is always helpful.
Add Products That You Have Created to Your Shop
Head to the Shop Manager on the Etsy app and click "Add a Listing."
Write Compelling Product Descriptions
Include essential information about your items, and use relevant keywords from your research so your items can be found. There is an art to writing product descriptions, so note how other successful shops describe their products to guide you.
Price Competitively
Your items should be priced in the range of other popular items in your niche. Don't try to undercut, and don't be the highest priced item in your niche. As a new seller, price your products within the average range.
Optimize Your Product Listings for Search Engines
Conduct regular keyword research to identify popular and relevant keywords that are frequently searched by your target audience. Tools like Google Keyword Planner, Google Trends, and Etsy's own search bar allow you to discover popular keywords related to your products.
Also, make sure your images are high quality. This will also help your items stand out in searches.
Promote Your Shop and Your Products
Use social media platforms to promote your Etsy shop and products. Create your own Instagram page or Pinterest account to drive traffic to your site.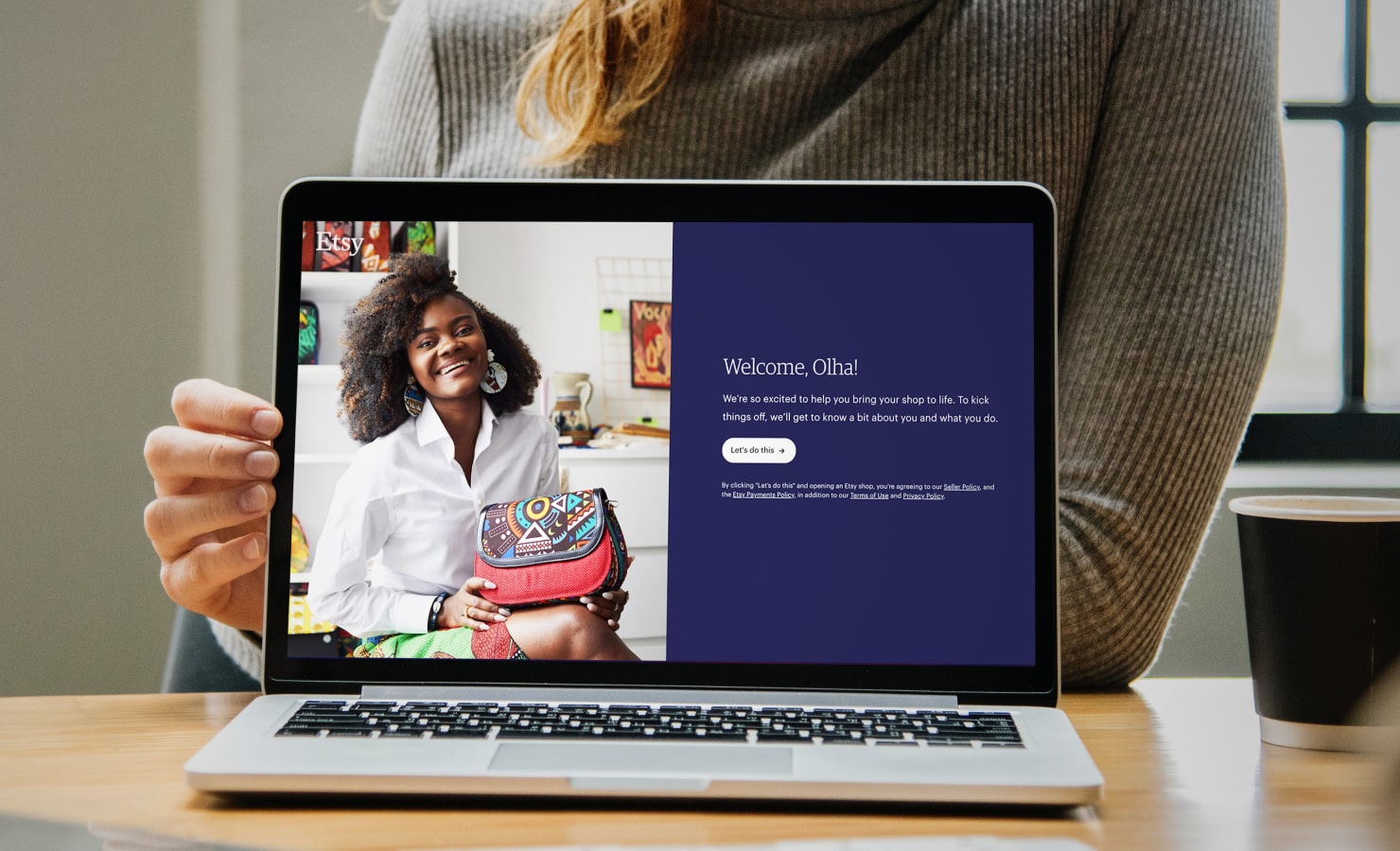 Swift Publisher for Mac Gets You Started on Your Etsy Entrepreneurial Journey
In conclusion, Swift Publisher is the perfect tool to get you started creating professional-looking designs and products you can sell right away. And even as a beginner with no business background, you have access to the Etsy platform selling to millions of customers all over the world. With minimal cost, you can start an Etsy shop and post your own creative digital designs and printable products.
It takes time and dedication to be a successful seller on Etsy. But the process is simple if you follow the steps and take the time to research your market and your target customer. It has never been easier to set up an Etsy shop and list products you create with Swift Publisher, like digital printables, art prints, coloring pages, digital planners, recipe cards, social media templates, or e-books.
Published: July 2023