How to Create a Mood Board on Your Mac
Working with different publishing materials, there are several factors you need to take into account. On the one hand, the final design may be perfect as it is. On the other hand, if it lacks situation appropriateness or doesn't include any hidden triggers to motivate the target audience to perform the expected actions, its functionality is under huge debate. To make sure you have found a mutual understanding among the members of your team or are ready to modify the ideas of your customers more efficiently, mood boards are a good place to start.
Overall, a mood board, also known as an inspiration board, is a so-called preview of the future design. The fields of the appliance aren't limited by modern graphics only; it turns out to be a great solution for the architectural industry as well. The main purpose of this project is to showcase your vision and present divergent components of your layout with the help of numerous material textures, color schemes, slogans or headlines, logos, patterns, etc.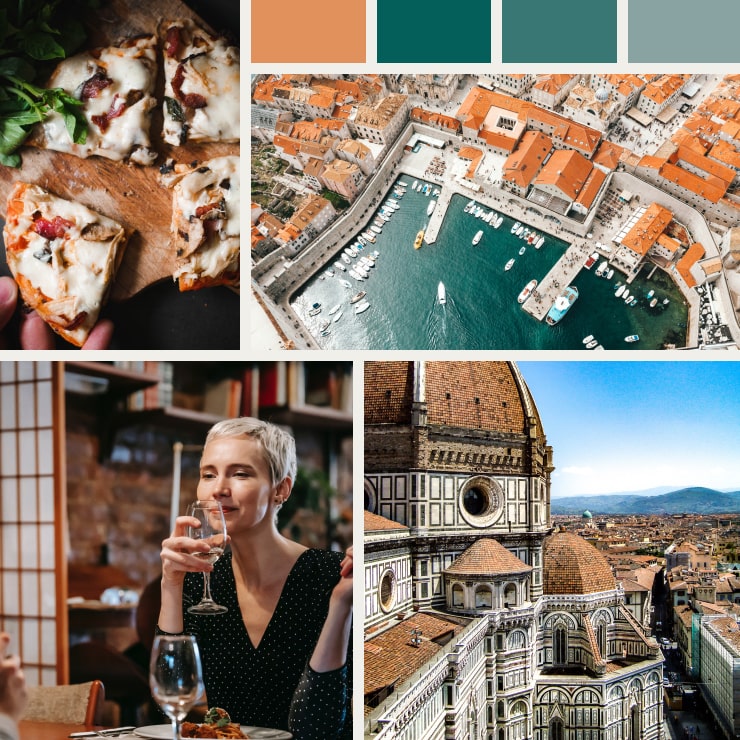 Once you know the basic tips and recommendations for creating such designs, it won't take you a lot of time and effort to prepare aesthetic mood boards of any complexity level.
Seeking Mood Board Ideas
If you would like to diversify your pitching experience, mood board will serve you well. Since it is a collection of designers' ideas, the potential for creativity is unlimited. However, it is also extremely important to keep a balance and make your visual message readable and understandable.
The very first source of inspiration that comes to mind is the Pinterest platform. With only Pinterest at your disposal, you will be able to make your project vivid in colors and styles from scratch. But, what if you are looking beyond the digital world?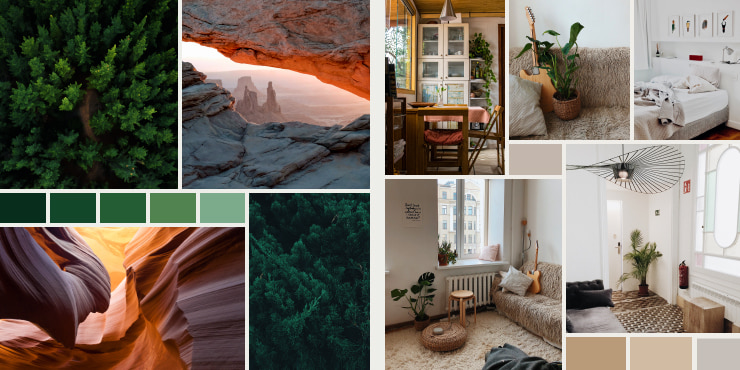 Beauty is in the eye of the beholder, so don't hesitate to expand the frames of what can be considered amazing and stunning. Just go outside and take pictures. The more unique angles you choose, the more unexpected results you will achieve. Without a doubt, this way of gathering information will provide you with a new vibe of style selected.
This step will help you verify your priorities and clarify your vision. Looking for mood board inspiration, it is a nice idea to check how brand identity can be implemented into the layout's content. As soon as all the materials are collected, you are ready to make a so-called collage out of them.
Working on Your Mood Collage Composition
Although a mood board is a gathering of ideas, it would be a mistake to place two similar images near each other. Their forms, as well as contrast and brightness, have to be soulmates.
Depending on your project's purpose and method of sharing, the types of layouts have their unique functions:
If you would like to make sure the fonts of your text-oriented projects are eye-catching, then preparing a typography mood board is a great option. You don't have to look for plain text lines. Instead, Mac users are welcome to collect the production of brands for different industries, like wineries or grocery stores, that use interesting fonts for their brand identification or marketing campaigns.
Voluminous images are gaining momentum, so images on the particular project topic united by their 3D design will definitely simplify and enhance the quality of your future work.
When it comes to creating brand-identity projects, getting inspired by others and finding your own way to style yourself on the market will be complicated by thorough research. A logo mood board will become a wonderful systematization table of the results achieved.
Mono- and duo-chrome approaches in designing are absolutely outstanding these days.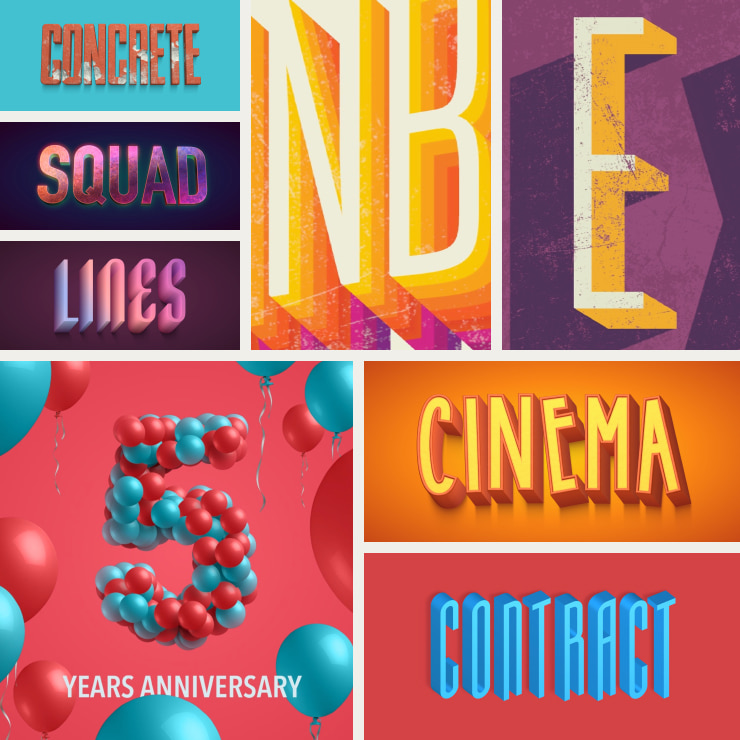 Add Entertaining Elements
Apart from populating your mood board with images, why not take that extra step and prepare a more appealing experience? From this perspective, adding text and graphics will work to your benefit. Although the pictures you choose have to be self-explanatory when combined, making more accurate accents by overlaying simple words over photos is a suitable option.
Working on your layout composition, it would be a huge mistake to pay attention to the mood board "dos" for Mac users only. Here are some of the "don'ts" to take into account:
Brevity is the soul of wit, and this rule of thumb is a must-have to follow in this case. The reason is that long phrases may distract message recipients' attention from important mood board elements, making the layout less visually appealing and might be confusing as well. Mood boards are a more visual-oriented format where images and photos reign.
Mismatched elements will spoil the overall impression of the project and may lead your customers in the wrong direction. Your goal is to show a coherent and harmonious picture. It doesn't matter how many elements it includes, but they shouldn't invoke chaos.
Since mood boards are unlikely to include text explanations and long descriptions of what is meant by each object on the sample, crucial intentions have to be intuitively understandable. That is why it is a worthy decision to refuse complex and non-obvious associations. Try to include those elements that will be clear for the average individual. Don't hesitate to have pre-check sessions to show the results of your creativity to friends and colleagues. This will help you determine whether the main idea is clear and whether some elements require further modifications or adjustments.
Frequently used images aren't recommended for use. While images have to be clear and of decent quality, you risk being overly stereotypical and guilty of choosing the simplest means available. Looking for stock-free images may be a daunting task, but galleries offered by providers like Swift Publisher will change the battle's course. With over 2,000 free clipart images and additional packs available at a fair price, customers can easily make their layouts look stunning and eye-catching.
Let It Sink In
Last but not least, you should take your time and leave your layout unchanged for some time. This will help you return to your project refreshed with new ideas while also being more critical and able to notice hidden mistakes or confusing elements to fix. In a rush motivated by inspiration, it is as simple as ABC to fill your layout with various beautiful images and pictures that, when represented together, don't represent the planned mood and shift it in a different direction.
What enthusiasts have to do is to ensure all the design elements match well. It relates not only to the quality of images chosen but also to their style, aesthetic, color, light, etc. If something seems wrong, it would be better to move that element from this board to another or delete it altogether.
However, it may turn out that this extra object doesn't adapt well to only one parameter (for instance, color). Then you have the following options:
First of all, you can leave this element in its original form but attach an explanation of your decision/vision in a specially created frame/note next to it.
Secondly, it is possible to work on the element's design further and update and fine-tune it according to the overall color scheme of your project. In this case, retouching technologies and desktop publishing tools will come in handy.
Lastly, you are free to recreate a similar artistic concept on your own with the only difference being the right color scheme to apply.
As you can see, mood board designs are absolutely varied and divergent, so you can stand out with your projects without losses.
Revised: December 2022