The Ways of Labeling Discs
Once you have recorded something to a disc or tape, you will then need to distinguish it from other similar media. How can this be done? Of course, by labeling—either with a pen or by applying some sort of label. This article covers mainly labeling of optical discs as the most popular media at present.
History
Optical discs have already taken their place in our life. There are music CDs, DVD or Blue-Ray discs with movies, data CDs or DVDs used for storing photos or data backups. The CD as we know it was developed by Philips in cooperation with Sony in 1982. Originally the CD was intended for music only, but later has grown to encompass other applications, such as the storage of general data. Factory-produced CDs already had a screen-printed label on them. In the end of the 1990s recordable CDs became increasingly popular, bringing along the need for identification of the recorded content. Discs bought in individual cases have a card insert which can be used to describe its content, which is okay as long as the disc is stored inside the box. But if you purchase bulk discs on a spindle, and then buy the cases separately, there will be no inserts. And still, the disc itself has to be labeled to be recognizable when stored outside the box.
The first way of labeling a disc is probably a felt marker pen. Such pens are cheap, always at hand and are fast to use. There are special pens on the market, which are not alcohol or solvent-based and are safe to use on a CD or DVD (thought there is some controversy on this matter). Self-adhesive paper labels are another popular labeling method. They were introduced by Avery in 1935 and soon became popular for various purposes. The first CD and DVD labels appeared about 20 years ago, followed by the software and templates (e.g. MS Word templates) for printing on them. Once printed with a inkjet or laser printer, a label is applied to a disc either manually or with the help of a special applicator.
In the beginning of this century consumer direct-on-cd printers were introduced, capable of printing directly on the label side of a CD or DVD with printable coating, using a special tray. This method delivers rather high quality, but requires a special printer and discs.
Thermal transfer printers can also be used to print directly on discs. They transfer solid pigment from a coated ribbon onto the disc's surface, using a combination of heat and pressure. Models are available from under $100 to $2000 and more, varying by performance and quality. The lower-end models are normally limited to monochrome text and very basic graphics, at low resolutions.
One more labeling technology is burning the label on the top of a supported disc by the optical drive itself. There are two rivaling technologies on the market—LightScribe from Hewlett-Packard and Labelflash from Yamaha Corporation. They share a similar principle, but the drives and media are not cross-compatible. Both can label discs without using printers or labels, but require compatible hardware and media, plus are considerably slower than the other labeling approaches.
Disc Types
A Compact Disc is made of clear plastic 1.2 mm thick, with a thin reflective layer applied to the top (most often aluminum, though the material depends on the disc type). The reflective layer is protected by a layer of lacquer. On the top, a label is printed. The DVD and Blue-Ray discs share the same physical dimensions with the CD.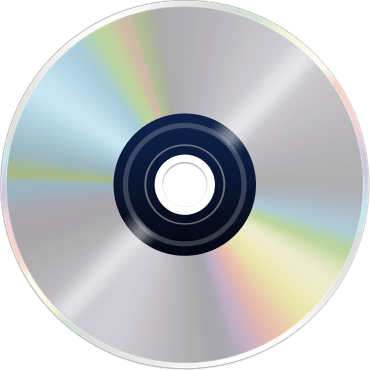 The most common disc diameter is 120 mm. Interestingly, at first the CD was aimed at playing 60 minutes of music with a size of 100 mm or 115 mm. The playing time was then extended to 74 minutes to accommodate Wilhelm Furtwängler's 1951 performance of Beethoven's 9th Symphony at the Bayreuth Festival, which required changing to the 120 mm diameter.
80 mm discs also exists, though they are much less popular. Shaped CDs are are sometimes used, especially for marketing. They are mostly based on the 80 mm size, with the top and bottom cut to resemble a business card.
The double-sided discs sacrifice their label in favor of the second data side, and are quite rare. They store double the data compared to their single-sided counterparts. Such discs can be used in a standard DVD drive, and have to be flipped for the other side to be read. As both sides contain data, they can't be labeled.
Read more about Compact Discs in Wikipedia.
Ways of Labeling
There are many methods for labeling your optical discs. Each has its advantages and disadvantages, so it's up to you to choose a method most suitable to you, depending on the situation.
Marker Pens
The fastest and easiest way of labeling a disc is writing on it with a marker. Indeed, it's fast, cheap and it works. However, there are limitations—you can't write a lot with the marker (imagine squeezing a list of 14 tracks into a CD top), you have to have legible handwriting, and such labels look unprofessional at best. So, if the disc is intended for giving away, it's not a good idea.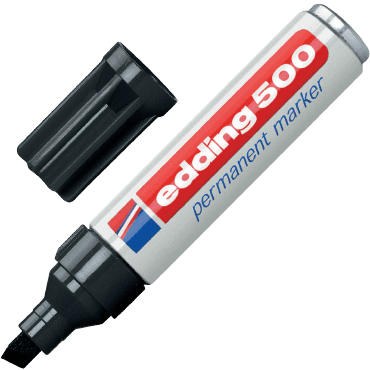 Whether it is safe to write on the top of a CD has long been subject to controversy. Indeed, some markers use solvent or alcohol-based ink, which may eat into the disc's surface and damage the lacquer and dye, causing read errors. The manufacturers of the pens and discs change their technology all the time, so it's hard to guarantee that the marker and the disc you are using will get along well. As a rule of thumb, never use sharp-tipped pens, such as a ball-point pen—use only soft-tipped felt pens marked as suitable for CD and DVD.
Also, where possible, write on the hub area as there are no data recorded beneath. Inkjet printable discs are safer to write on due to an additional layer which absorbs ink.
Adhesive Labels
A more attractive way to label a disc is to print a label on special paper with a printer and apply it to the disc. A label paper sheet consists of two layers: the top adhesive layer and the underlying base. As the labels are designed on a computer, it opens endless possibilities for creativity. You can add custom graphics, import tracks lists, easily print multiple copies of the same label. Plus, no special hardware is required—there is plenty of label paper available in shops, compatible with almost any consumer inkjet or laser printer.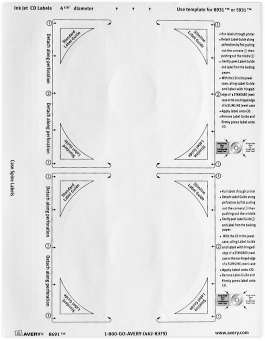 First you need to pick up the label paper (see Manufacturers below). Prices vary between 5-20 cents per label depending on the paper quality, pack size and vendor. The most common page sizes are US Letter (8.5 × 11 in) and A4 (21 × 29.7 cm). Other paper sizes also exist, so make sure such paper is supported by your printer. Use only round labels, specified as CD/DVD, with your discs—this will ensure that your disc is correctly balanced in the drive and the adhesive used on such labels is not harmful to the disc's data layer. Once applied, labels should never be removed or repositioned, as this may delaminate the disc.
To be able to print your designs on the label stock, you will need software supporting this stock. The software must know, how the elements are positioned on the layout of the paper sheet, so that your printed content fits correctly on the labels. Label design applications often come with printers supporting direct-to-disc printing. Retail CD/DVD burners usually come with the burning software, sometimes featuring label design functionality. For the best results, however, use dedicated label design software, such as Swift Publisher.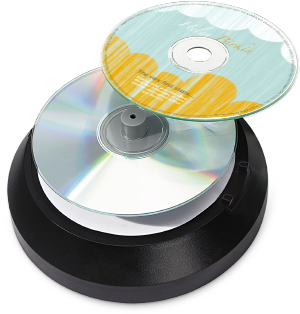 Once you have printed your label, it must be applied to the disc. It's an important step, you'll have to take care to apply the label evenly and smoothly, without air bubbles. Otherwise the balance of the disc in the drive might be upset, causing excessive noise, vibration, read errors.
You may apply the label manually, which will require some practice before you get suitable results, or use a special applicator which helps with centering. Such applicators are often sold as part of label kits along with label paper by many manufactures, such as Avery, Memorex, Neato and other, priced around $20, or separately.
HP Tattoo
An interesting variety of labels are Hewlett-Packard Tattoo labels. These are 5 × 7 in sheets with a semi-transparent label in the center. You print the mirrored image of your label on the back side of the sheet with any inkjet printer. Then peel the label off, apply to the disc using the supplied applicator, press down, and the label sticks to the disc (due to adhesive rings in the hub area and around the outer edge). Such labels are glossy, smear-resistant and bubble-free. For best results use them with light-colored or white discs. A box of 15 costs $9.99, applicator included.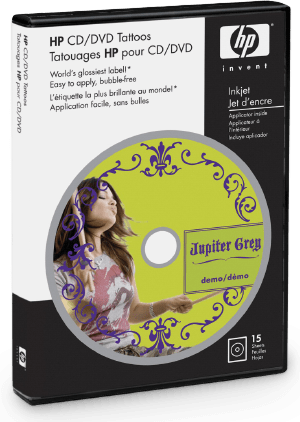 Labels on Rolls
Labels printers such as Dymo, Seiko, Brother, Zebra and similar are normally associated with barcodes, mailing and other general-purpose labels. Surprisingly, they can also be used to print small round labels for discs, if such paper is available. As the rolls are rather narrow, only a small diameter label fits, covering less than half of a standard-sized disc.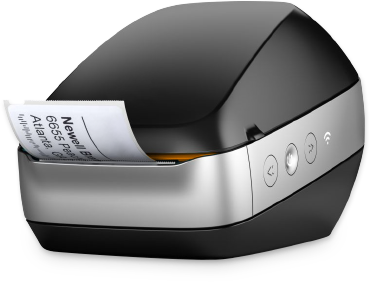 For example, with Dymo LabelWriter, you may use 2-1/4 in labels No. 30854 ($13.15 for a roll of 160) or similar. Brother offers 2-1/3 in DK1207 CD/DVD labels for Brother P-Touch QL ($28.49 for a roll of 100).
Both printers can also be used to print diskette, VHS and other media labels, depending on the available supplies.
Disadvantages
Though offering low cost, good quality and compatibility with a wide range of printers, adhesive labels have some disadvantages. First of all, if applied unevenly, the disc will look unattractive, and, what's worse, the disc's balance may upset and cause its shattering in the drive, vibration, noise and read errors—even damage to the drive. The glue on the labels may over time react with the disc's lacquer and damage the sensitive dye layer (thought it's unlikely with labels designed specially for CDs and DVDs).
Printing on label paper normally requires calibration of the printer to make sure that the designs fit accurately on the labels on the sheet. So, first you will need to do a test print on a sheet of label paper and make adjustments in the label design software to compensate for any printing offsets.
Paper labels are sensitive to moisture and smearing (inkjet-printed labels). If your computer is equipped with a slot-loading optical drive, never use discs with any adhesive labels—drive manufacturers recommend against it.
Manufacturers
Below is a list of the most popular manufacturers of label paper. You can buy the paper from their website, as well as in many online and retail stores.
Avery Dennison
The world leader in label paper. Many vendors use Avery dimensions for their own label paper (often marked as "Avery Compatible"). Labels can be purchased directly from the website.
Neato
A popular vendor of labels, labeler kits, media and associated products. Online store.
A-One
One of the leading Japanese manufacturers of paper and labels.
Sigel
A German manufacturer and vendor of label paper and office supplies. Online store.
DECAdry
A Belgian vendor, distributing its products in 55 countries worldwide. A large range of paper labels of all kinds.
Herma
A German manufacturer of office supplies.
Direct-on-Disc Labels
A range of printers capable of printing labels directly on discs is available. They eliminate the need to pick and buy label paper, calibrate the printer and manually apply the labels. The resulting labels look attractive and professional, though not as great as, say, glossy paper labels printed with an inkjet photo printer.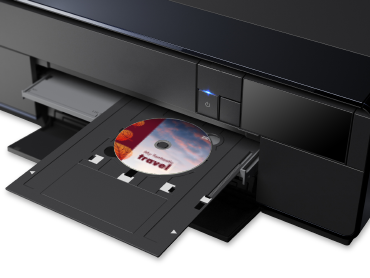 Inkjet printers equipped with a special tray for discs are the most popular ones for direct-on-disc printing. They work by injecting small droplets of black or color ink onto the surface of a disc with a special, inkjet-printable coating. Such discs are widely available in most shops selling media, at the price of general blank discs. Look for discs marked as "Inkjet Printable".
Printer Manufacturers
Here are the main manufacturers of general-purpose inkjet printers, supporting printing on discs.
Epson
A Japanese company, one of the world's largest manufacturers of printers and other computer peripherals. Visit the Epson website for the current product range.
Hewlett-Packard
A US manufacturer of computers, peripherals and a wide range of electronic equipment. Visit the Hewlett-Packard website for the current product range.
Canon
A Japanese multinational corporation, specializing in imaging and optical products. The printers sold in the USA come without the tray for CD/DVD printing. Visit the Canon website for the current product range.
To enable printing on discs, the printer must be supported by the software in which you design and print your labels. Printers are normally supplied with some label creation software, which is, however, rather limited in functionality. If you need more flexibility, it's better to use a dedicated stand-alone software package.
Dymo DiscPainter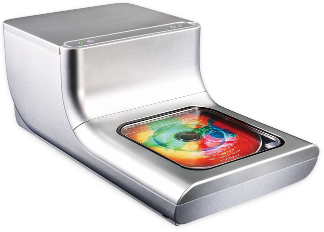 A small inkjet printer from Dymo, which does only one task—prints labels on discs. It employs the RadialPrint® technology which prints on the disc spirally as it spins, at 1200 dpi. The printer has small footprint and is quite fast (from 1 to 3 minutes per disc, depending on the quality). The DiscPainter can print on standard-sized and mini inkjet-printable CD and DVDs, but not CD business cards.
Auto Printers
Auto printers combine label printing with an automated disc feeding mechanism. Some also include the disc burning feature. In fact, these are automated stations for small-scale CD/DVD duplication.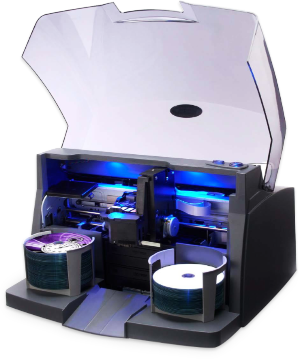 Primera Printers
The Primera Bravo (Disc Publisher in Europe) series is an "all-in-one" disc publishing system, combining automated robotic CD/DVD duplication with fill-color, 4800 dpi direct-to-disc printing. The system supports standard, mini and business card disc sizes, has the capacity from 20 to 100 discs.
More info about Primera printers:
https://www.primera.com
The European division of Primera:
http://dtm-print.eu
Imation D20 Disc Publisher
The Imation D20 is a re-branded version of Primera SE, which burn and prints labels on up to 20 CD/DVD discs. The price is $1299 at the Imation web store.
Microboards GX
A small and fast direct-to-disc 4800 dpi printer. Two models available: GX Disc Printer with manual loading and GX Auto Printer, with the capacity up to 50 discs. Includes software for Mac and PC.
Disadvantages
Printed discs are sensitive to moisture and smearing. Once printed, the disc must be allowed to dry which may take some time (up to several hours), which is an inconvenience. This however can be overcome by using media with special instant-drying and smear resistant surfaces, such as WaterShield and Aquaguard.
As the label is printed directly on the disc, the disc is wasted if something goes wrong. Also, make sure that the printer you are using is supported by your label design software.
Burning Your Label
An alternative to adhesive labels and printing on discs are the technologies for etching text and graphics directly on the compatible media with the burner's laser. The label side of such media has a special coating which changes color by absorbing the laser light. Before or after recording the data on the read-side, the user turns the disc over and inserts it in the drive with the label side down. Naturally, the disc drive must support the technology. The resulting image is monochrome, though the discs are available in different colors. The disc can be used immediately after being labelled, and the procedure is absolutely safe for the disc. Presently there are two rivaling technologies on the market, sharing the same principle but non-compatible in terms of drives and media: LightScribe and Labelflash.
LightScribe
LightScribe was introduced by Hewlett-Packard in 2005. It works with DVD+R or CD-R discs coated with a reactive dye which changes color by absorbing the laser light of a certain wavelength. Once burned, the label can't be erased, though it's possible to add content to the existing label or burn the same label again to make it more contrast. This is possible due to a special marker on the hub area of the disc, so the drive knows the precise rotational position of the disc. LightScribe is supported by a number of internal and external drives produced by different manufacturers—look for the LightScribe logo. The media is priced starting for $0.30 for CDs and $0.60 for DVDs.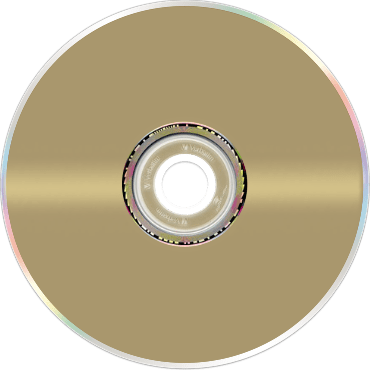 Hewlett-Packard discontinued support of LightScribe technology in 2013.
Labelflash
Introduced by Yamaha in December 2005. It's an implementation of Yamaha's DiscT@2, and is similar to HP's LightScribe. The resolution is 1000 dpi, with up to 256 shades in the image. Discs feature a thin top coating to avoid fading of image over time, and are blue on top. Labelflash drives also incorporate the DiscT@2 technology (see below). Media are about twice the price of LightScribe media, at $1.5 per DVD. Labelflash CDs are quite rare.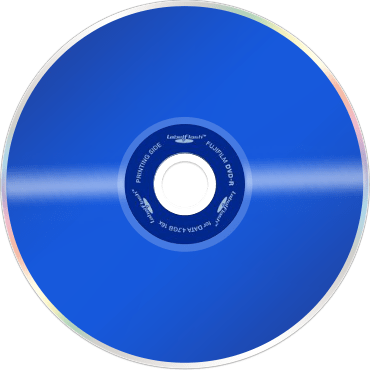 For more information you can also read the review done by Tom's Software in 2006.
Yamaha discontinued support of Labelflash technology in 2017.
DiscT@2
Developed by Yamaha, and introduced in 2002. Allows users to burn custom text or images on the unused area of the data side of a CD-R disc, using a compatible drive. The Labelflash technology, which is NEC's implementation of DiscT@2, supports DVD media. The area available for labeling depends on the amount of data recorded on the disc. If the disc is full, there will be no place for the label. This technology requires standard recordable media (CD-R for DiscT@2 drives, DVD±R for Labelflash drives).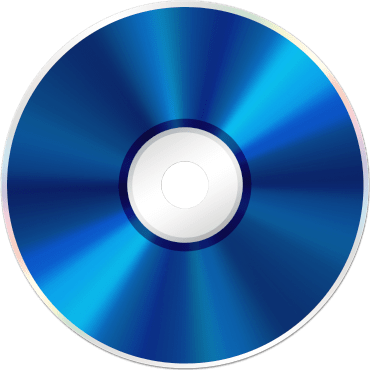 Yamaha discontinued support of DiscT@2 technology in 2017.
Disadvantages
Both technologies require compatible drives (though support for one of them is presently included in many drives on the market) and special media, more expensive than regular ones. The image is monochrome and the etching process is slow (about 20 minutes for a LightScribe disc, 7 minutes for Labelflash). Besides, the label may be susceptible to fading if exposed to sunlight and heat. Normally, for a LightScribe disc, the label will show no visible fading under indoor lighting for about 2 years, and will last the life of the disc if stored in a closed box. If used in a hot or sunny environment (such as inside a car), the label is claimed to visibly fade within 2 months, though it's not supported by any in-depth testing. Labelflash discs are less sensitive to heat and light due to the protective coating. Also, the media are quite expensive compared to regular discs and are not widely available.
The Future of Optical Discs
Optical discs have proved to be a success story. They are cheap, wide-spread, convenient and reliable—especially for long-term storage of data. An optical disc as we have it will probably remain for a long time, with the capacity constantly increasing. For example, the CD introduced in 1982 had the capacity of 650 MB. A DVD is 4.7 GB, or 8.5 GB for a double-layer disc. Blue-Ray which has the same form as the CD and DVD, stores 25 GB. Pioneer has recently developed the world's first 16-layer optical disc with a capacity of 400 GB (25 GB per layer, which is the same as that of a Blue-Ray disc). So, there's still plenty of growth opportunities for optical discs—and the need to label them will always remain.
As for the labeling methods—it appears that all of the methods described here will stay in the nearest future, because each has its advantages and disadvantages, depending on the application. Burning labels directly by the drive seems the most convenient method, but is currently limited because of the lack of full-color support, and is not supported by all drives. Paper labels have been around for more than 20 years and are still widely used, in spite of the advent of more hi-tech labeling devices. And the simplicity of a felt pen is really hard to beat.
Revised: December 2022