Guide to Halloween Fonts: Spooky Typography for All Your Projects
Are you one of those people who waits with anticipation 11 months of the year until Halloween rolls around again? Are you excited by dropping temps and pumpkin spice everything because it means it's time to get out your cobweb and skeleton decorations?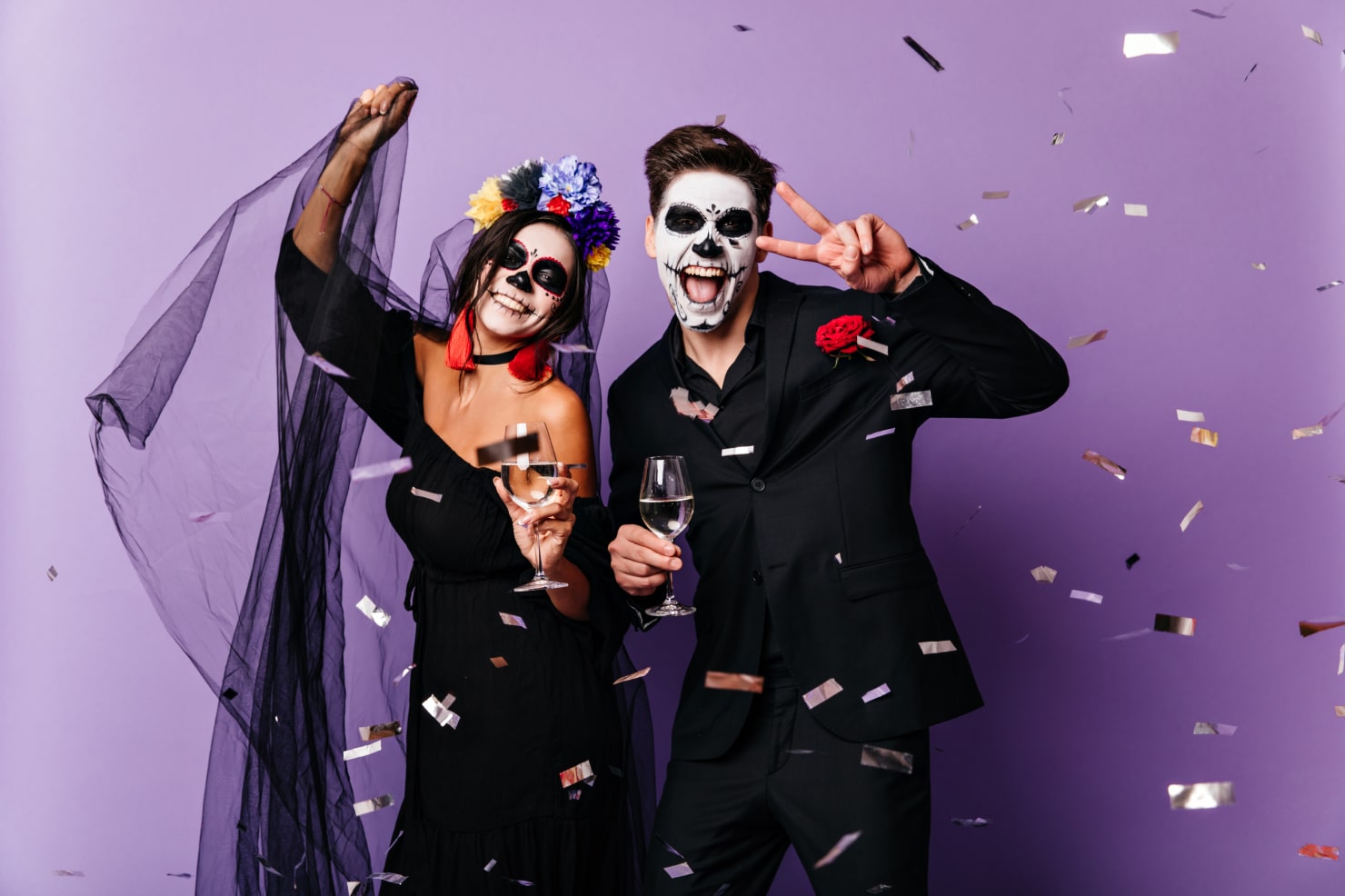 If you have a penchant for pumpkins, spider webs and the spooky side of life, this is your chance to jump into creative projects to celebrate October 31, and we are here to help with our article on the best Halloween fonts.
From trick or treat candy bags with name tags to hand out to kids' classmates, to name cards that set a Halloween theme at the table, there are endless ways to add flair to the season with spooky (or silly) text. Rather than search through the thousands of font options out there, we thought you might appreciate our roundup of the best out of the gothic and horror, vintage, cartoon and handwritten typography styles. These Halloween fonts are sure to make your creations fun and frightening!
Understanding Halloween Fonts
Halloween fonts span a wide range of styles. But what they all have in common is a sense of creepiness, fright, or playfulness embodied by this holiday. Also, these font styles often include thematic elements like bat wings, cobwebs, ghosts, Halloween candies, or vampire teeth. In many fonts these elements are integrated into the letters, so they are instantly recognizable as related to Halloween.
Some font styles are meant to appeal to the scarier side of the holiday. They may use jagged lines, weathered textures and distressed coloring–evoking notions of a dark haunted house. On the non-frightening side, fonts will feature friendly ghosts, cartoon-like lettering and rounder shapes, evoking silliness or playfulness about Halloween. These would be well suited for children's books or for kids' Halloween parties.
Due to their thematic elements, and also to the particular shapes used in these fonts, Halloween fonts usually have a narrow focus. Unlike many fonts that could be multipurpose, Halloween fonts typically have a narrow application and are mostly used only during this season.
It is important to think about the audience and the event you are designing for when you choose a font. What emotions do you want to bring out in the reader? Is the text meant to evoke fear, horror or a haunting sensation? Or are you aiming to evoke laughter, playfulness, festive joy and the lighter side of Halloween? Whatever you choose should align visually with the intention.
Popular Types of Halloween Fonts
Halloween fonts vary in shape, weight and use of thematic elements. There is enough selection to suit any creative design project. We will look at Gothic and horror fonts, vintage and retro fonts, cartoon and fun fonts, as well as handwritten and calligraphy fonts that are all perfect for a variety of Halloween projects.
Gothic Fonts and Horror Fonts
A font style that screams Halloween is the Gothic Horror font category. Gothic, also known as Blackletter fonts, can bring to mind old abandoned ghost-filled houses and engraved gravestones in haunted cemeteries. And some horror style fonts are inspired by the typography from famous horror movie titles, like The Shining, Halloween, Frankenstein or The Exorcist. These fonts give a nostalgic film feel while still bringing out the creepy side.
These are some good Gothic and Horror fonts to experiment with:
Cloister Black
Chiller Font
Young Frankenstein
Ghastly Panic
Black Night
Nosifer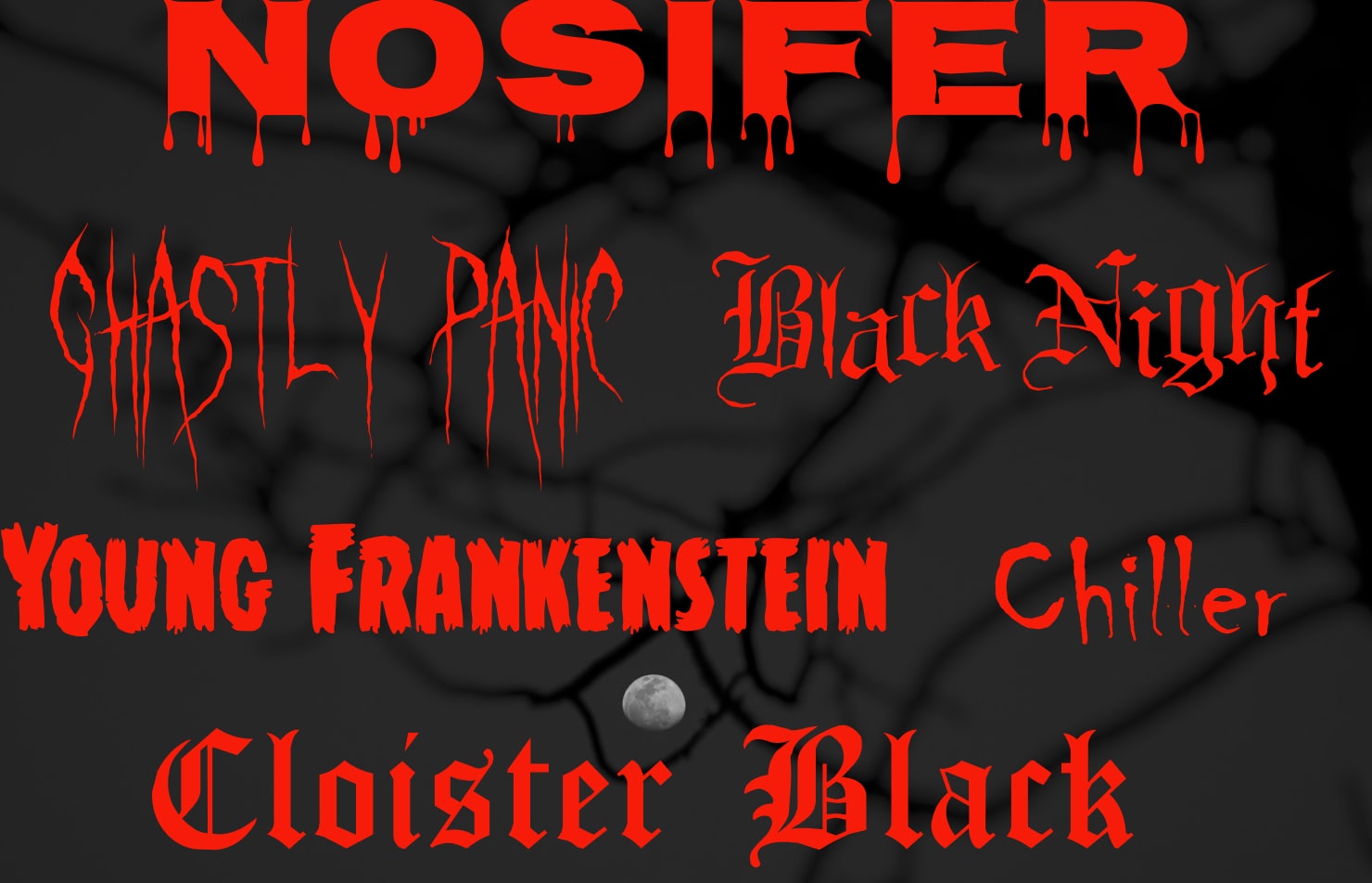 Vintage and Retro Fonts
These fonts capture the nostalgia of past eras and might evoke feelings of old-fashioned charm of the origins of dressing up and going trick or treating for the holiday. Or think of vintage typewriter fonts that call to mind old, forgotten letters of the past, found in creepy haunted old houses. These fonts can give Halloween designs an old-fashioned feel.
Here are some characteristics and examples of vintage and retro Halloween fonts:
Carnivalee Freakshow
Grooving
Caslon Antique
Beyond Wonderland
Fright Night
Bleeding Cowboys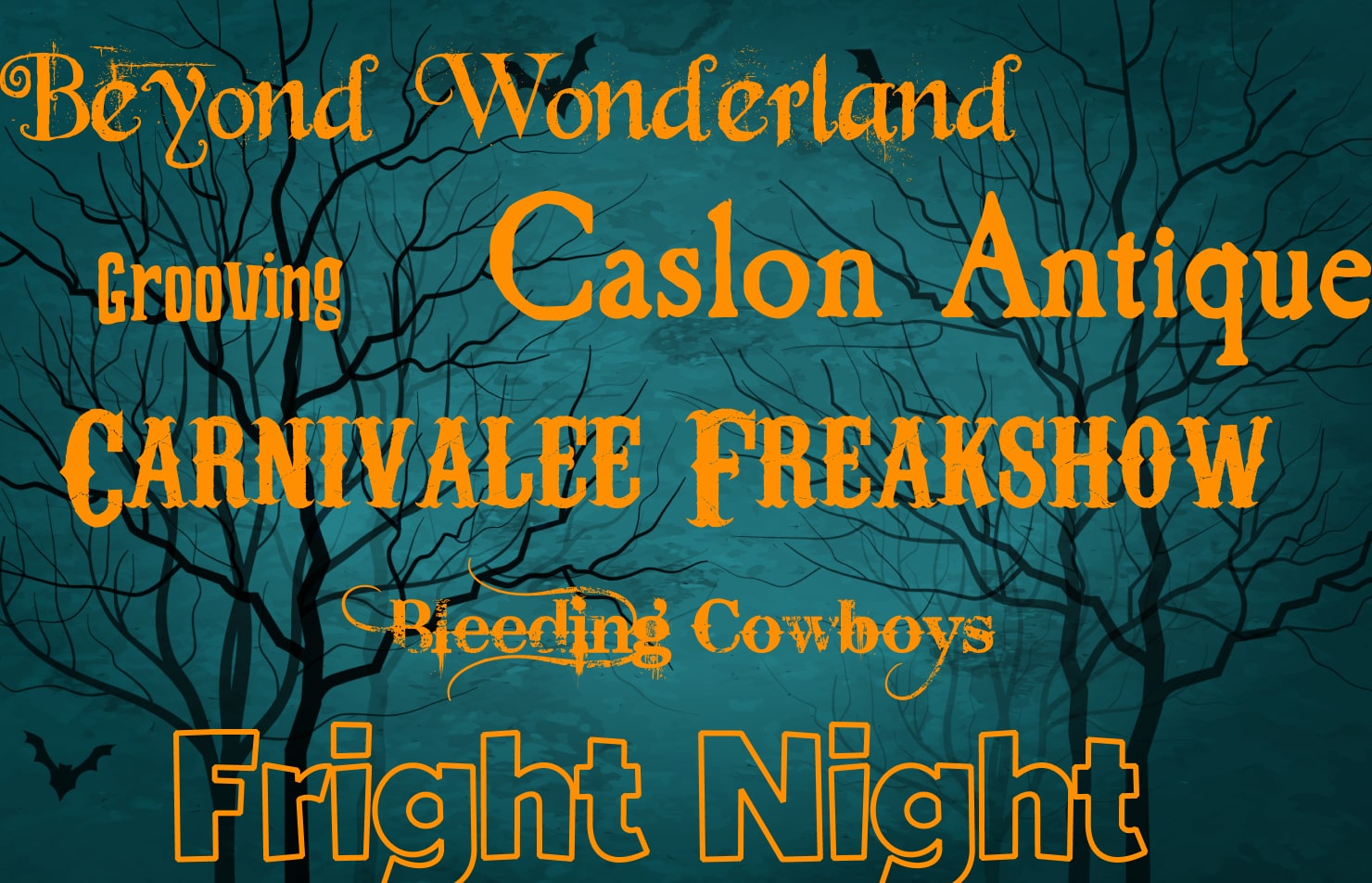 Cartoon and Fun Fonts
Designing for a Halloween filled with jokes, pranks, children dressing up and treats is easy. Choose one of the many appealing cartoon, fun fonts. These are a departure from evoking things like dripping blood and horror movies, and aim for smiling jack o'lanterns, friendly ghosts and the more silly side of the holiday.
These are great for any classroom Halloween signs or crafts at a school party, or name tags to add to treat bags for young ones:
Spooky Season
Mystery Quest
Spooky Things
Brownie Cake Regular
Amatic SC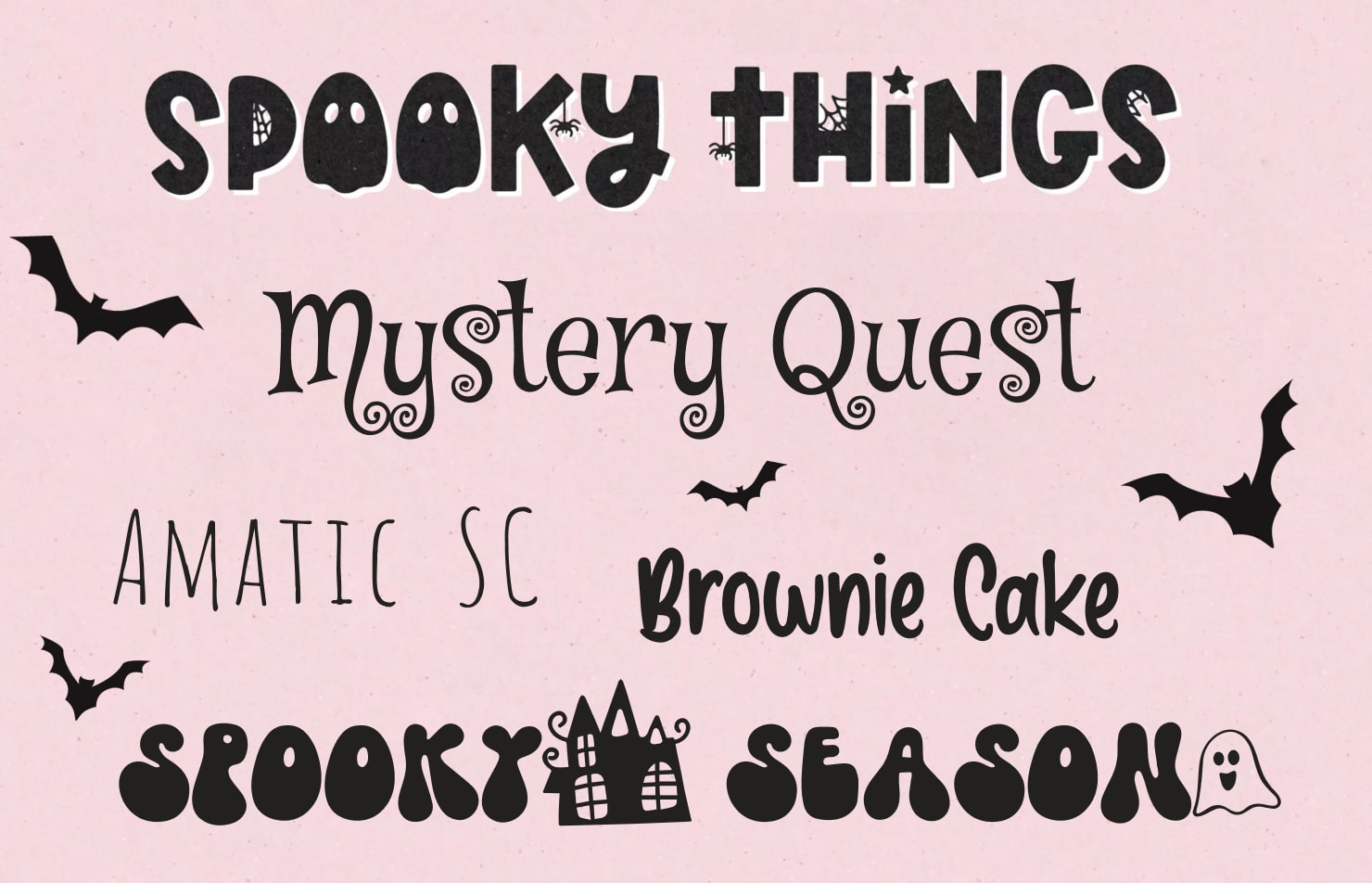 Handwritten and Calligraphy Fonts
These fonts can bring an artistic flair to Halloween designs. These can be formal, if you choose a classic calligraphy style, or more casual, with a flourished, loopy handwritten style. Handwritten and calligraphy fonts would work well in invites for an adult party, announcements for a Halloween celebration at a workplace, or place cards at a costume dinner party.
These are some good fonts to try:
Shadows Into Light
Blackwood Castle
Heidorn Hill
October Moon
Fiddums Family
A Dark Wedding
Windsong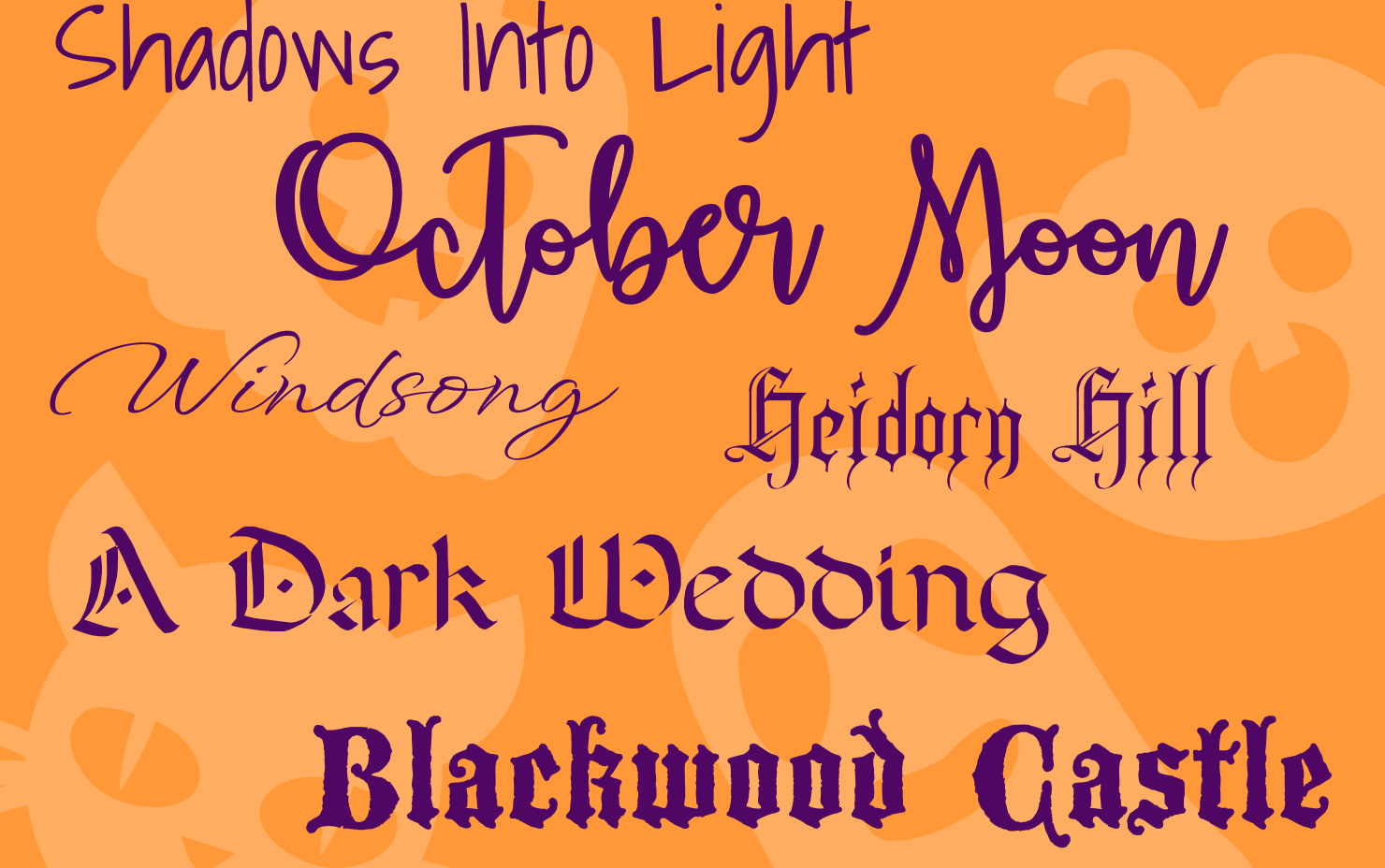 Creative Ways to Use Halloween Fonts
Using any of the Halloween fonts above can add to the appeal of your creative projects for Halloween, and make your designs instantly recognizable as spooky, creepy, bewitching, frightening, playful or fun. From printed items to digital designs, there are many ways you can use your favorite typography styles.
Halloween Party Invitations
While designing your invitations, choose a font like Spooky things or Mystery Quest for a kids' party invite, and use muted tones of orange and peach with dark gray accents. You can incorporate friendly ghosts, cute black cats and smiling pumpkins to set the mood.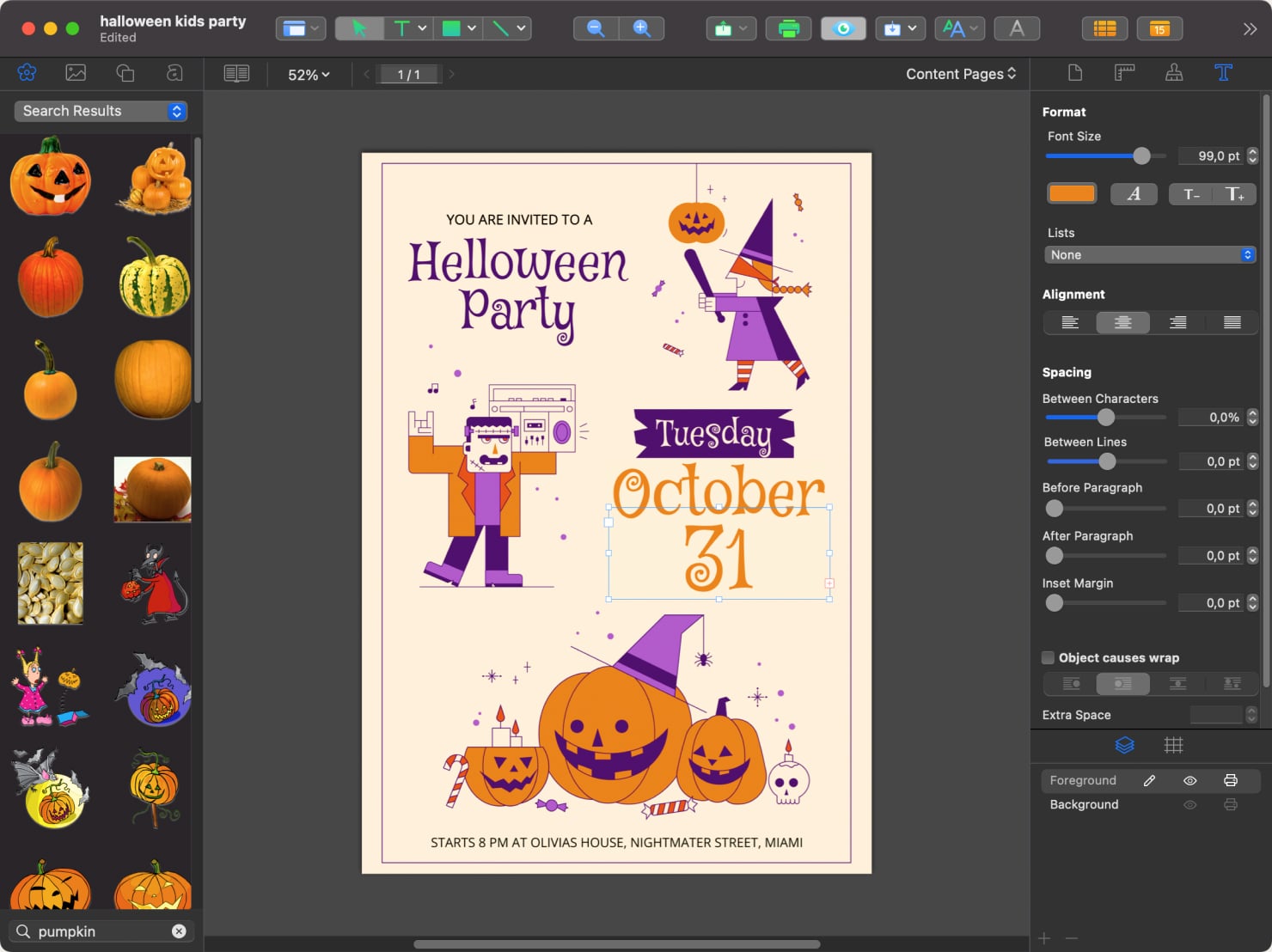 For an Addams Family theme party choose a font like Blackwood Castle, and add elements like a haunted mansion, skeletons and gravestones as images. Or if you throw a Halloween party with a vintage vibe, choose Carnivalee Freakshow to evoke an old-fashioned carnival feel.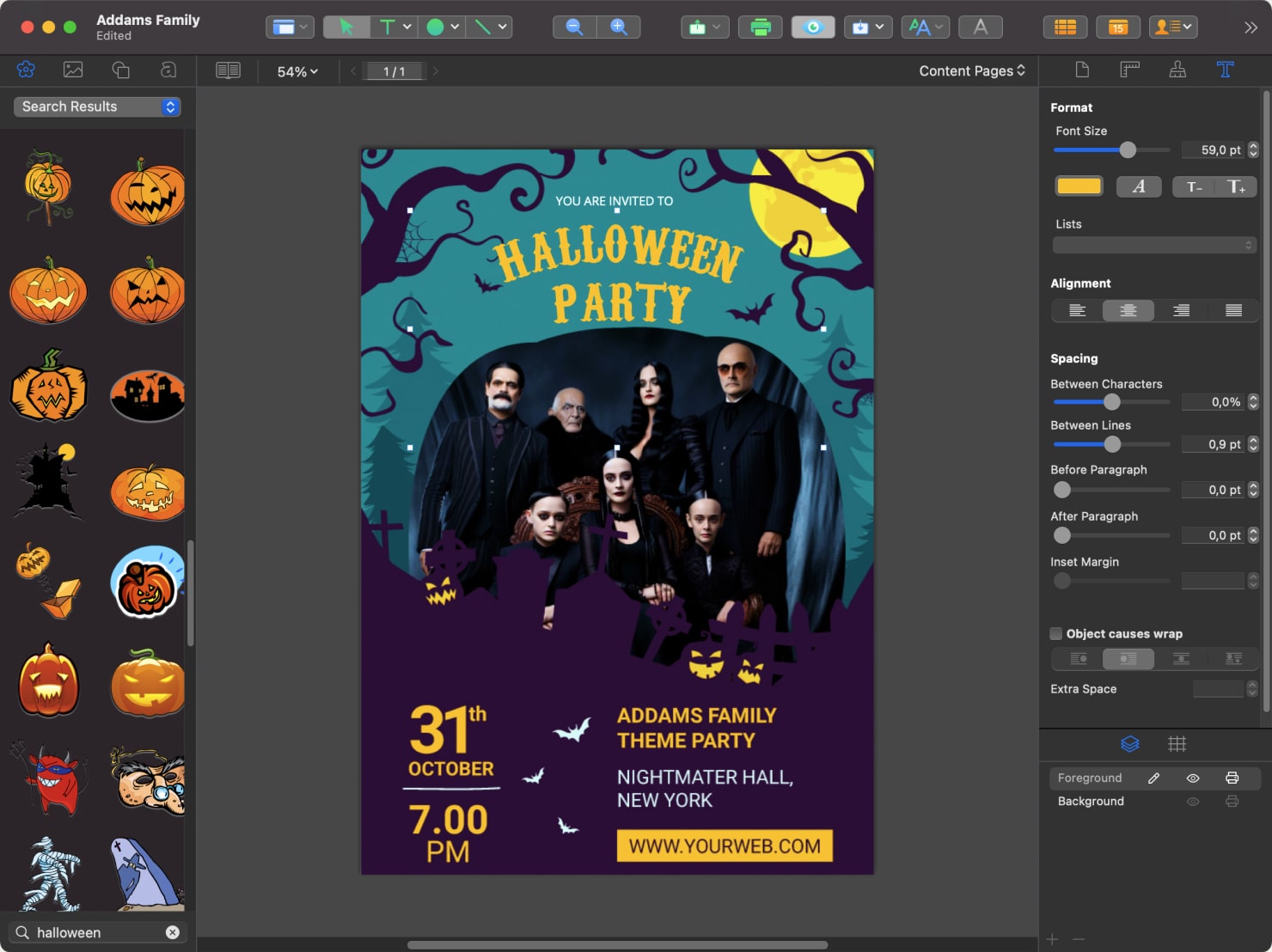 Along with invitations, you can repeat the font on the menu and cards in front of spooky treats and drinks that spell out what is on offer. Thoughtful details like this for all the printed items for a party add an atmosphere of Halloween fun.
Spooky Posters and Flyers
Halloween posters are fun to design when you have so many great font choices at your fingertips.
Create Halloween-themed large prints from things like:
quotes from popular scary and horror movies;
poetry from Edgar Allen Poe or other "dark" poets;
sayings about witches or ghosts;
lyrics from Halloween songs.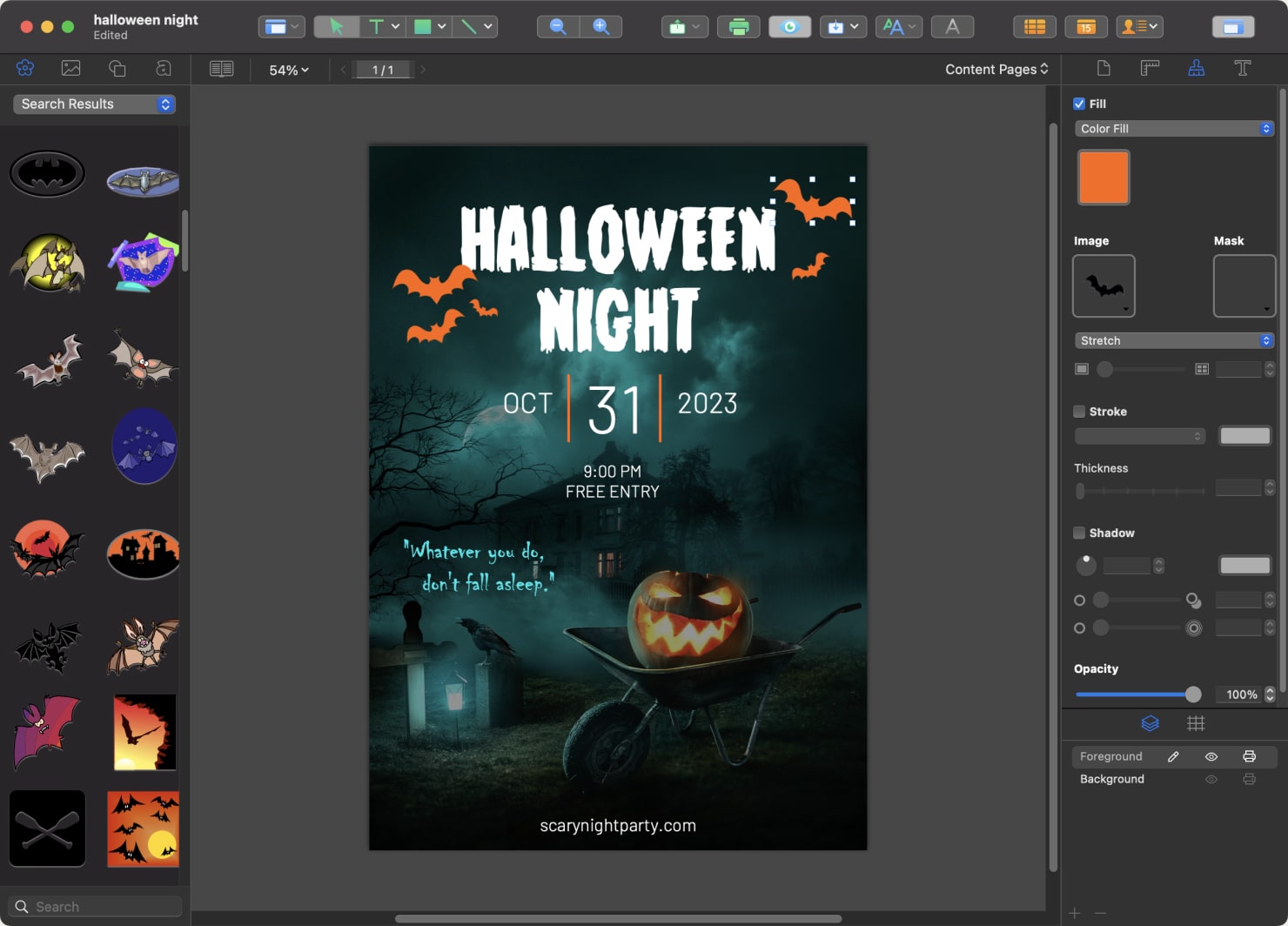 Or use these fonts to create flyers announcing a Halloween Carnival or neighborhood block party.
For eye-catching flyers that call for large text, consider Halloween fonts like:
Ghoulish Fright
Creepster Regular
Bleeding Cowboys
Where to Find and Download Halloween Fonts
There are loads of websites offering Halloween Fonts. Whether you are sticking to free fonts or if you have a budget to purchase them, you will not lack for choice. When searching for fonts, use terms like jack o'lantern, haunted, creepy, ghoulish, ghostly, Frankenstein, black cat, gravestone to find some of the best styles.
Some of our favorite sites for fonts are: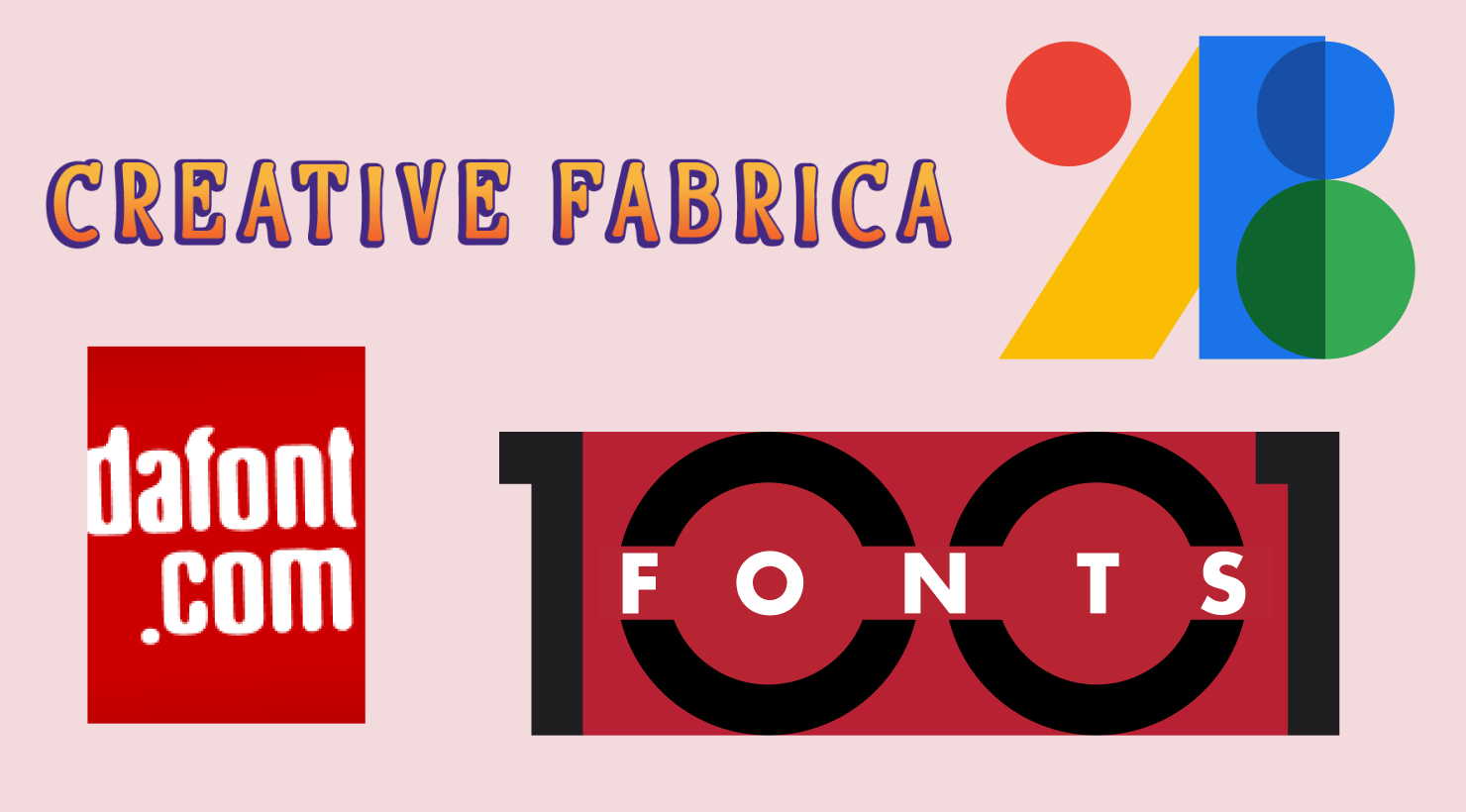 Tips for Pairing Typography in Spooky Designs
When designing with decorative fonts, it's a good practice to use cohesive styles, and to keep a contrast between headlines and body text. The main goal is readability first and second, showcasing your Halloween theme.
For example, if you use a bold headline like "A Dark Wedding", pair it with a simpler, less complicated font for a body of copy, like Helvetica or Century Gothic. Or if you have a flourishing handwritten style font for a headline, use a cleaner and easy to read font for the copy, like Arial or Times New Roman. You don't want to overuse decorative, bold elements, so contrasting very thematic fonts with simple fonts is a good way to keep a balance overall on your document.
Wrapping Up
Using the right fonts can make your design "scream" Halloween, and fonts of all kinds are easy to use in Swift Publisher. A range of options await you, whether creating DIY Halloween decorations, party invites, posters, name tags for a costume party or a banner for a wall. Swift Publisher allows you to lay out a copy in creative ways, while creating designs that look professional thanks to the wide range of templates.
Published: October 2023