Label Paper
Here you'll find out about mailing labels—what they are used for, what kinds of them exist and how you can use them best.
The History of The Label
The first labels appeared during the Industrial Revolution in 1880s.
Before this time during hundreds (or even thousands) years manufacturers put the information, related to the products, on earthenware pots, boxes, barrels and so on. Merchants transported and sold wares themselves. From them customers could know about the manufacturer and quality of their goods.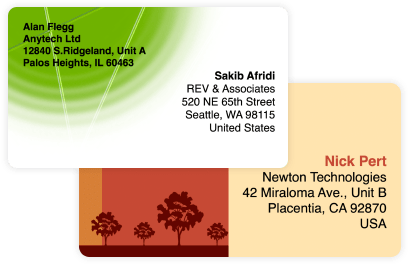 The Industrial Revolution made fundamental changes in the production and distribution systems. This required, that related to the products information was transfered with the products. For long time it was enough to have some notes on bags and boxes. But the growing competition on the market required to make products more attractive. The first labels appeared on food, tobacco and flower markets.
The first labels were made by artists (because they managed the lithography—one of the few methods of replicating images on the paper 200 years ago). Now artists also participate in label creating but as designers. Labels are printed typographically in thousands (and more) copies. Their cost came down significantly in comparison with manual production.
Possibly, the most important event in the label history happened in the 20th century. In 1935 R. Stanton Avery (1907–1997) founded Avery Dennison. He developed and manufactured the world's first self-adhesive label.
Another important thing—modern desktop printers. Their appearance has opened a way for the small business and home users to print high quality labels with small number of copies. It's became possible to use labels in other areas, like mailing. Paper manufacturers offer wide range of label paper for different needs. Owing to special programs (like Swift Publisher) label printing takes minimum time and effort. For example, Swift Publisher supports a wide range of label paper options and formats, allowing you to choose the perfect material and size for your needs. Whether you prefer glossy, matte, transparent, or textured label paper, our label maker software can handle them all.
Label Types and Structure
There are many types of labels we come across in our everyday life. These are CD labels, diskette labels, price tags on goods in shops and many more. Mailing labels (the labels used for addressing letters and parcels) will be described here in details.
Pressure sensitive labels are made up of several layers. The layers consist of the facestock, primer, adhesive, release coating, liner and top coating. Labels don't necessarily consist of all of the layers mentioned. They must consist of a facestock, adhesive, release coating and liner.
Mailing Labels
Mailing labels are normally used for printing addresses on them (the delivery address, return address or both).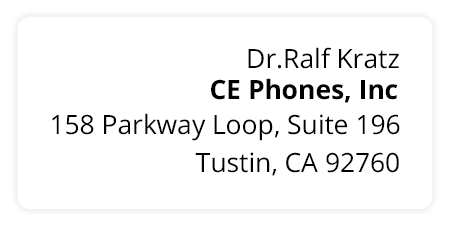 You can use them with envelopes or parcels. An address, printed on a label, looks more professional (and legible, which is important), than one written by hand. If you send a lot of mail, labels save you a lot of time. Printed address can be easily handled by automatic mail processing equipment, installed at many postal services, thus simplifying mail sorting and speeding up delivery.
Such applications simplify printing on labels considerably, and, what is important, allow you to print addresses from an address database (for instance, from Apple Address Book). This eliminates the risk of mistakes in the address, and even a large number of addresses can be printed in a couple of minutes.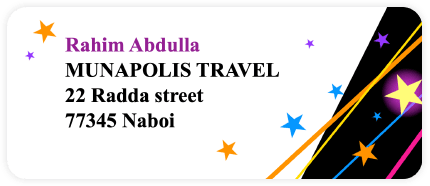 For parcels, labels are perhaps the only possible way of writing an address accurately and professionally. With envelopes, you have a choice of either printing the address on a label, or directly on the envelope. Below you can see when it's more convenient to use labels with envelopes, rather then print directly on them.
Advantages of Labels
Labels provide more flexibility. You can, for example, print labels with your return address and logo and apply them to both envelopes and parcels, regardless of their sizes.
Labels are the only way of addressing a parcel accurately.
You can print addresses on labels and stick them to envelopes of various sizes. If you printed directly on envelopes, you would need to change the program settings for envelopes of different sizes.
Forget about wasted envelopes. The labels are normally on standard-size sheets, which are fed to printers without problems. The envelopes differ in size, and not all sizes are supported by your printer by default. Envelopes are more likely to be fed into the printer incorrectly, with the address printed askew as the result, and the envelope (often not cheap)—wasted.
Time-saving when printing many addresses. Envelopes are printed one by one, whereas you can print several dozens of labels in one run.
Oversize envelopes and parcels. Parcels, large and thick envelopes can't be fed into a printer. That's where labels come in.
Mailing Label Paper Types
Label paper sheets are normally of A4 or US Letter size. The labels may differ in size, form (square or rectangle), edges (square or rounded).
Some label paper types have gaps between labels, some not. If you want to print labels that have an image that covers the entire label, choose the paper with gaps to avoid positioning problems.

The paper also differs by the printer type it's designed for. It may be universal (for both inkjet and laser printers), for inkjet printers only or for laser printers only. The advantage of laser printers is that addresses printed on compatible paper are not sensitive to moisture. Inkjet printers allow to use color. Besides, they allow to print just one or two labels at a time and re-use the sheet later. With laser printers it's normally not recommended, because the sheet gets dirtier after each run and the chance of paper jam increases.
Other types of label paper include heavy-duty (weatherproof) labels, and labels with pre-printed ornament (for instance, a nice frame around the address space), clear or foil labels.
Mailing Label Sizes
There are dozens, if not hundreds, of various mailing label sizes. In this article we will use the classification by size where labels are divided into 3 large groups, depending on their size and purpose.
Small (Return Address Labels)
Such labels are most often used to print the return address. Return addresses are not processed by mail sorting equipment, so here you can use your imagination and artistic talent—use logos, colors, fancy fonts and so on.
As a rule, there are from 80 to 30 labels on a sheet. Their size ranges from ½ × 1 ¾ in to 1 × 2 ⅝ in.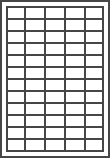 Medium (Addressing Labels)
These labels normally bear the delivery address. It's recommended that you use a large, machine-readable font (Arial, Helvetica, font size 12 pt or bigger), print the barcode. Don't place your logo or any other graphics or text in line with the address—place them below or above the address lines; otherwise these elements may confuse the sorting machine.
A sheet of such labels contains from 30 to 10 labels, with sizes ranging from 1 × 4 in to 2 × 4 in.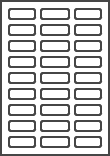 Large (Shipping Labels)
Use these labels for mailing parcels and large envelopes (like those used for magazines and mail order catalogs). They may accommodate both the delivery and return address.
As a rule, there are from 8 to 2 labels on a sheet (or one label may occupy the whole sheet). The sizes range from 3 × 4 in to 8 ½ × 11 in.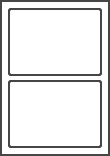 Printing Recommendations
Choose label paper depending on your printer type.
Calibrate the printer with the label stock you're going to print on in order for address printing precisely on the label.
Leave some space between the text/graphics and the edge of the label.
You may print only several labels, rather than the entire sheet, and re-use the sheet later (not recommended for laser printers).
Label Paper Tips
What Paper Is Applied for Creating Shipping Labels?
This depends on the printer itself. The scale recommendations for a specified label printer can vary from 4″ × 6″ (suitable for both USPS and UPS) or 4″ × 6.25″ (suitable for UPS only). With a regular desktop printer, a few additional manipulations will be required: you can either cut an 8.5″ × 11″ sheet of paper or buy stickers of the appropriate half-size.
Is Paper the Main Material for Shipping Labels?
Paper is one of the most widespread options, which will work with desktop printing shipping labels of different sizes. However, it would be better to use special label sheets made of more durable materials for use with inkjet printing technologies. Otherwise, the printed information can be non-scannable and blurred.
Are Sticker and Label Paper Materials Alike?
Their main purpose and the printing process are the same, but their properties are different. Both of them are sticky, but stickers are more multifunctional. They are waterproof and don't have to be used strictly for labels. Label paper is mostly used to convey particular information.
How Many Types of Labels Are There?
Overall, there are four labeling varieties on the market:
Brand—the name is self-explanatory. Such labels are used to distinguish certain branding elements of companies, including a logo or business name. They are among the most widespread solutions.
Grade—this type of labeling is aimed at identifying the sale product's quality via a special symbol. It visually distinguishes standard packages from exclusive and premium units. This approach is preferred by the USHA manufacturer.
Descriptive—an example of descriptive labels is any bottle label, which includes detailed information about the product, its size, ingredients, date of manufacture, shelf life and more.
Informative—this category of labels is similar to descriptive ones, but they include more data about the product. The informative content can include any details the brand would like to mention. The brightest example is to highlight a goodie's recipe or an instructional guide on how to use/maintain it.
Leading Manufacturers
Avery Dennison
The world-wide leader in label paper is Avery Dennison Corporation. Many other vendors use dimensions of Avery labels stock for their own label paper (such paper is often marked with "Avery Compatible" sign). Avery makes a wide range of labels of all kind and for all types of printers. You can buy labels directly at their web site.
Xerox
A large supplier of office equipment and supplies, including label paper. You can buy them at their web site.
DYMO
DYMO is a subdivision of Esselte corporation which make thermal label printers, that are great for many tasks and labeling needs. You can buy printers and the full range of labels at the site.
APLI
A large Spanish manufacturer of label paper. You can purchase labels in their online store.
A-One
One of the leading Japanese manufacturers of paper and labels.
Herma
A German manufacturer of office supplies.
Revised: May 2023