The Best Poster Maker Software in 2023
When looking for impressive poster design software, many parameters have to be taken into account. It is important to verify that the functionality is efficient and that the user interface is simple to navigate. Numerous experts have tested a wide range of popular options to prepare this list of the most advantageous digital poster-making apps.
Exclusive Software to Make the Best Posters in 2023
Attracting potential customers and retaining existing ones with the help of visual and aesthetic posters has already transformed into a must-have carte de visite of modern businesses. It works for different advertising campaigns, and email marketing isn't the only way to boost your brand awareness and customer loyalty. Whenever you are looking for state-of-the-art templates and great design toolkits for your projects, opting for the best software will be life saving. Stick to the services below to succeed in 2023!

Swift Publisher
Price: $19.99 (one time purchase)
If you think that poster making and desktop publishing can't be united in a qualitative tandem, then Swift Publisher will help you expand your professional horizons. With the help of an intuitive interface and myriads of templates (over 500 customizable and adjustable samples, to be more exact), both beginners and more experienced users will be able to keep up with modern trends in graphic design development. Along with different formats to save and share files, consumers can adjust their artwork for future publishing (for instance, feature like CMYK-RGB color palette switches, adding grids, etc.).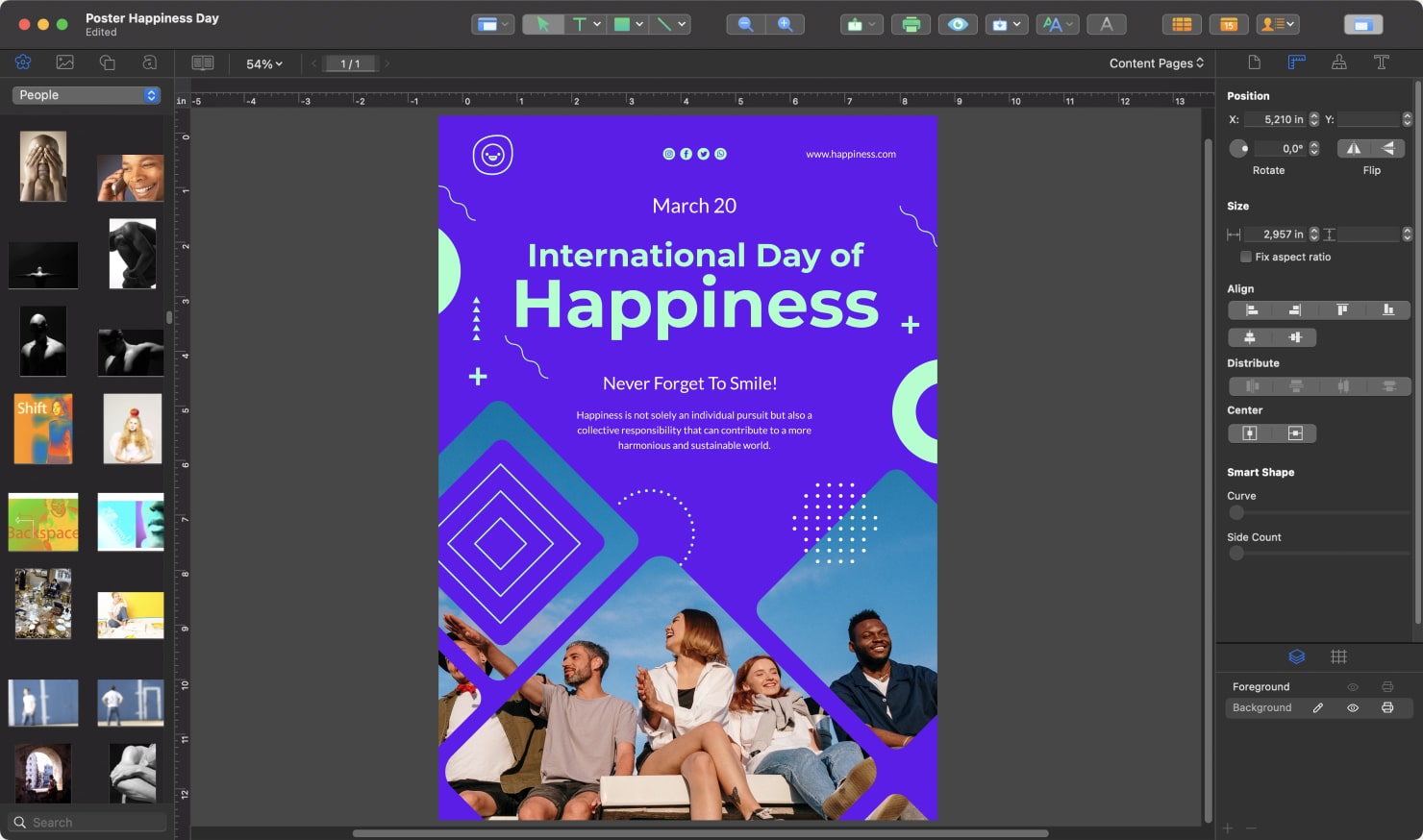 When it comes to poster creation, this solution includes convenient tools for drawing, as well as image and text editing. You are welcome to sign up for a free trial and check the program's versatility and flexibility. Then, all you need is a one-time payment to get complete access to the solution's functionality.

Amadine
Price: $29.99 (one-time purchase)
For iPad/iPhone: $9.99/year
Amadine operates on all Apple devices, including iPhone, iPad and Mac. A free trial allows you to try out all of Amadine's myriad features. Don't hesitate to check out its art gallery as samples for your achievements in the field.
All the vector graphics design tools aren't just promises Amadine offers—it is all easily accessible technology, which makes your design work more balanced and smoother to execute. With advanced drawing, variable strokes, flowing text and Recolor panel, your projects on styling and printing posters will be a breeze.
Create an unlimited number of image layers and utilize the best arrangement, object editing, zooming and other features. Among the latest hits of the program, the Fusion tool has earned lots of love from users—it lets you create complex shapes by blending contours and silhouettes.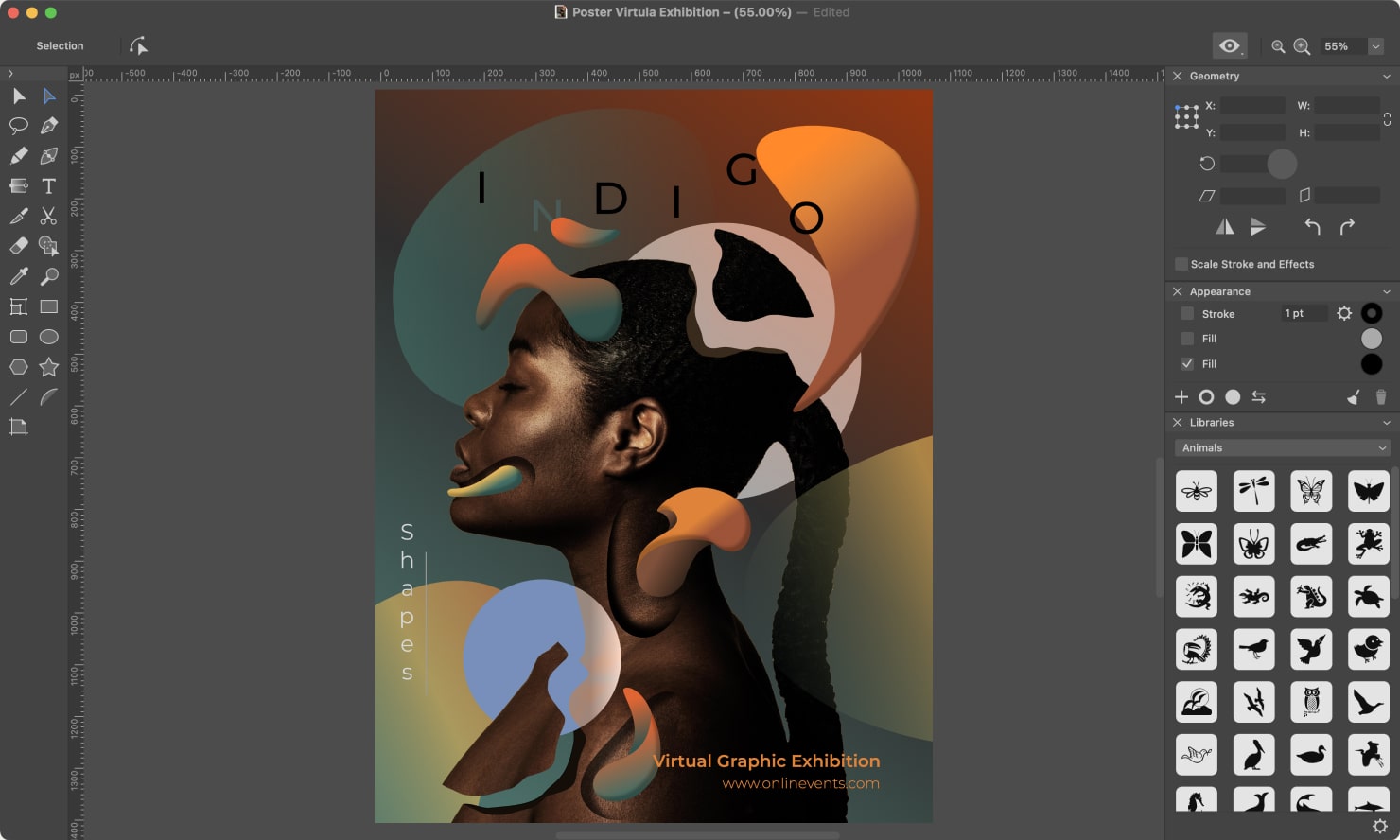 Adobe Express
Basic: Free
Premium: $9.99/month
The Adobe Express application, formerly known as Adobe Spark, is distinguished by its compatibility and flexibility. It is a much more viable solution for creatives compared to the previous release. The key goal for the app was to create an all-in-one interface, in which multiple Adobe features, including drag-and-drop tools and customizable templates, are presented.
Adobe Express is a web-based software and available through multiple platforms and operating systems. This engine is designed to distribute revamped graphics in a smooth manner. The extreme accessibility to interested parties goes hand-in-hand with a potential requirement for a short-term learning curve to become accustomed to its controls. Although the functionality isn't preserved to the fullest, the ease of use and overall intuitive, appealing design eases the challenge for newcomers to enter the graphics market.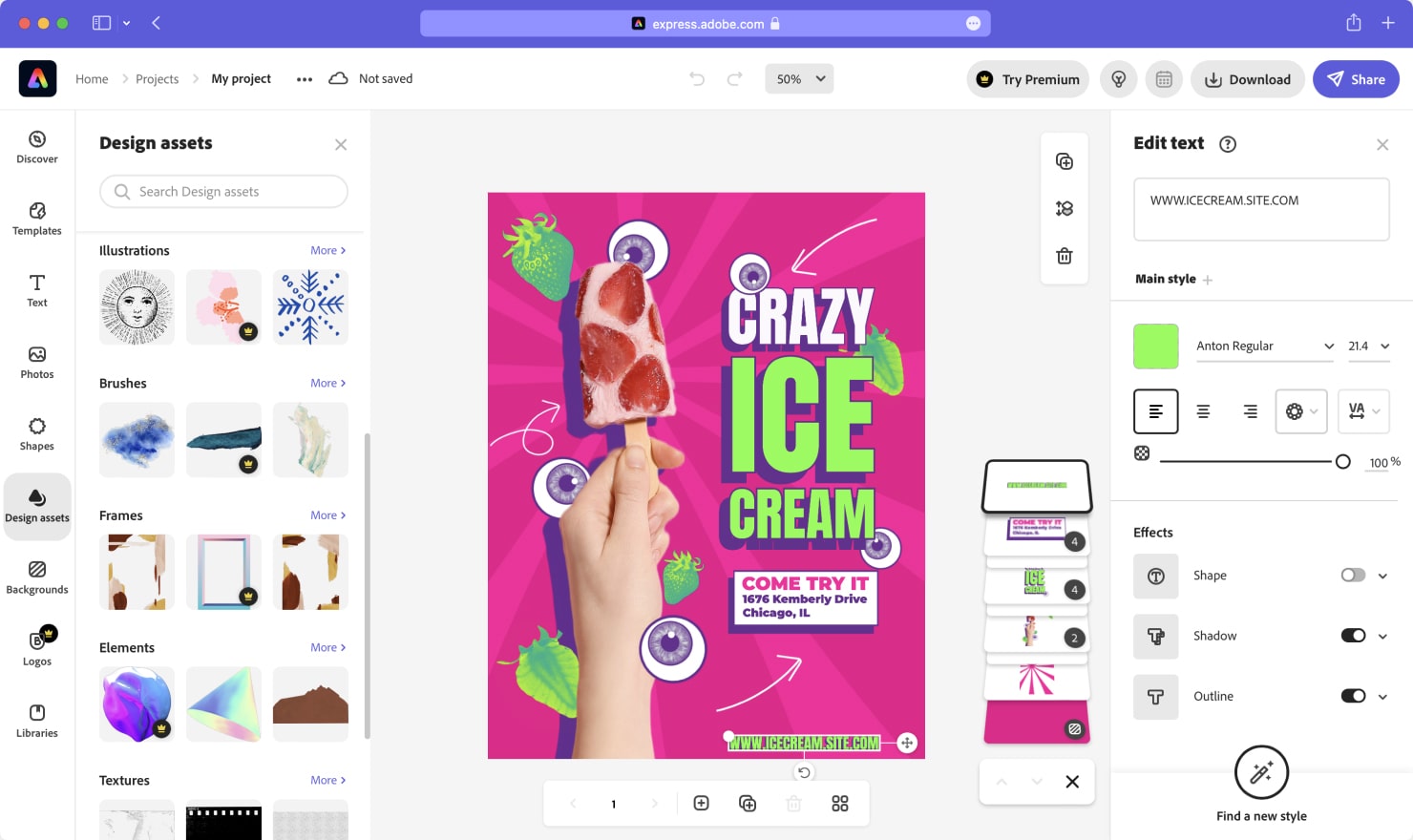 Canva
Basic: Free
Pro: $12.99/month
Enterprise: $30.00/user/month
When it comes to user-friendliness, this application is a solid competitor to Adobe Spark. What makes it a unique choice for both beginners and expert designers is the palette of available features. Canva will be a helpful lifesaver for both graphic designers from small organizations to big teams from large enterprises with a huge volume of projects.
If you are looking for a poster creator with a set of unique and advanced features, this is the right choice. Apart from standard functionality, tools like a photo enhancer, a speech bubble maker, an image cropper and others will be at your disposal.
Depending on the price plan selected, the list of features available will slightly differ. Overall, this application is available for free, and up to ten members of your team will be able to use its benefits without extra charges. However, if you desire access to additional design capabilities, like more varied templates and tools, don't hesitate to contact the service provider to get a special plan for your particular case.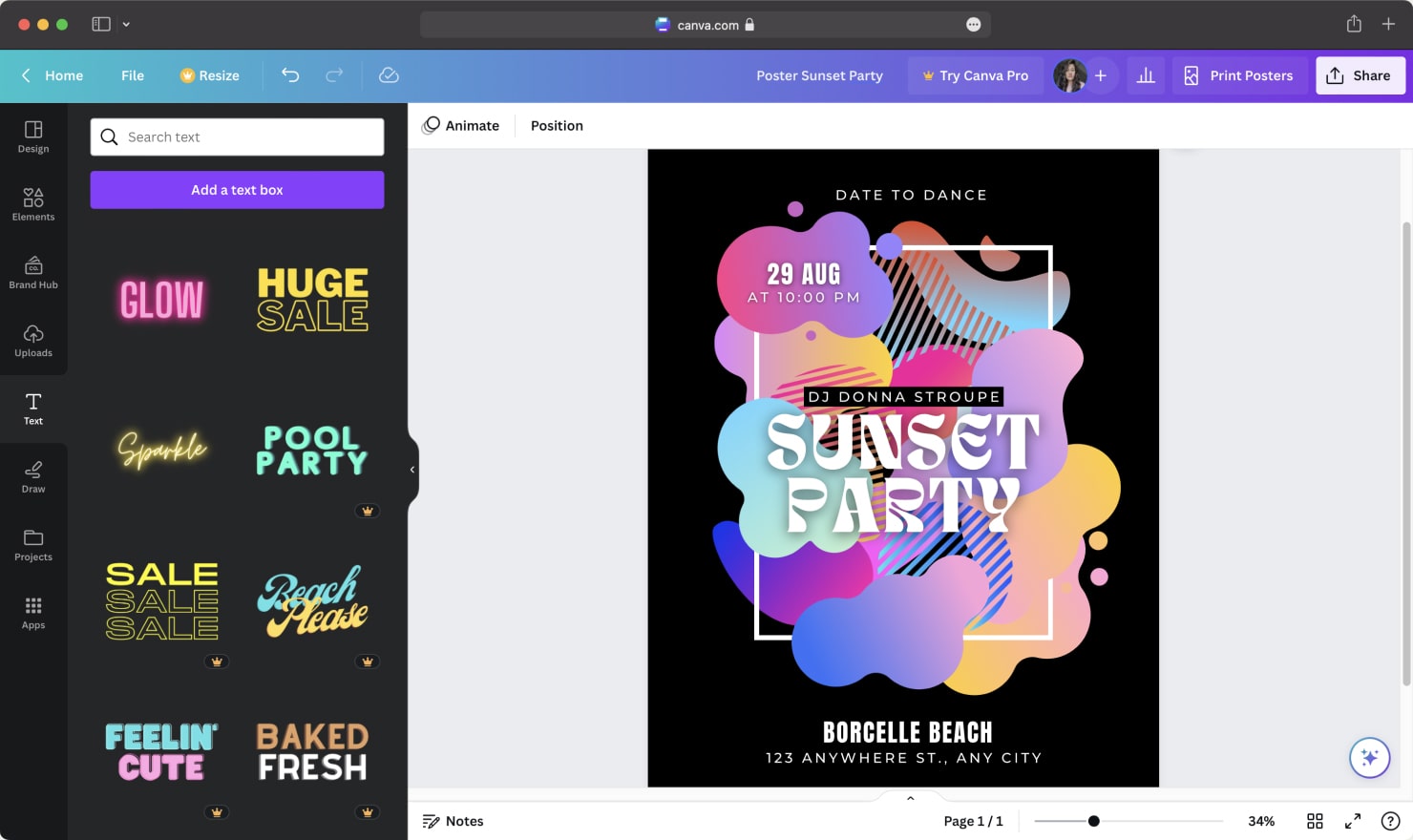 Visme
Basic: Free
Personal: $25/month
Business: $49/user/month
The basic version of Visme also costs you nothing but your time and effort to apply to your professional activities. However, for more flexibility and versatility, you are welcome to pick up the Personal and Business plans at $25 and $49 per user per month, respectively. But, the cost isn't the only main criterion to pick up the best poster-making app, is it?
This infographic software provides numerous ways to transform formats of visual communication. Instead of using tons of words to convey complicated messages, why not apply maps, data widgets, tables and graphs? With the help of Visme functionality for editing and tools for dedicated analytics, it won't be a problem to make your poster more informative and beneficial.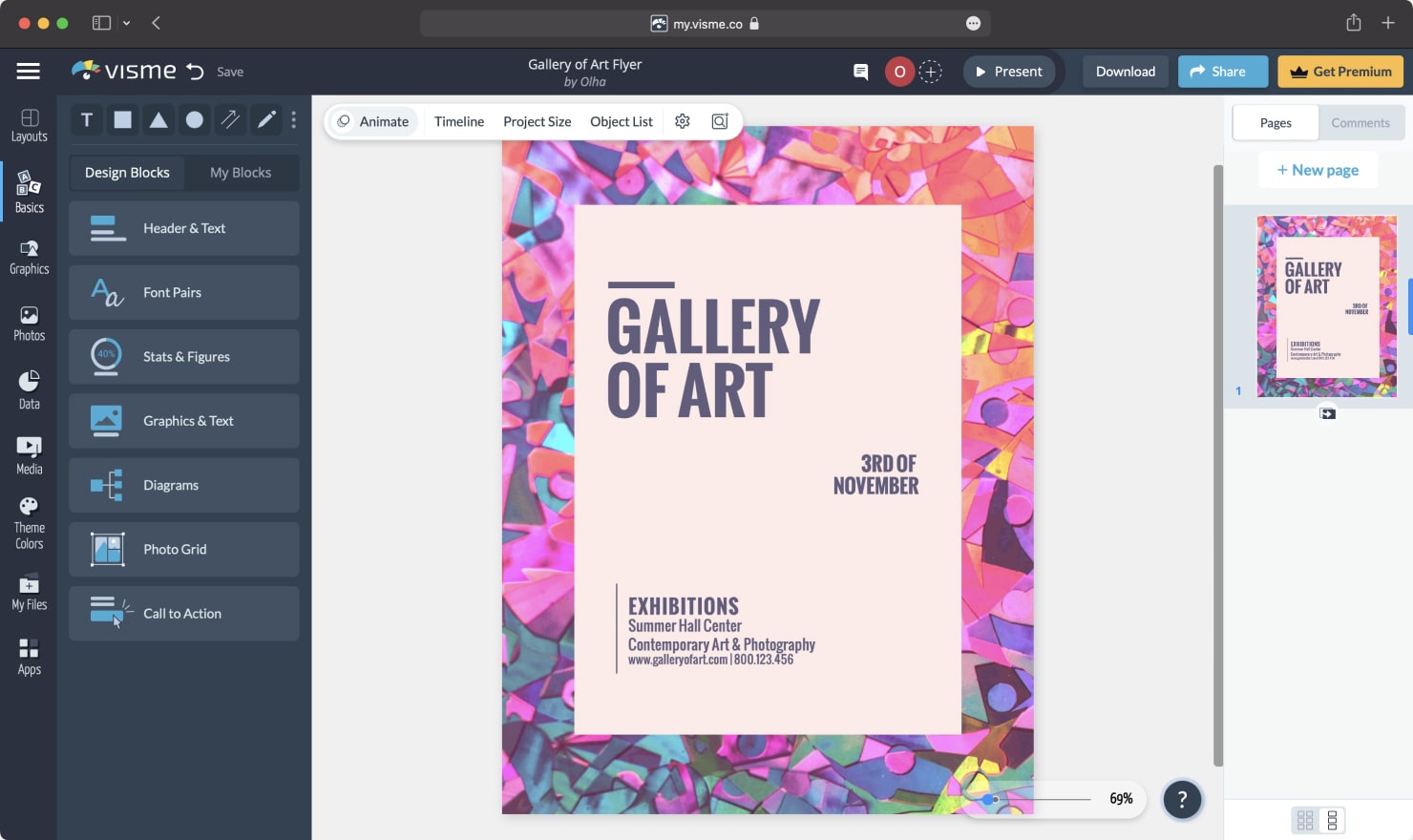 Stencil
Basic: Free
Pro: $15/month
Unlimited: $20/month
This poster program under analysis is exactly what you need to make your blog, presentations, social media, etc. shine bright and amaze visitors and message recipients. Apart from image creation tools, the system lets you work with stock images and update them according to your project objectives and plans. Iconography and image automation are those features that make Stencil absolutely worth considering for customers who are looking for quick and fast ways to create artwork for online sharing.
So, what about the price? If making posters and other layouts is a part of your practice, and there is no need for more advanced features, this poster app will be available for free. But, once you desire access to professional-oriented tools, then the annual subscription will cost $9/month (Yearly Billing Plan). The package for unlimited tools will cost $12/month (Yearly Billing Plan).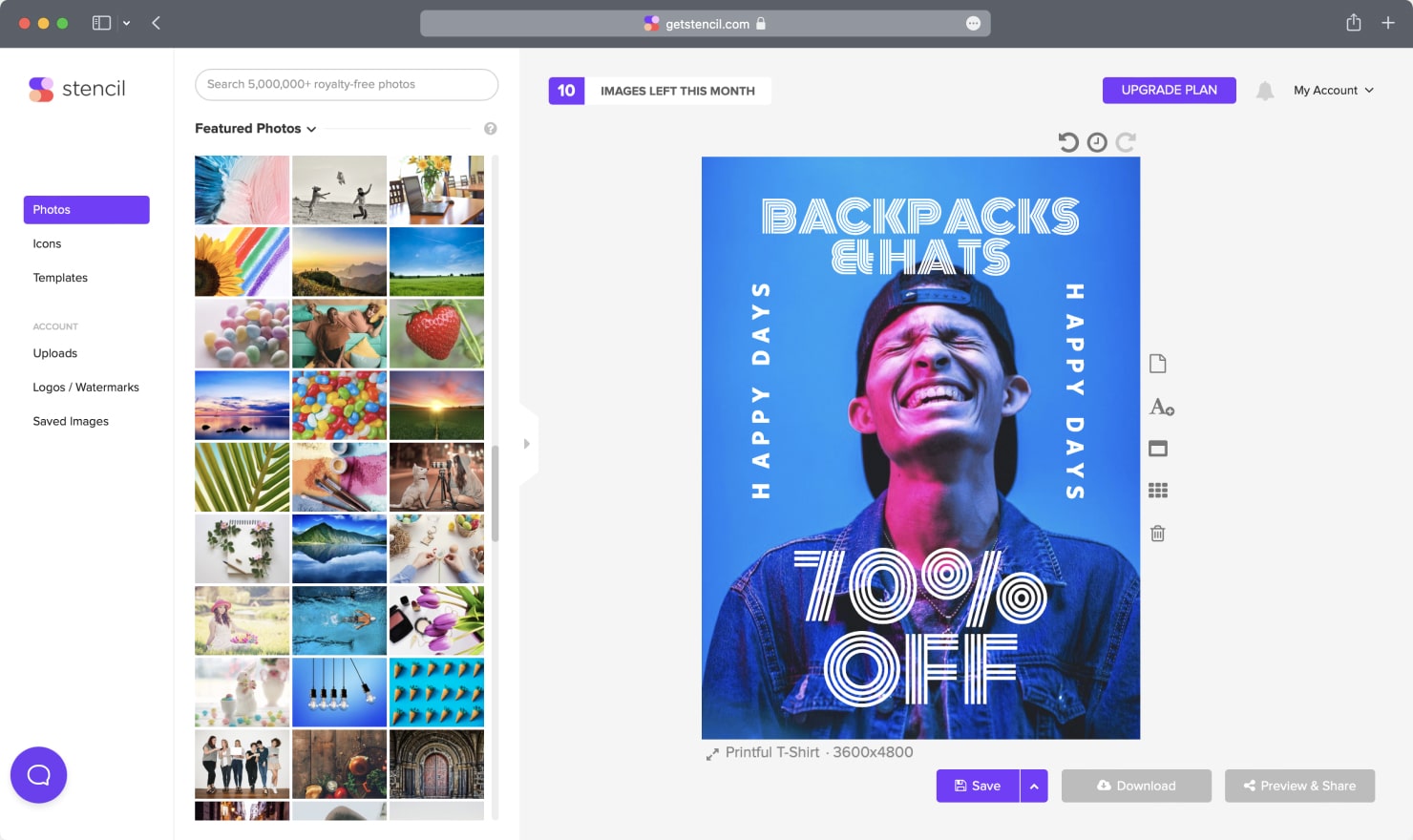 DesignCap
Basic: Free
Basic: $8.99/month
Plus: $12.99/month
If the offer of a free, online poster maker is appealing to you, DesignCap is what will let you save energy and time, even when preparing complicated and multilevel projects. Thanks to its three-step poster creation technology, it is not a problem to design samples for any occasion in the twinkle of an eye.
Such great versatility comes with free terms of use without any need to download or register. DesignCap is absolutely stunning when it comes to accessing clipart images, fonts, backgrounds, stock images, etc.; the present collection is mind-blowing.
The program offers various templates to make the start of your design journey even smoother and easier. For those customers who would like to achieve even more, there are special subscription plans. Please check the official domain for more details.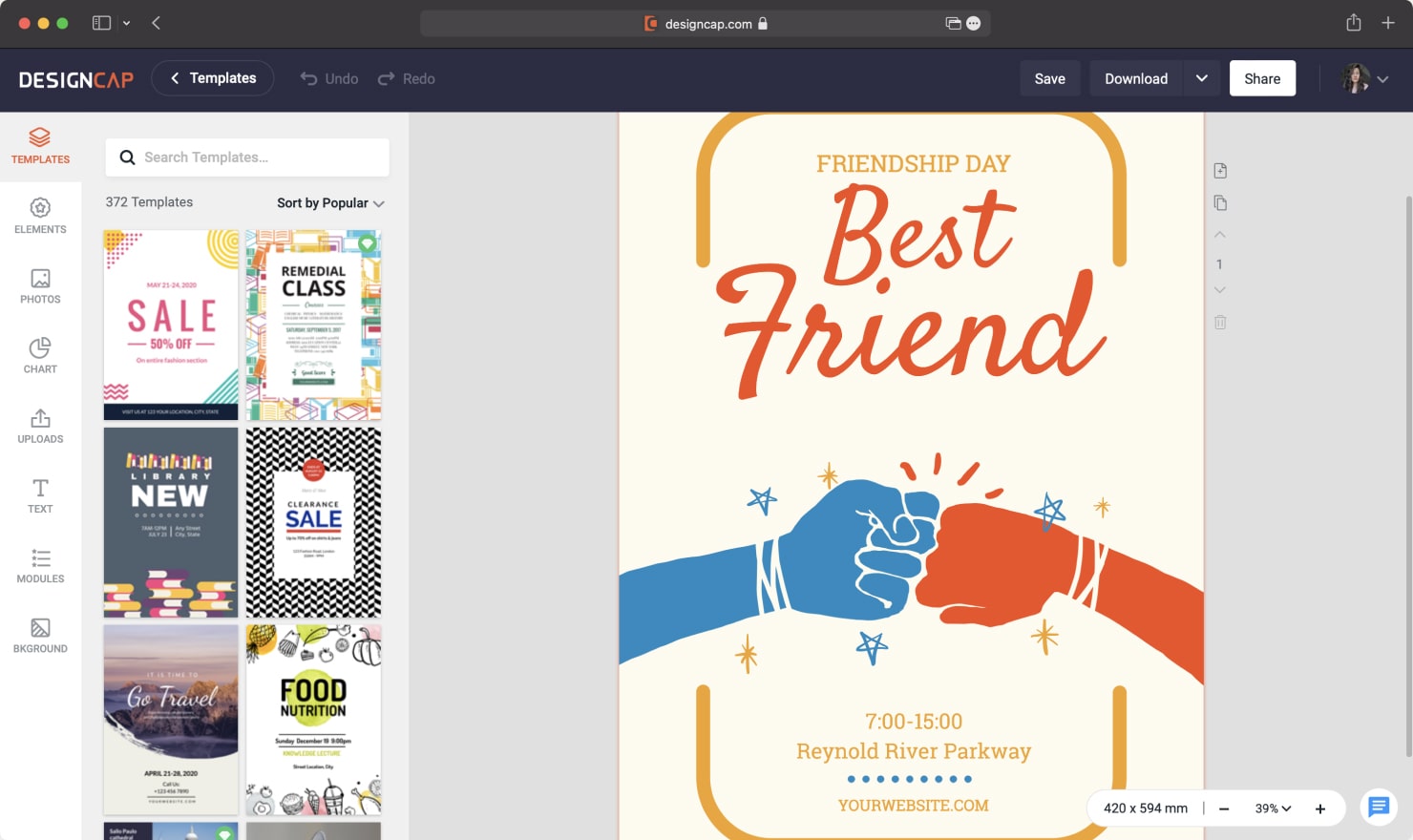 MyCreativeShop
Price: $19.95/month
Although this poster design software isn't as popular as Crello or Adobe poster makers, it is a functional and efficient online tool that is rich in its image customization processes. All you need to do to get started is to choose a template that seems appealing and succeed in designing gorgeous, breathtaking projects. Customers are welcome to use images of their own or apply the services presented by the provider.
Whether scaling, cropping, editing images, adding filters or changing colors—the palette of features will help you achieve astonishing results. What makes it unique is its ability to convert files in the desired format, saving your team a lot of time and patience.
MyCreativeShop is aimed at displaying posters in the best way possible online, so the feature of image file compression is especially beneficial here. The functionality of duplex printing and excellent Zoom capabilities will also come in handy. If you desire to get unlimited access to the entire suite of features, then your monthly fee will cost around $20.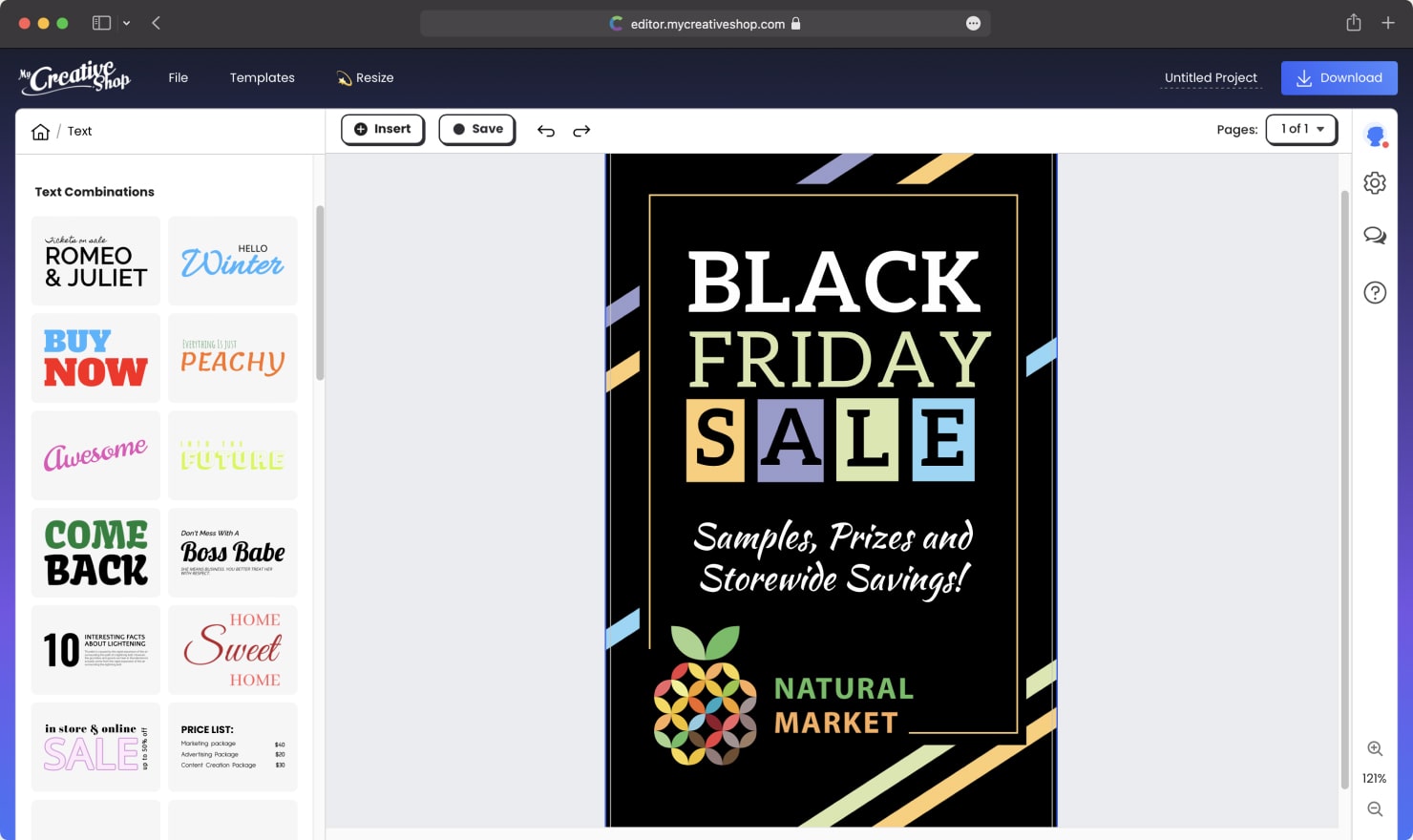 PosterMyWall
Basic: Free
Premium: $9.95/month
Premium Plus: $29.95/month
This is another niche poster creator that offers creativity potential for customers to become heard and deeply appreciated in the market. Unlike some other solutions that are more popular, PosterMyWall benefits the end users with a less steep learning curve. Since it works with different file formats, including video, the program under account is a worthy choice for the marketing needs and purposes of organizations that desire to advertise their services innovatively and creatively via social media communication channels.
For excellent and attention-grabbing pictures, there is the Glow filter and the ability to implement gradient backgrounds. The work on color schemes is advanced thanks to tone-replication tools and a professional MASK editor. Just a few minutes of use will be enough to explain why it is a great solution for any poster design objective.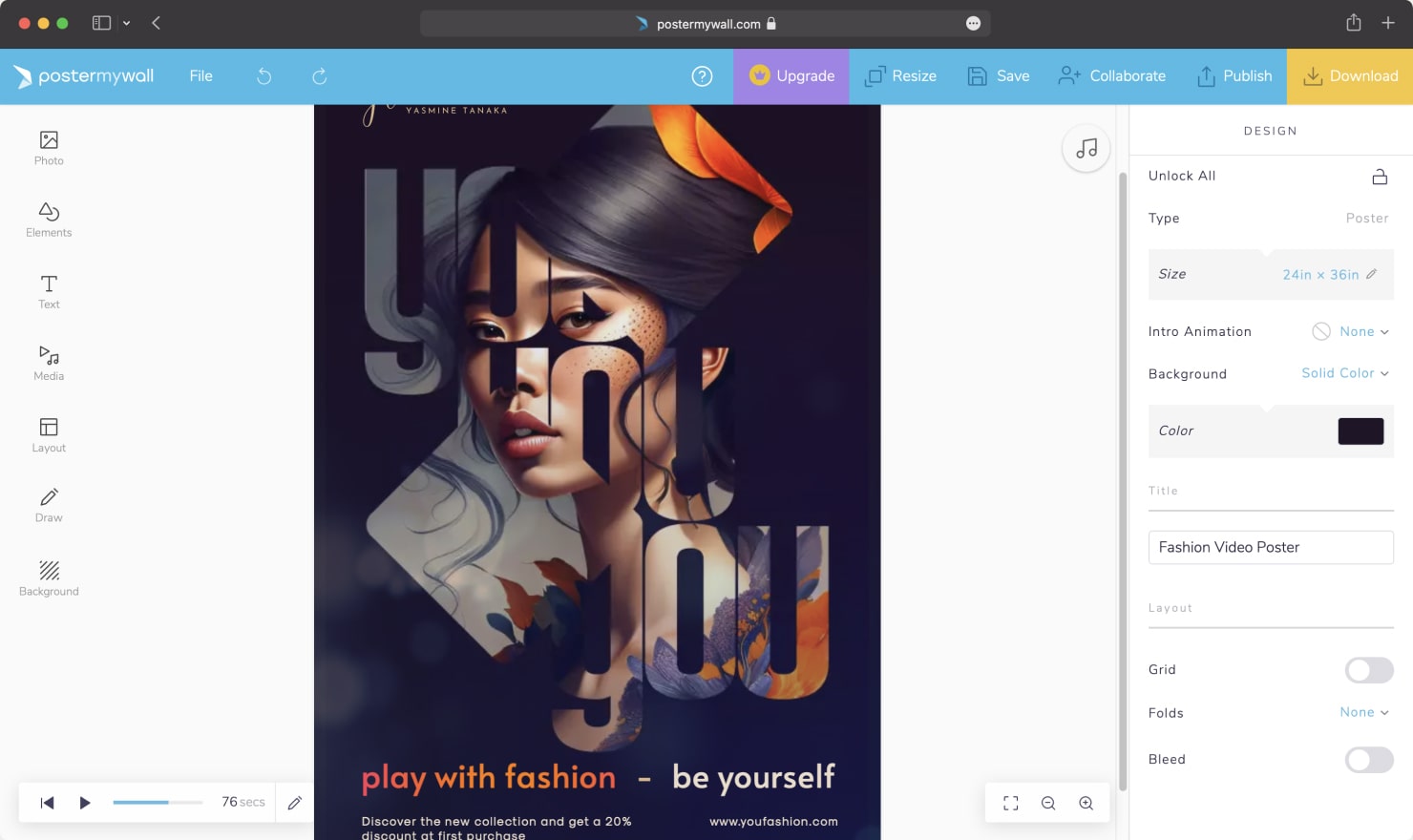 Piktochart
Basic: Free
Pro: $24/month
Enterprise: Custom
Have you ever dreamed about flawless sharing of projects and the ability to export HD images without loss of quality? Then Piktochart is what you need to implement into your software suite. Although this program isn't available for free, it offers numerous deals that make every penny worth spending. For instance, the digital poster maker under consideration is advanced in infographic tools and presents a wide palette of interactive graphs and tables for your convenience.
Unlike other poster-editing software, Pikrochart doesn't lay any watermark signs on the designs created and supports SVG format, as well as animated icons. In turn, you are able to level up the visual quality of your content immersively. For those who worry about their intellectual property security, the system has developed unique protection for already published visuals.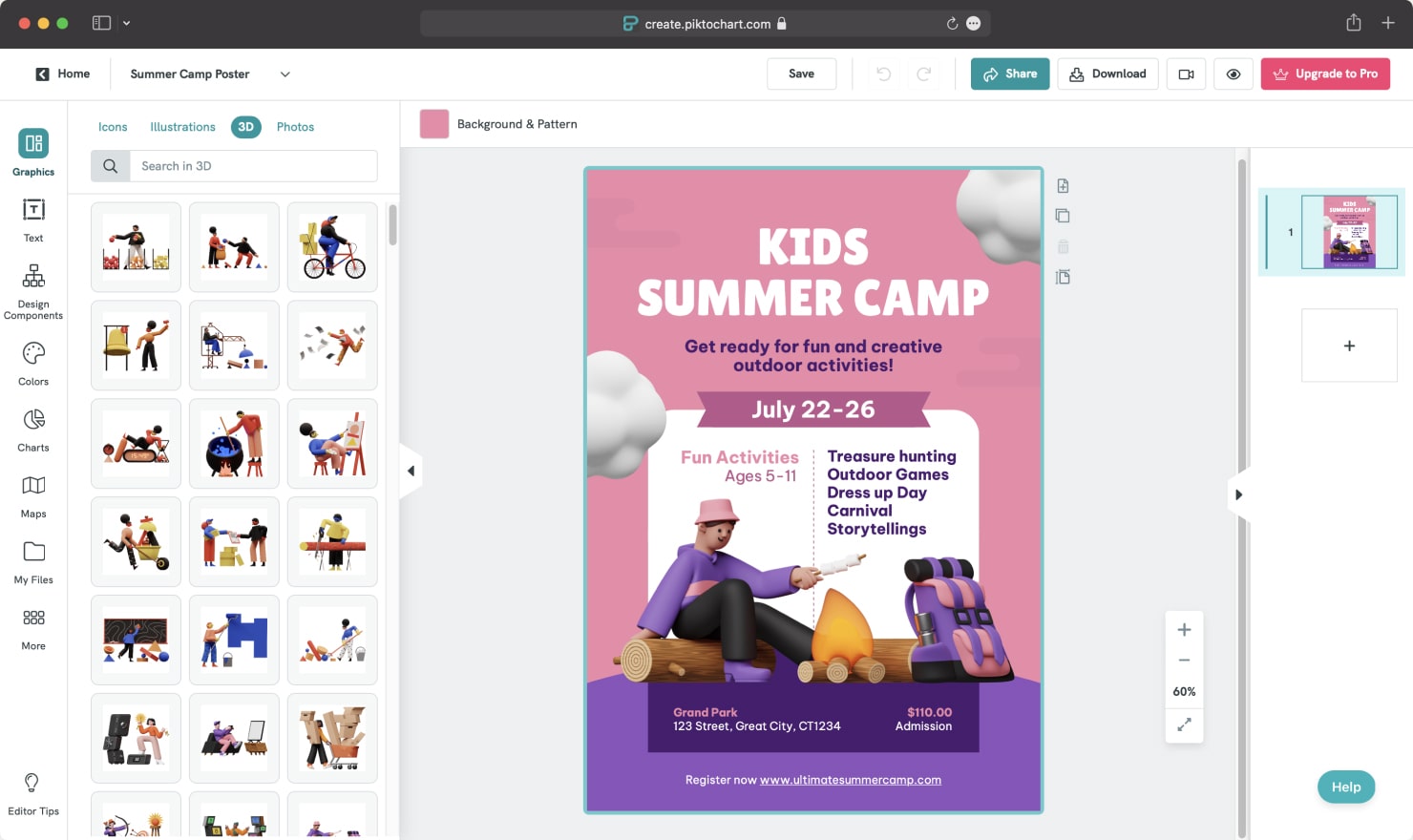 Corel Vector
Price: $69.99/year
Corel Vector offers a variety of tools you can use to make really cool posters. Text and typography tools provide access to the full Google Fonts library, while vector editing ensures your projects are scalable and perfectly zoomable on any device.
With over 35 filters and adjustments, you can come up with multiple unique poster ideas and visualize them accurately. Corel Vector is a cloud-based solution, so you can run it on any browser, such as Safari, Microsoft Edge and Google Chrome. For novice users, software offers a user guide, tutorials and an online forum to start creating your own posters with ease. Corel Vector also offers advanced features, such as color management tools, interactive sliders and image stabilization, which can help users achieve professional-looking designs.
Corel Vector also supports various file formats, including PDF, EPS and SVG, making it easy to share and export designs without a loss of quality.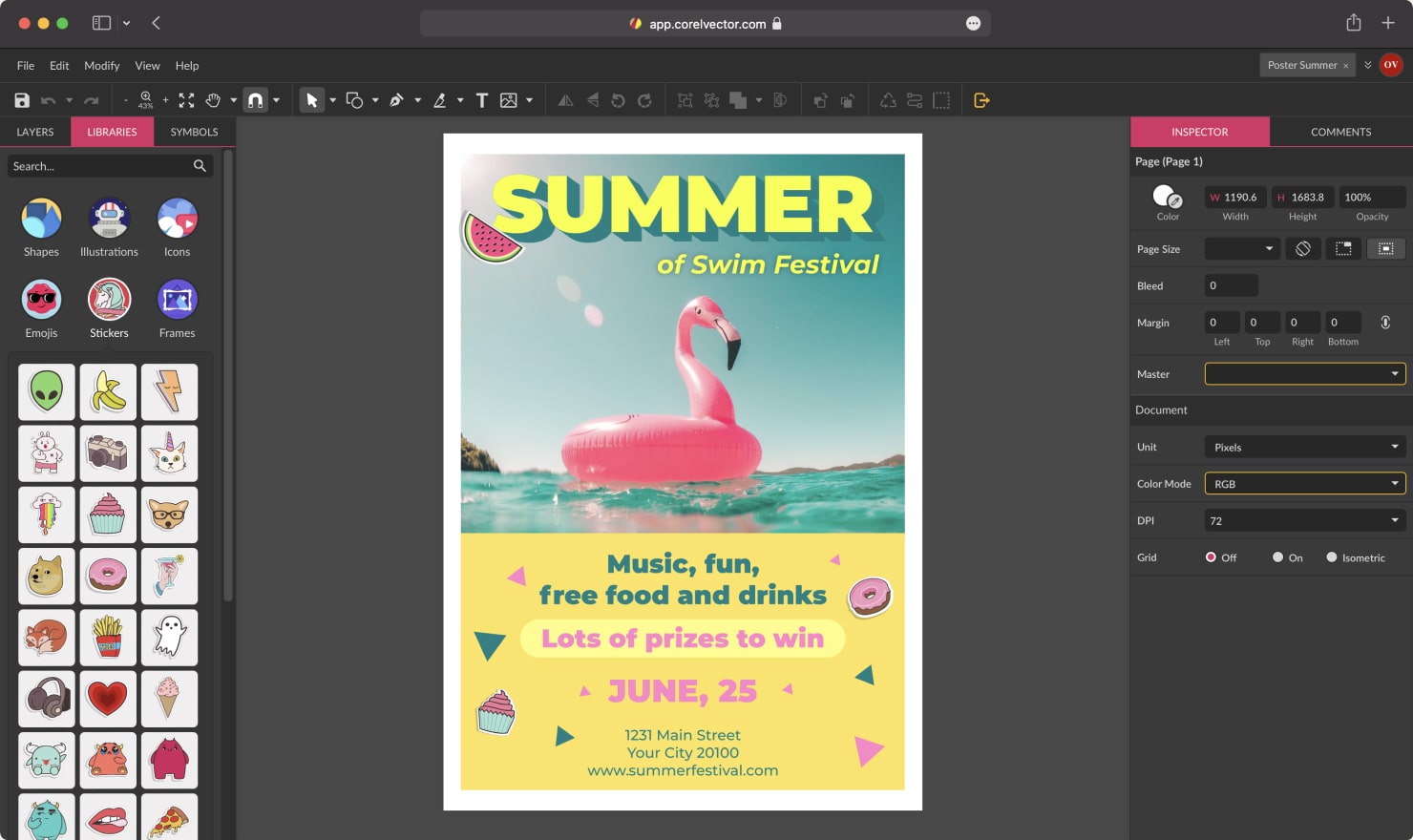 Affinity Publisher
Price:$69.99 (one-time purchase)
Affinity Publisher is a desktop publishing software designed for Mac, iPad and Windows users. It is distinguished by its special pricing approach—it provides a so-called Universal License for designers to obtain for a one-off transaction at the rate of $170. However, if you don't need software with access to the complete suite of services on all devices, you can purchase a less expensive version of Affinity Publisher for only $69.99.
Its on-site samples of covers and posters make it simple for customers to achieve great results with the presented toolkit. It's just a matter of time, knowledge and effort. If you opt for content-rich and extremely aesthetically ambitious projects, Affinity Publisher is what you need. Check out its features below:
OpenType Support—one of the most advanced typography sets on the market, offering expanded characters for your posters.
Patch text—strict alignments can be easily replaced with more creative options, bringing more diversity to your typographical projects.
Place auto-flow—this is an excellent feature for hassle-free posters, allowing you to automatically prepare a marvelous layout and avoid the hassle of repeatedly adjusting the repeated content.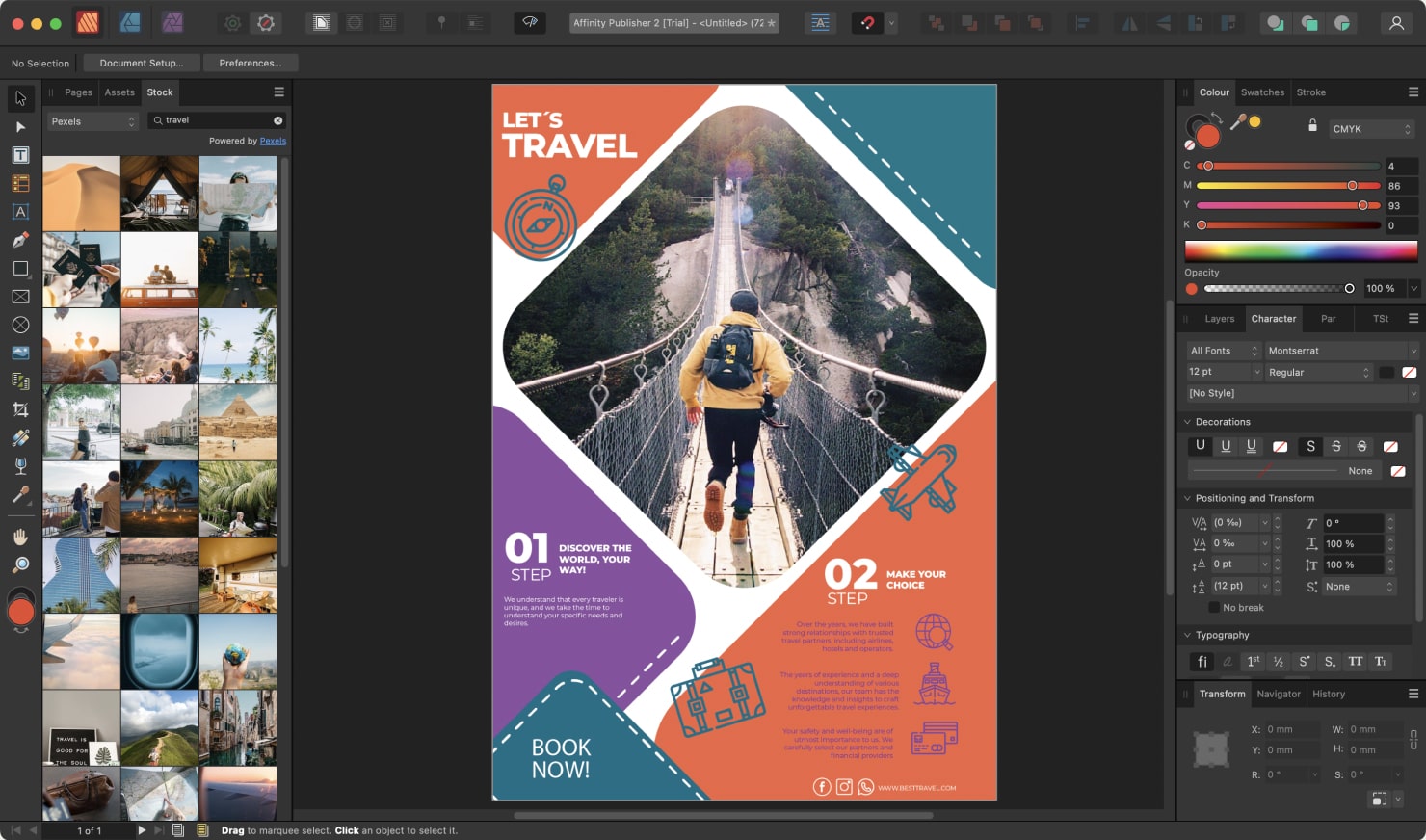 Pages is a word processing and page layout application developed by Apple solely for Mac users. It is part of the iWork productivity suite, which also includes Keynote (for presentations) and Numbers (for spreadsheets). You can download this application from the Mac App Store.
Its functionality is pretty advanced, but the simple-to-navigate interface helps you get things done easily. To get started, you can modify one of the 90 Apple-created templates. Whether you would like to enhance it with reports, high-end graphics or other elements, Pages will provide the desired degree of flexibility. The list of more than 700 customizable shapes proves that.
With iCloud turned on, you will get seamless and real-time access to all the files created with Pages. It is free and provides great reports about your performance, letting you track your own progress without difficulty. Although it isn't as functionally divergent as it could be, it is a stunning and cost-effective solution to get you started.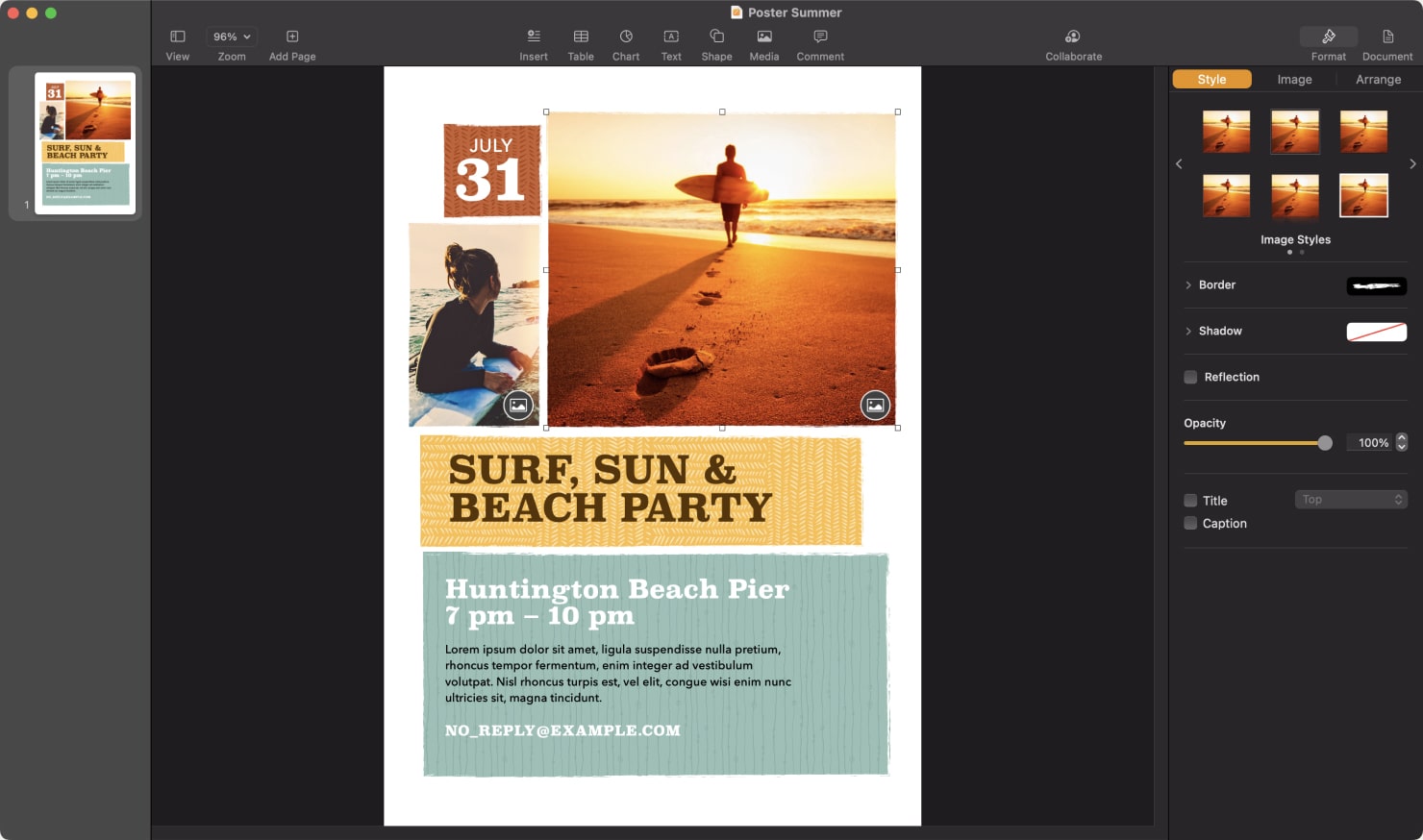 Vectornator is available on iOS and macOS platforms, and it is designed specifically for designers and illustrators.
If you're looking for a cost-effective solution, Vectornator is available for free at the time of this writing. It offers all the standard features you would expect from a vector drawing app and multiple import and export capabilities, as well as some innovative ones like Auto Trace.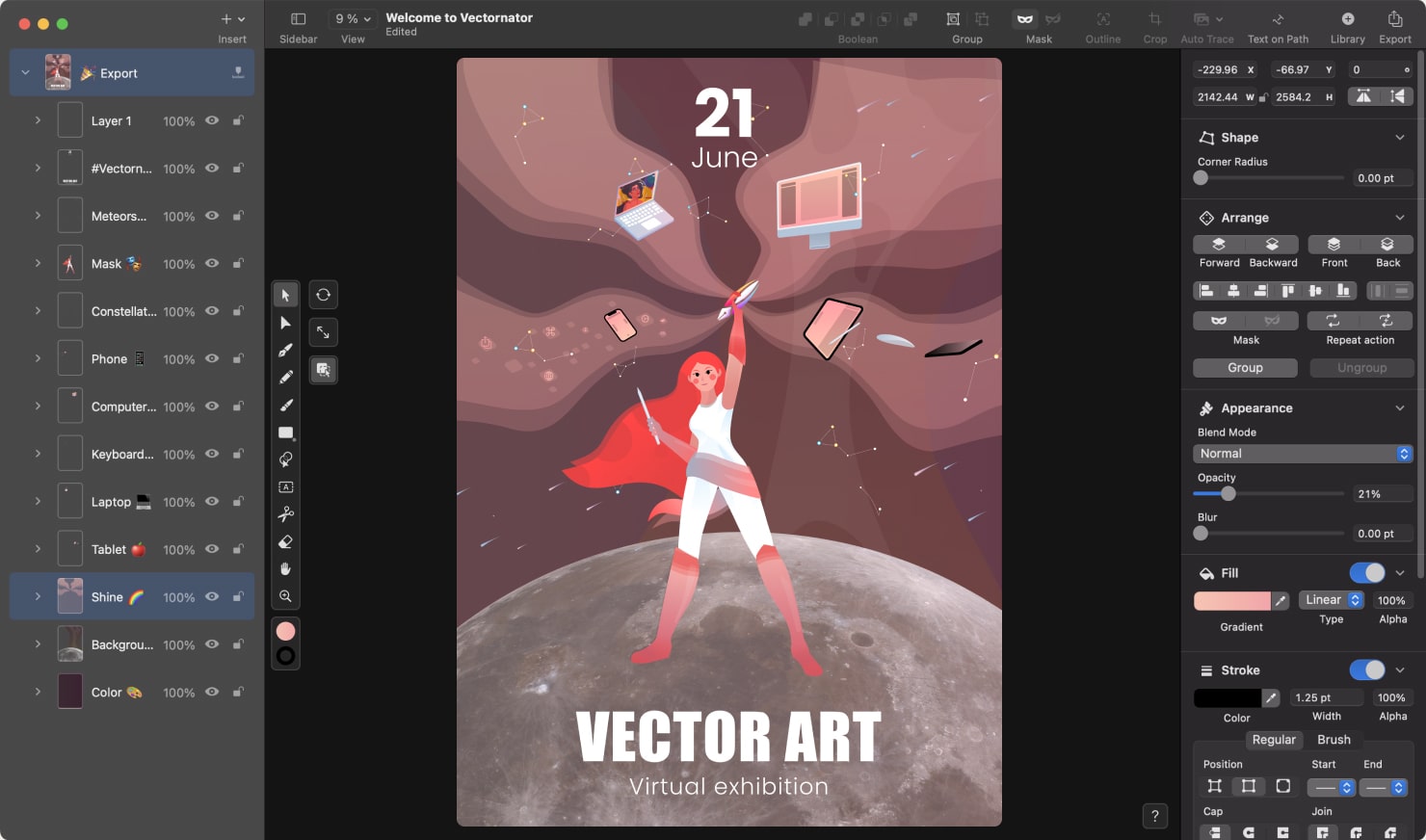 How to Choose Top-Notch Poster-Maker Applications
When you need to pick a poster maker for Mac, iPad or PC, it can be daunting because there are so many choices. But, if you do some research and think about what you need, it will help you make the right choice. Here are some things you should consider to make sure the program is suitable for your work.
Usability
It is important for a poster-making tool to have user-friendly features and a simple UI. Drag-and-drop capabilities, customizable templates and helpful support services are common features of modern poster-making apps.
Functionality
The software should have features that meet your specific needs, whether you're a beginner or an experienced graphic designer. Look for a wide range of backgrounds, colors, fonts and advanced tools, like lettering and typography.
Compatibility
Make sure the software is compatible with your device, whether it's a Mac, iPad, iPhone, Android or Windows. Consider the storage and sharing formats available, including cloud storage and email sharing.
Customer Support
Choose an app that provides helpful assistance and backup for emergency cases, such as live chats, phone support, documentation, tutorials and videos and user communities where you can ask questions about the app.
Pricing Policies
Consider the selection of features available for the cost. Many providers offer free trials or feature-limited versions for amateurs and small teams. Choose the right option among one-time payment offers and subscription-based deals.
Conclusion
All things considered, advanced software for creating posters will be beneficial for your advertising campaign or any purpose. Whether you decide on digital or printed versions of the project, enticing a new audience will be a breeze. The variety of applications, including Swift Publisher, brings you technological advancements and innovations. Don't hesitate to try these programs and see which work best for your team.
Revised: July 2023