Printing Directly to Disc on a Mac
When it comes to labeling discs, you have several options. A rather common approach is to annotate discs with a marker pen. If you want to be more creative, you can design and print self-adhesive CD labels. Applying adhesive labels to discs can be tricky, thus a CD label applicator is required to avoid wasting labels. Furthermore, inaccurately applied CD labels may damage the disc drive.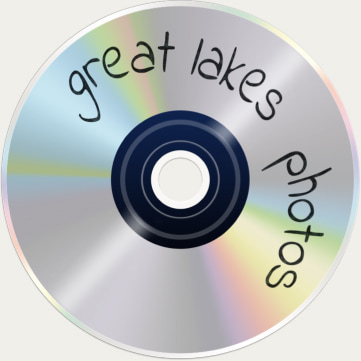 Another, aesthetic and more practical way to label discs is to use a printer with direct to disc printing capability. Nowadays, almost every major printer manufacturer (Canon, Epson, HP, Brother) offers printer models capable of printing directly to discs, though special printable discs are required.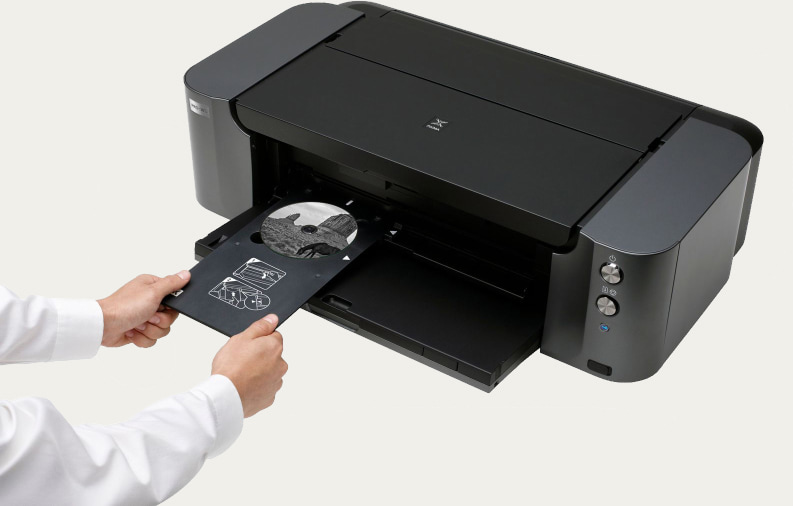 Before labeling a disc, you need to prepare graphics first. That's where Swift Publisher 5 for Mac comes handy. From start to finish, you'll find Swift Publisher easy to design disc labels thanks to a large collection of templates, seamless integration with iTunes to populate music CDs with the artist, track name and duration, effortlessly create photo collages with Apple Photos integration, and a slick, user-friendly interface.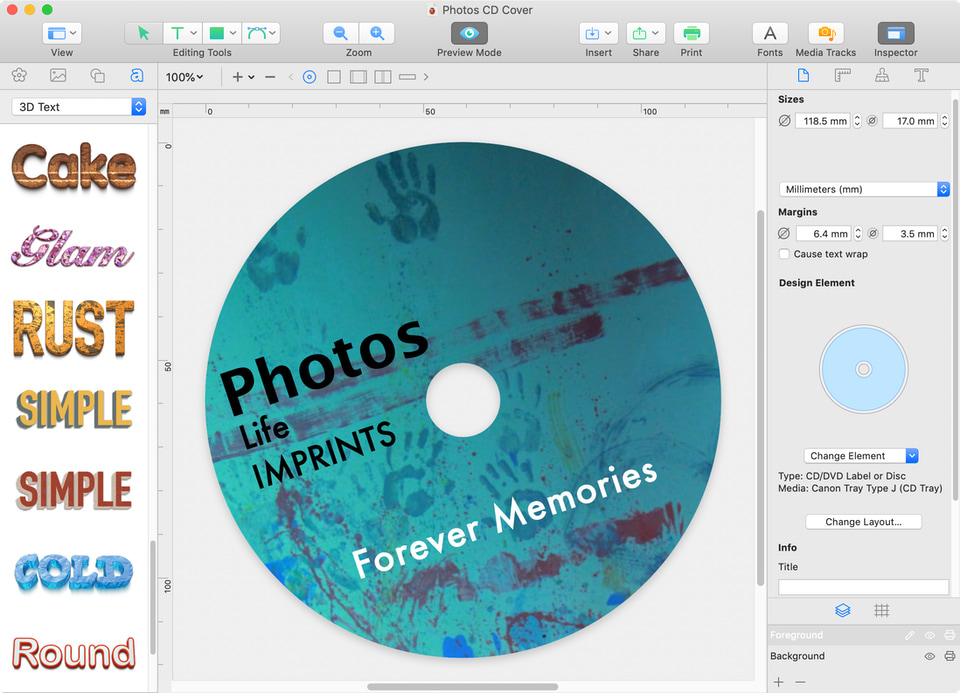 Once the design is complete, follow these four steps to set up printing to disc tray:
First, you will need to set up document layout, for this use menu File > Change Layout or in the Document tab of the Inspector click on Change Layout button.
In the dialog that appears, select printer manufacturer and tray type from the list (tray type is usually engraved on the printer tray for discs) and click OK button to save the changes.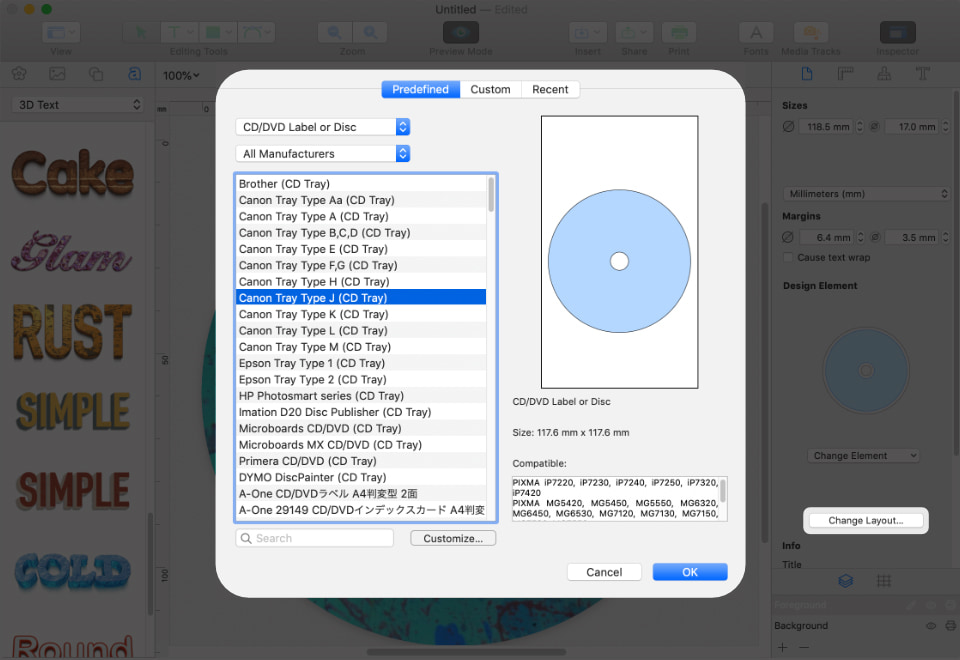 Proceed to printing by clicking the Print button on the toolbar and in the Print dialog select Paper Handling options, then tick "Scale to fit paper size" option. After that click on Destination Paper Size drop-down menu and select the option with CD, DVD or Disc mark depending on the printer you are using.
Finally, go to Quality & Media settings and make sure that Media Type is set to Printable disc.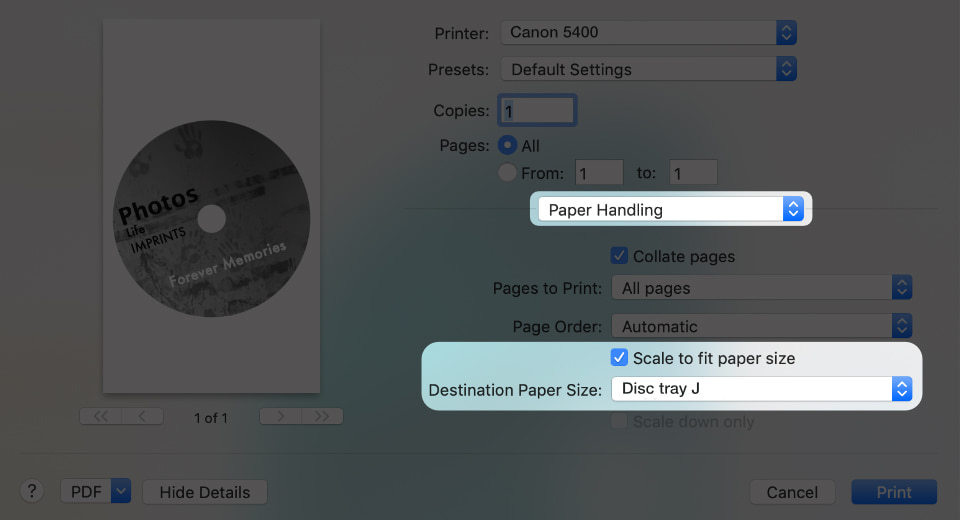 Note: Your printer settings may vary depending on the manufacturer, the above steps are valid for most common printers—Canon and Epson. In case your settings differ, refer to your printer instructions about printing directly to disc.
Gone are the days of struggling with manual labeling or settling for generic designs on your CD and DVD discs. Whether you're a musician, filmmaker or simply looking to create personalized gifts, our step-by-step instruction and expert tips will guide you towards perfecting your disc labeling skills. Our optical disc labeling software offers a range of customizable templates, advanced printing options and supports Primera disc publishing systems. Printing to these special printers doesn't differ from using a regular one, simply select the necessary layout and Swift Publisher will do the rest.
Revised: May 2023
Go on, design and print discs!
Now that you know how to handle direct to disc printing capability of your printer, create a CD/DVD cover and print it. Try Swift Publisher for Mac to design not only disc labels, but also tray inserts, folding booklets, and many more.
Related Articles You May Like