How to Design and Print DIY Recipe Cards
Sharing the results of your effort is always fascinating, and it relates to literally any field. If you are proud of your cooking skills, why not transform your hobby into something new? Printable recipe cards are awesome gifts or decorations for your home parties with friends. Advanced software tools will help diversify their presentation significantly.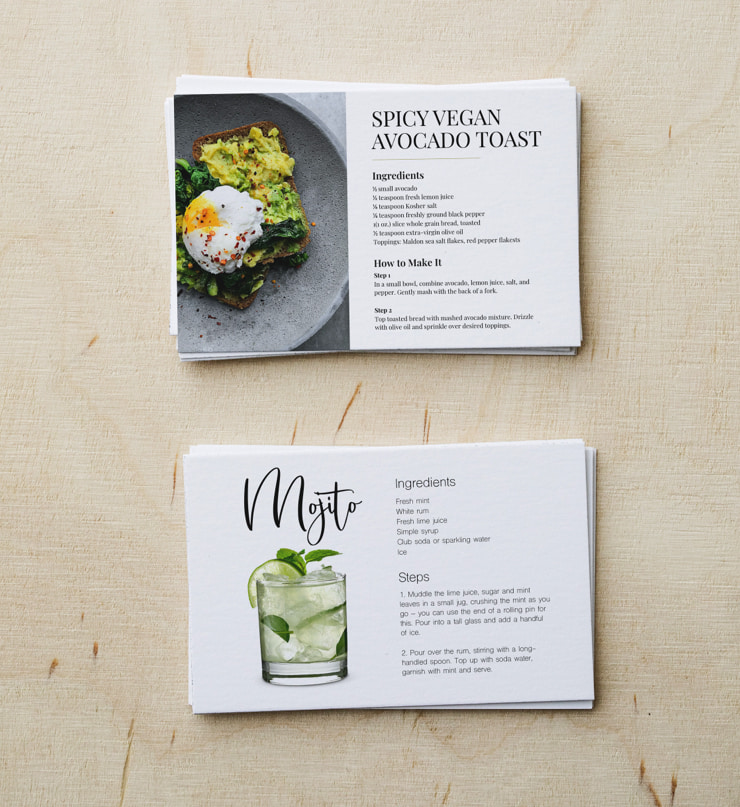 Choose the Right Size
It is not necessary to select large pieces of paper for this project. A4 and A5 recipe cards are pretty common, but let's figure out what other sizes would be appropriate:
3″ × 5″ is believed to be an old-fashioned format for recipe cards. However, who says you can't introduce a vintage or retro vibe to your creation? Among the typical sizes for this layout, this one is the smallest. Correspondingly, if you are going to visualize a complicated recipe with numerous preparatory stages, it would be wiser to choose a larger alternative.
4″ × 6″ has become a classic format. It is not only large enough to add cooking instructions, but it lends itself to being complemented by photos and images.
5″ × 7″ is absolutely oversized. But, sometimes the more room for creativity, the better the results of your work are going to be.
Enthusiasts can adjust the color mode to CMYK and publish cards without any loss in visual quality or brightness. The special tool for adding grids and bleeds will obviously make the layout more accurate.
The last thing to note for beginners is the necessity to take into account the dimensions of the storage places. Whenever you are going to create a new style of recipe cards, don't forget to consider the size of your files, gift boxes or other packaging to preserve their quality in the long term.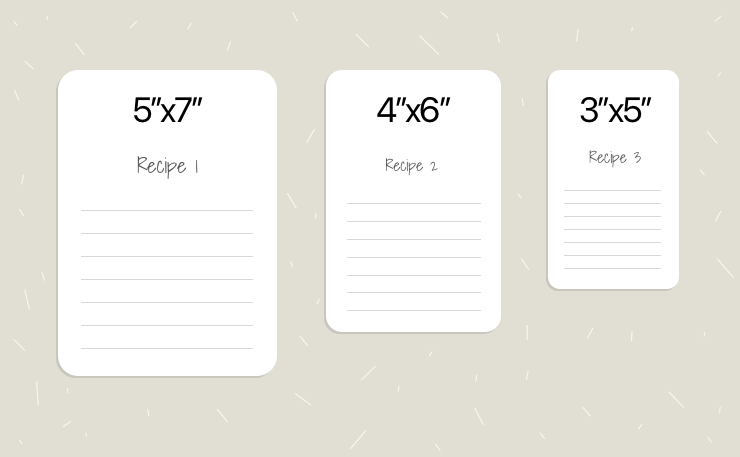 Get Inspired
If you are looking for interesting ideas on how to design, you are welcome to search for elegant or unique solutions on the internet. Here are some layouts to consider:
Cookbook-inspired—check out how recipe books are illustrated and decorated. However, be careful not to copy someone else's style if your objectives are for commercial use.
Custom templates—if you would like to ensure that the chosen size is large enough, don't hesitate to use blank cards and include all the information you have on them.
Double-sided—in this case, your card can show off the dish on one side of the paper and introduce the corresponding recipe on the other one.
Select Components of Recipe Cards
Although a lot depends on your desires and creativity, there are standard elements that must be included in the layout:
Name of the dish—whether it is going to be your own interesting title or a common name that is well-known by others, it doesn't really matter. But if you are going to use foreign words, additional notes will be required.
Preparation time—a home or professional chef who is going to follow your instructions should have a clear understanding of how much time the process will take. The same relates to cook time and the number of servings.
Method—in a separate area, include the steps that are required to cook the meal. Their number and length depend on the complexity of your cooking choice. However, since space is limited, brevity is appreciated. The imperative mood and accuracy of facts are preferred.
Ingredients—is it possible to cook without knowing what ingredients have to be used? Since it is a recipe card (and not the improvisation battle), the answer is straightforward.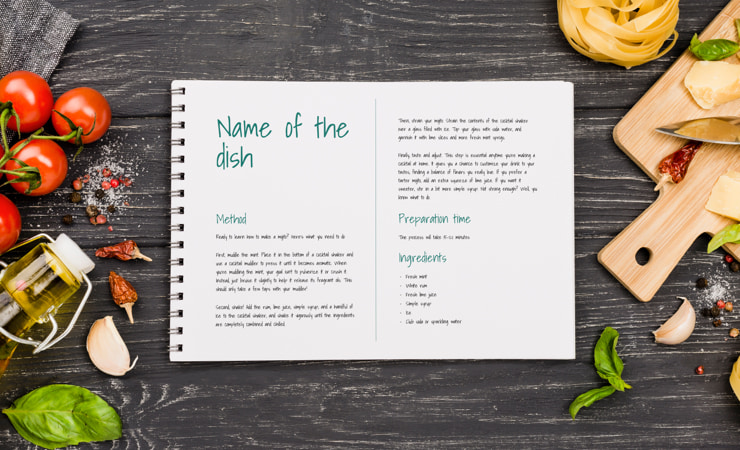 There are some nuances that are necessary to know for those who are going to prepare recipe cards, but they won't cause any difficulties for beginners if they utilize professional software. Swift Publisher is a perfect example. Myriad tools are accompanied by qualitative templates—what can be better for enthusiasts with limited experience?
In addition, the developer offers an informative knowledge base, so it is a perfect opportunity for interested parties to increase their skills in the field in general.