Top Online Adobe Indesign Alternatives
When you decide to create a brochure, lay out a flyer or make a newsletter, where do you usually do it? If you have a specific software for these tasks and know exactly what you need, great. But, if not, myriad online tools will help you cope with the desktop publishing documents with A+ results. Whether you're a professional graphic designer or just starting out in the field, these innovative platforms are worth exploring.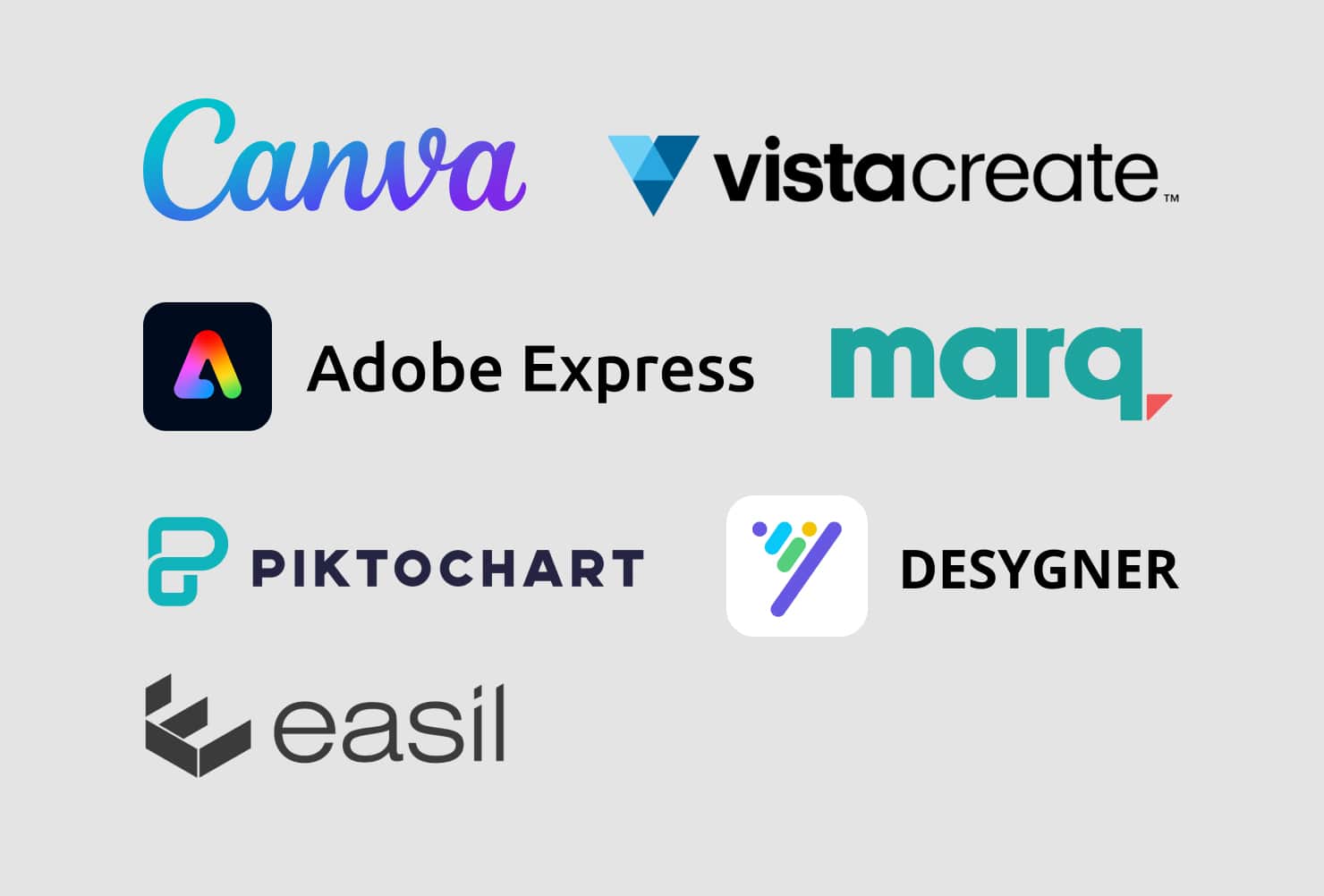 Marq
The first program we will be looking at that can make your life much easier in document design is Marq (formerly Lucidpress). It will allow you to create pamphlets and leaflets for every taste without any difficulty. The service is famous for its huge number of helpful tools, patterns and integrations, which will be useful for both minor and major projects.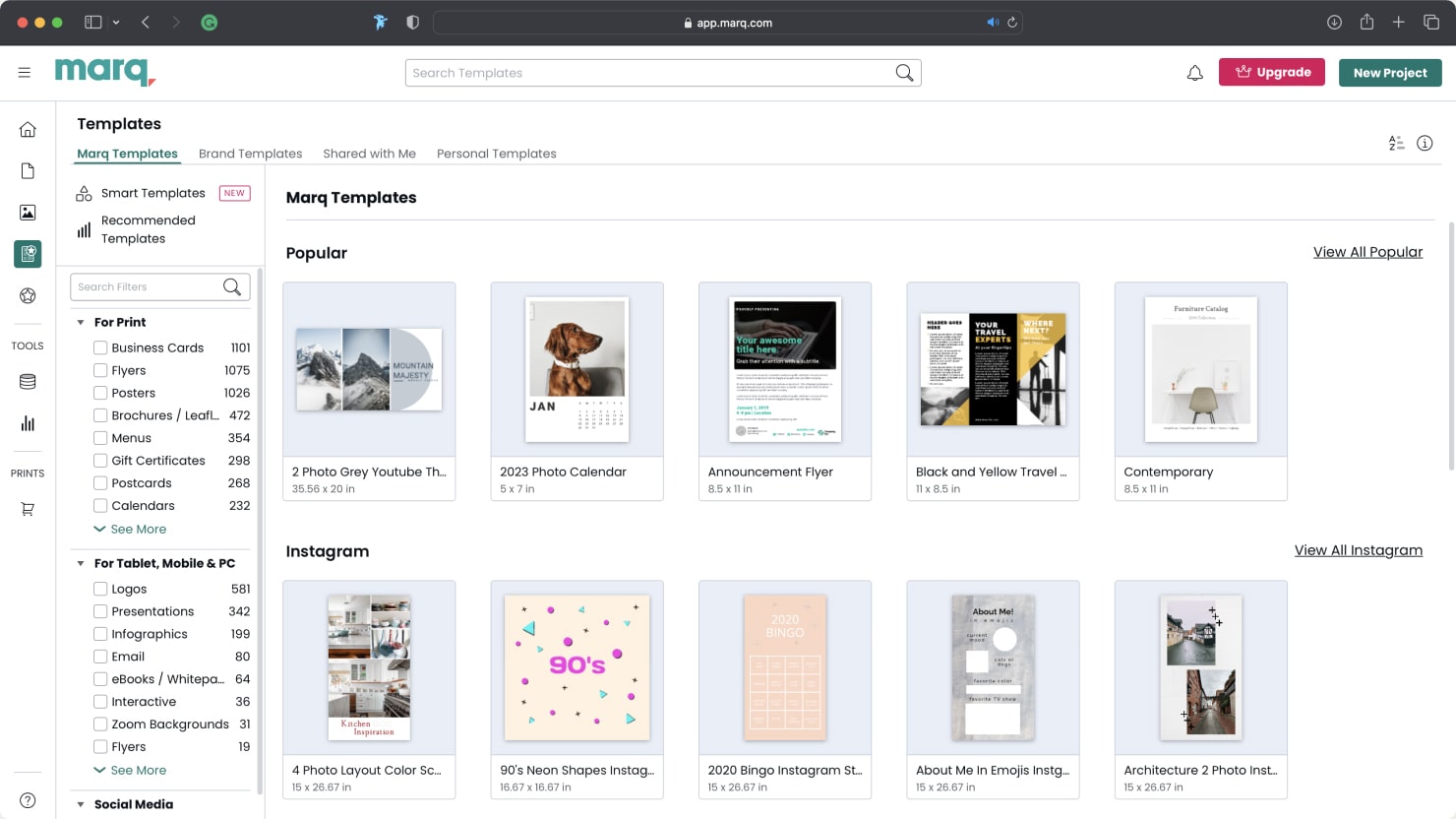 Marq has an attractive interface that makes it easy for even beginners to do what they want in a matter of minutes. Editor with drag-and-drop functionality, pattern library and layout guidelines can quickly help you create the booklet of your dreams.
The free collaboration options are also a huge advantage of this platform. This allows people from different devices to access the same file simultaneously. The feature is perfect for companies or institutions that require people to work on the exact document at the same time.
It would be a crime not to mention the fact that Marq works closely with Dropbox, Marketo, Google Drive, Salesforce, Pardot and HubSpot, making it possible to synchronize data, photos and documents.
Turning to the disadvantages, we can only say that, for experienced designers, the platform may seem a bit simple, because it doesn't have a wide range of advanced features. But, for beginners or office workers, Marq could be the best tool for creating quality projects.
Canva
Canva is an application with a pleasant interface and a huge selection of both free and paid features. Multiuser mode and their template library makes Canva the number one choice both for experienced designers and those who are just starting on their way due to its huge template collection.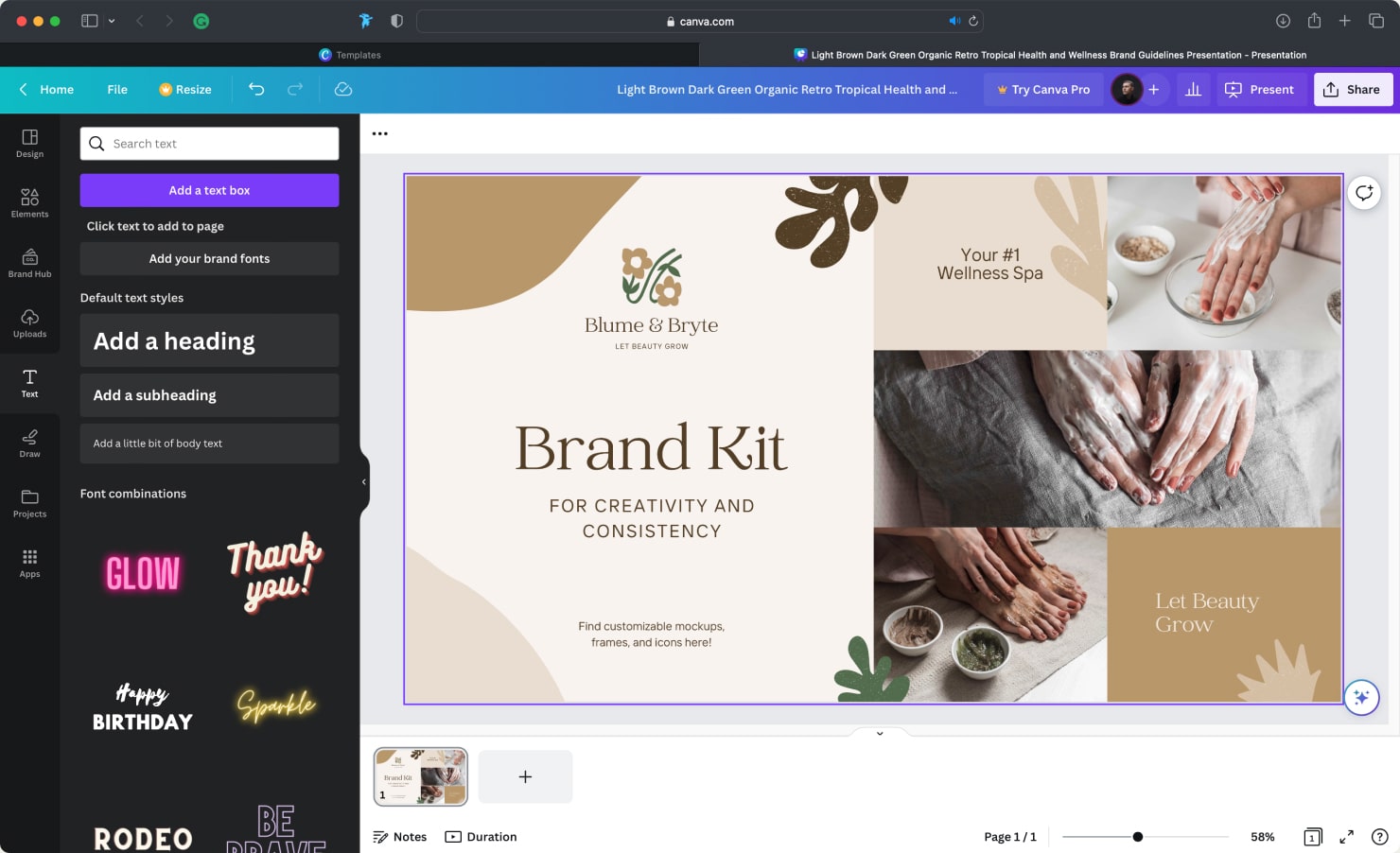 A significant advantage of the program, according to users, is the easy-to-understand drag-and-drop editor. It helps to create works of any complexity, even for those who don't have extreme skills in this field. Canva is perfect for content makers, because only here will you have access to ready-made publications for Instagram and Twitter, flyers, booklets and marketing design.
It is also impossible to miss the fact that Canva has easy-to-understand design features and a selection of tools for absolutely any requirement. The top features include the photo editor, photo filters and the ability to modify graphics, all of which make the program convenient, highly functional and simple all at the same time.
Adobe Express
Adobe Express (formerly Adobe Spark) is a platform for creating, posts and videos with a wide range of features and a large collection of ready-made templates. What the developers of Adobe Express have tried so hard to perfect is the interface. Thanks to this, absolutely any user without special design skills can easily understand the application and get to work.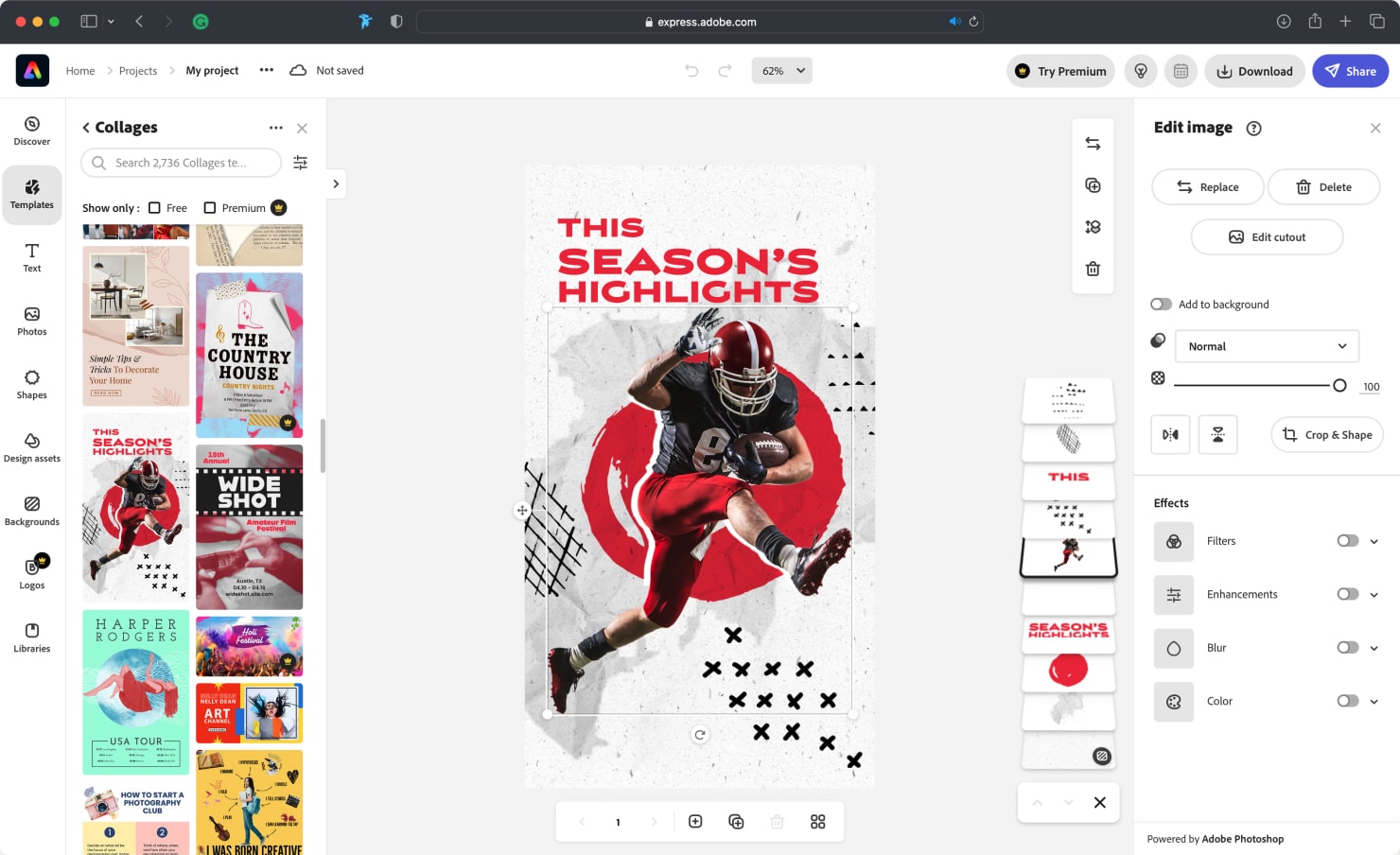 What distinguishes it from all the previous ones are the DTP tools. With the help of these tools, having read only the instructions, you can easily generate various kinds of booklets, leaflets and even magazines. And, of course, what Adobe can interest its users in is a library of fonts and graphics that will definitely come in handy when creating projects.
Another important feature is that only this application allows integration with all Adobe services. Anyone can quickly and at any time synchronize and export information and photos from the platform's cloud, being able to share them by mail or print.
The program has two plans: free and paid. The free version is suitable for beginners and their simple projects. But, if you are interested in having a full list of available features and are working on large tasks, then it is better to purchase a subscription.
VistaCreate
VistaCreate is quite a well-known web-based design platform. VistaCreate is popular due to its feature-packed functionality, which helps to create content for websites, social networks and presentations.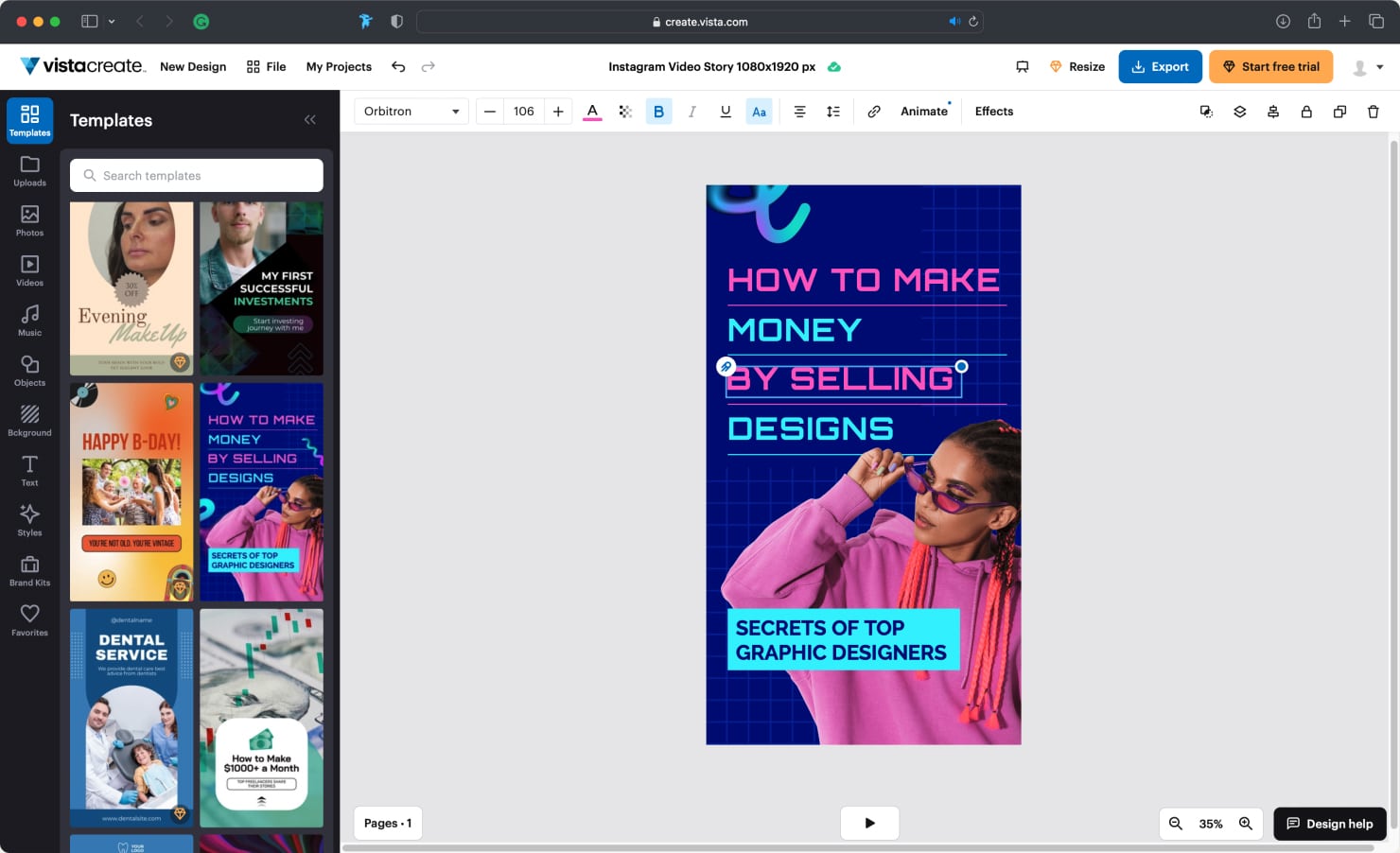 The platform allows users to work on different designs for phones, computers and tablets. The pride of VistaCreate is a library of free templates created for booklets, flyers, posters, etc. So, if your goal is to create your own design, this software is definitely worth choosing.
Like most other web-based design programs, VistaCreate has a multi-user mode. Here, users are able to adjust multi-page views and style each page of the file however they like.
Only in this application, can you download documents in JPG, PNG and PDF formats.
Desygner
Desygner is a platform that specializes in creating content such as bigboards, online posts, flyers and restaurant menus. The library of patterns is not very large, but they are all auto-adjustable and will fit any type of document.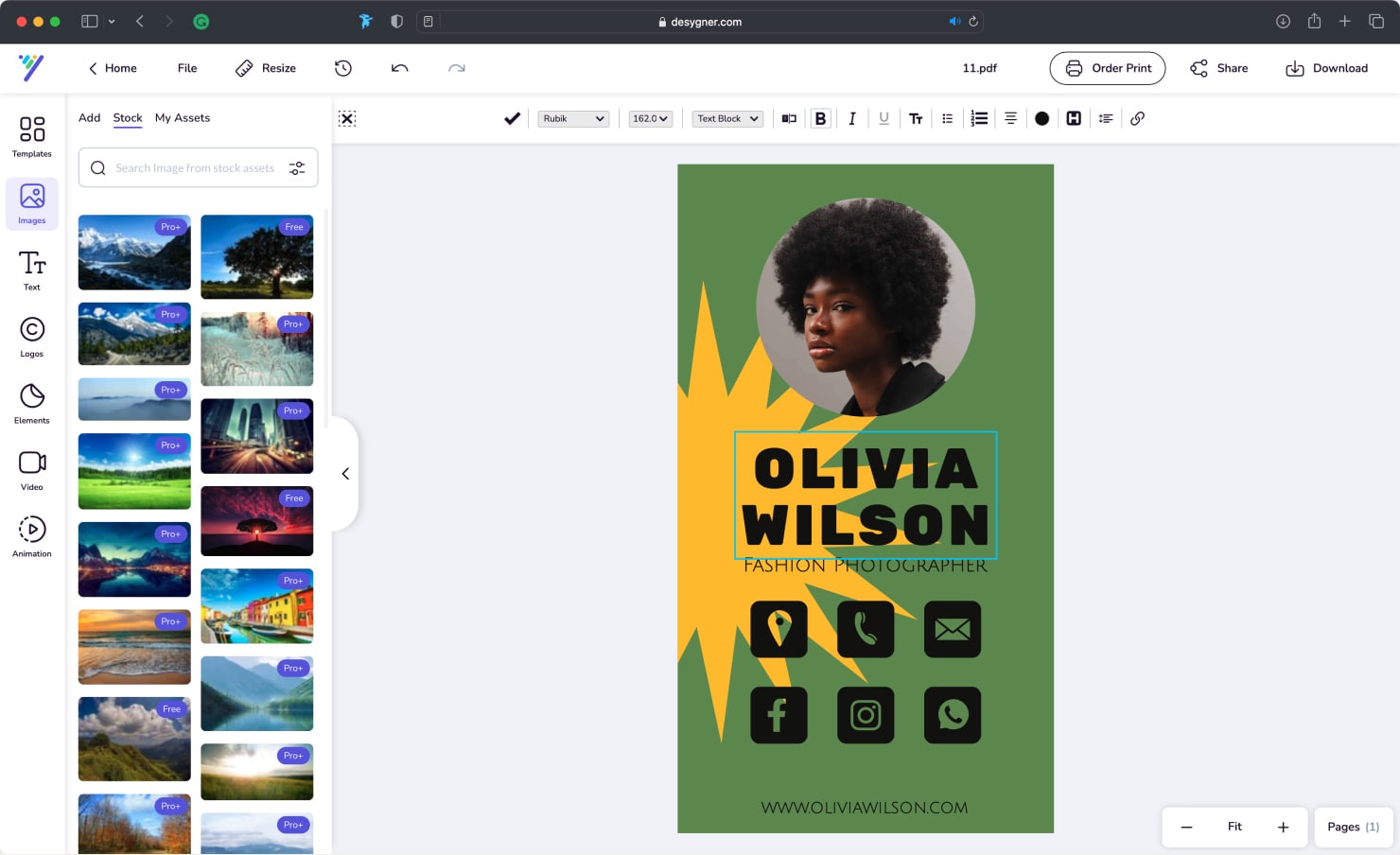 Desygner is intended specifically for promotional materials, as all of its features are aimed at reproducing quality visual information. Here, any user can upload and download their photos from the media library and insert them into their projects.
The software provides myriad options for exporting completed designs. The most common ways are downloading in PDF and PNG format.
Piktochart
Piktochart is a handy service for creating graphic content that allows users to produce custom charts for various infographic purposes. The platform has a huge library where anyone can access more than 1,000 different images for free. They may be used by firms to present information on their website and, if necessary, can be adapted for social media platforms.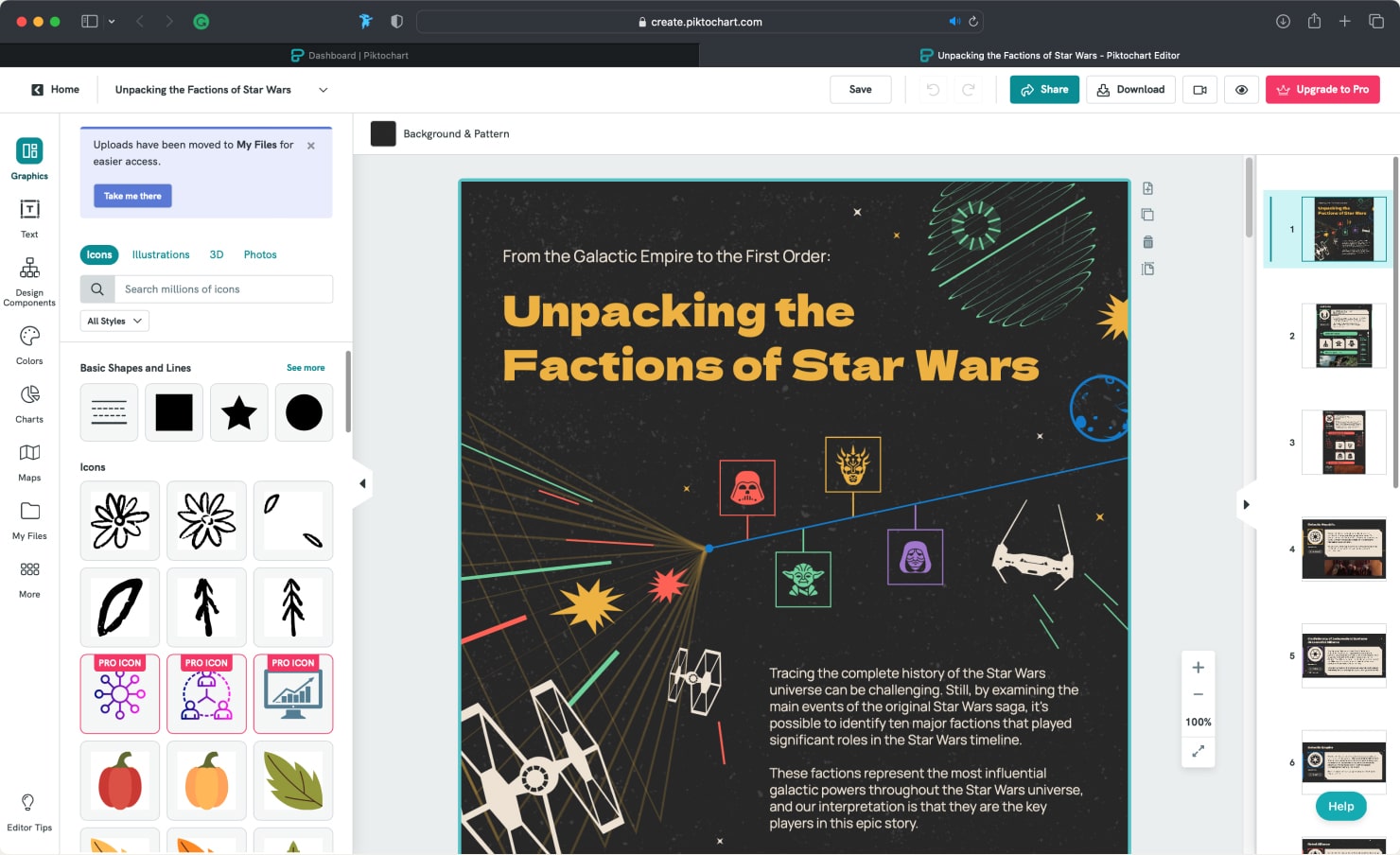 Here, users can choose the information sheets they want to improve and then browse through the perfect images. And it takes less than ten minutes to create a new infographic entirely from scratch.
Easil
Easil is an online editor for creating and sharing infographics and allows you to visualize information for reports, articles and posts. The software is designed to illustrate different types of data. For creating reports, advertising or presentations, Easil can be useful for specialists from different fields: trainers, managers, teachers and even students, who are often engaged in writing term papers or dissertations.
An important feature of the platform is the interface, which includes more than 1,000 templates, synchronization tools and of course a wide selection of pictures and fonts. That is why even a beginner is able to create perfect projects in less than a day.
The only disadvantage is limited access to some features and design elements. To fix this, you only have to purchase a subscription. If we believe the user reviews, it is worth it.
Due to its simplicity, power and accessibility, this software will surely please office workers, consultants and teachers, who will now be able to create worthy projects without in-depth knowledge.
To Sum It All Up
Canva and Adobe Express will be the best choice for those who are just starting their design journey because of their interfaces and template libraries that are great for printing.
Marq is perfect for all your purposes if you are already a professional in this business who works on large projects.
If you are a user who is interested in affordable programs with wide functionality, then you might want to consider VistaCreate, Easil and Desygner. The platforms have trial plans and low prices for the paid version compared to their competitors on the list. However, in spite of this, remember that you should always consider your desires, needs and web design skills when choosing software.
If you are planning to print your materials, take a look at Adobe Express and Desygner as they support CMYK color mode, because Canva and Easil only support RGB, while Marq, VistaCreate and Piktochart only support RGB and Hex colors, which is suitable for social media.
In conclusion, while web-based publishing software has its benefits, desktop publishing software remains a better option for professional designers and anyone seeking more advanced design capabilities. Desktop software typically offers more features, greater customization options and better performance, making it the preferred choice for complex design projects. Additionally, this software allows greater control over files and can be used offline, which is particularly useful for users who need to work without an internet connection.
If you're looking for a powerful yet affordable macOS alternative to Adobe InDesign, explore Swift Publisher and discover how it can simplify your design workflow.
Published: May 2023