How to Choose Business Card Paper
Business card paper contains ready-made business cards, perforated or glued with tape, which can be separated manually. As a rule, a sheet holds 8 to 10 business cards.
So, you've found the suitable business card maker and plan to create new business cards, take seriously choosing business card paper. There are many varieties of business card paper, the key characteristics and differences of the main ones are described below.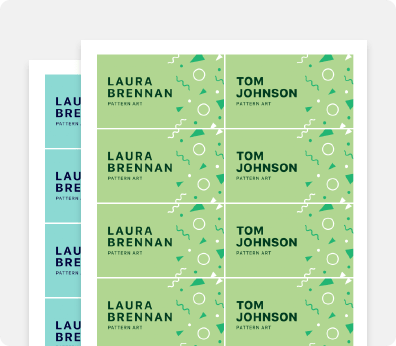 First of all, determine which printer you're going to use. For cards with plain design (text with black & white graphics) a monochrome laser printer will be fine. For color designs use an inkjet or color laser printer.
Note: Not any paper can be used in a laser printer. Avoid using glossy, textured and magnetic paper–it may damage a laser printer. With inkjet printers you can use any type of paper.
Let's see what kinds of business card paper can be, how they differ and what's the best way to use them.
Separation Methods
There are different ways to hold business cards in place on the sheet, and they determine the look of the cards after they are separated.
Perforated cards have slightly rough edges after you separate them, however, they normally cost 50% less than smooth edge cards.
Cards with smooth edges look more professional. Such cards are cut in advance and placed on thin base paper or secured by sticky tape from the back. When you separate the cards, their edges are perfectly clean.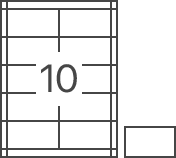 Coating
Business cards can be glossy, matte, textured and regular. If you have a photo image on the card, use glossy paper. Such paper may cost twice as much as regular paper, but the quality will be brilliant on an inkjet printer. Use textured paper to add unique look to your cards.
Note: Don't forget that glossy and textured cards are not compatible with laser printers!
Distance Between Cards
If you want to print a card that has a background image that covers the entire card, choose the paper with gaps between cards (normally there'll be 8 cards per sheet). While making the business card in Swift Publisher extend the background slightly over the card, to avoid positioning problems.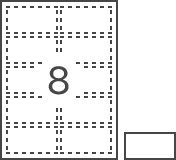 Pre-printed Cards
Some paper manufacturers (such as Paper Direct in the USA, Decadry or Sigel in Europe) produce cards with pre-printed background. If you plan to use such cards, consider the position of pre-printed graphics when creating your design.
PaperDirect Business Cards
Decadry Business Cards
Sigel Business Cards
What Is Cardstock?
Characteristics of cardstock are similar in different countries. The grammage of a cardstock defines how many grams per square meter the paper has. Both g/m² and gsm are commonly used to describe grammage.
The material's weight defines the paper's thickness and stiffness. Thus, for stiffer, more professional looking results, don't hesitate to use thicker sheets of paper. For instance, the cardstock from 18 pt to 48 pt is considered extra thick. For most typical projects, 14 or 16 pt paper is sufficient.
How to Define a Qualitative Paper Stock
Generally, lightweight 14 point paper is used for business cards. Therefore, choosing paper of higher quality is the key to success if one wants to stand out from the crowd. That's why you can choose 16 point or thicker paper for increasing the chance for your business card to be noticed and better promote your business. Thus, the material thickness emphasizes the business prestige.
The 14 point paper features an excellent price and quality ratio. Such paper has been the leader in the business card printing industry for many years. However, you can also opt for some more expensive options to draw attention to your business.
Such expensive variations like 32 and 48 point cards will allow you to experiment with card shape and design, including multiple variants of die cuts, edge styles, etc. Since they are stiffer and withstand damage better, these options should be used if you are searching for a lasting impression or outdoor performance. They won't be ruined as they're lightweight alternatives that are suitable for traveling and being stored without a special card holder.
When deciding on the budget, please consider whether a more expensive cardstock is worth it.
Revised: May 2023