Tips for Printing Business Cards
When you print business cards by yourself or order to print them in a print shop, you must think about maximum quality at acceptable pricing. The following tips concern mostly the quality while printing on a desktop printer.
The price of a single printed card will mostly depend on used paper stock. Cards with blank background will take less ink or toner, so they will be cheaper.
This article will tell you how to get best results with a certain printer, choose the paper, select the most appropriate design and avoid common mistakes. Also see the How to choose a printer and How to choose paper topics.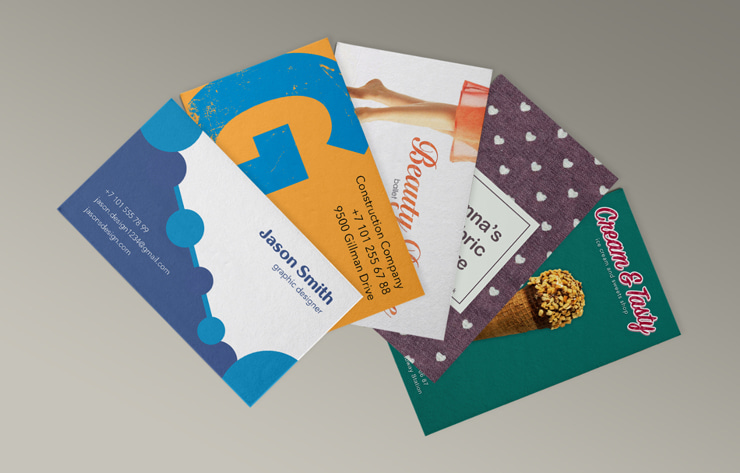 Printing Cards with Images or Gradient Colors
If you want to create (or already created) in Swift Publisher a business card which contains a photo or a picture with gradient colors—choose glossy paper to make sure the printed cards look as nice as on the screen. Otherwise, the print output may disappoint you.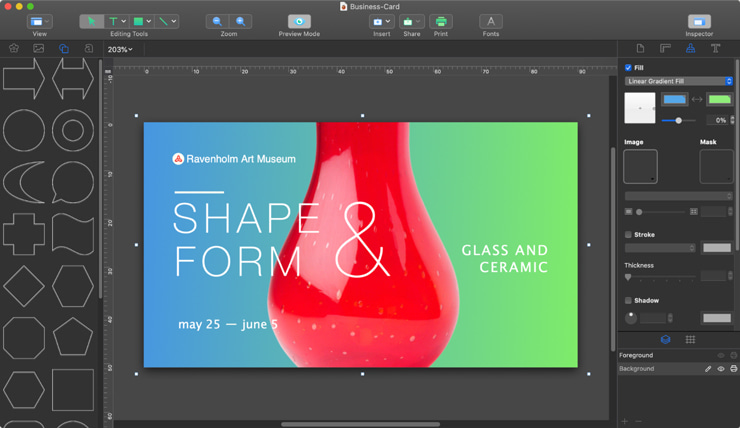 Printing Cards with Backgrounds
If your cards contain a background color or background image, choose the paper with gaps between cards (see details in How to choose paper). The gaps allow you to compensate the inevitable imprecision of the printer paper feed mechanism. Don't let the pictures on your design end exactly on the edge of the card. Allow a small distance to the edge, or, on the contrary, let it go over the edge (if it's background).
Fighting the Printing Offset on Inkjet Printers
Inkjet printers have a nasty habit of slightly zooming the print output. For this reason each next row of cards may be slightly offset up or down with respect to the previous one. By the end of the sheet the offset may come up to 0.5–1 mm. This doesn't seem to happen with laser printers.
How to fight this? Use the Scale field during the printer calibration process. This additional setting helps to avoid this problem.
Mind the Print Quality Settings!
Don't forget to set the desired print quality and color options in the Print dialog. It's convenient to save the most frequently used settings in the Presets list.
Printing on Paper Without Gaps Between Rows
On most business card stock cards follow each other closely, without gaps. If you don't want to have trouble with printing on such paper, make sure images and text are located at least 3 mm off the edges. Then the slight printer imprecision won't spoil your business cards.
Use Paper Compatible with Your Printer
When choosing business card stock, make sure it's compatible with your printer type. For instance, if you use paper with Glossy coating (Magnetic even worse) in a laser printer, you may end up with broken printer!
Printing on a Monochrome Laser Printer
When printing on a monochrome laser printer, avoid using too many colors in the design—or there'll be no difference between, say, the green and blue colors on the printout.
Printing Images in High Quality
As the printer resolution is much higher, than that of the monitor, you need to use high-resolution images to make sure they come out well on printed cards. Try to use the largest possible image then the print quality will not degrade. Also, try to use vector images whenever possible. For raster images, at least 300 dpi resolution is recommended.
A Tip for HP Laser Printers
On some Hewlett-Packard printers paper feeding accuracy can be not very good when using the default print settings. Most HP LaserJets have driver settings where you can manually set the type of media in the tray. Set it to "card stock" mode in the "printer features" panel—the printer will feed the paper slower and the accuracy will be much, much better.
Frequently Asked Questions About Business Cards
What Type of Business Card Should I Choose?
It depends on your needs and budget. To leave a lasting impression, a 16 pt premium coated design with a matte finish is the most popular solution. High-quality cards that are soft to the touch are also recommended to convey an impression of exclusiveness.
What Content Should You Include on a Small Business Card?
Aside from your personal data (full name and brand name), it is a good idea to include your company logo and contact details. The latter can be presented in the form of social media profiles, phone numbers and email addresses.
Should a Business Card Have the Owner's Photo?
This feature isn't characteristic of a typical design of a business card. It doesn't mean images aren't included—colorful backgrounds, company logos and other graphics are welcome. However, if you would like to make the communication more personal, cards with photos are more recognizable.
Should I Include Social Media Contacts on My Business Card?
Online communication becomes a more preferable format for interacting with customers and showing more details about your brand. Social media contacts will be resourceful for your marketing strategies, increasing user awareness of your services.
Should You Add a Logo on a Business Card?
Even if you design a small-sized business card, personalization is important. One of the ways is to add your company's branding elements to make it stand out among others. You can either use this information as the background or as a separate component of the layout. Whatever you choose, ensure the printed text will be readable.