Invitation Size Guide for Beginners
No matter what type of big dates you are going to celebrate, it has to be flawless. For this purpose, paying special attention to details will qualitatively differentiate your event from others and make it more personalized. Designing card invitations for your family, friends, etc., can be done creatively and in a super stylish manner in Swift Publisher for Mac.
The first task is to determine the size of the invitations and which of them is suitable for your intentions. Stay tuned to verify whether your selections are the best options.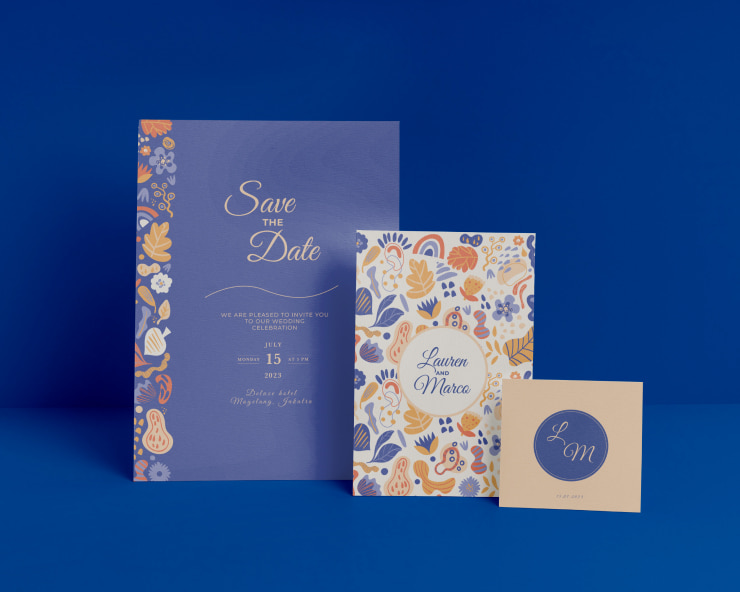 What You Should Know About Invitation Card Sizes
Without a doubt, there are certain matches between the party theme and the type of invitation to choose. This printed material can be easily compared to a movie trailer. With the help of your invitation, you tell your guests important details about the upcoming event in a brief and memorable manner.
By choosing the right invitation card size, you ensure the expected atmosphere and style will be easy to understand. Let's be more precise. Intimate parties for those people closest to you should be oriented toward chamber concerts and minimalist formats rather than gigantic and overly eye-catching layouts.
On the contrary, parties with many guests, such as epic office parties, will be more successful with large invitations. All in all, the more you are aware of the opportunities this field offers, the more precise your choice is going to be.
Standard Invitation Card Sizes
When people hear such word combinations, they think that the palette of possible choices is limited to only a couple of options. Considering the vast array of sample invitation envelope sizes, the opposite is actually true. Each and every size is individual. You don't even have to come up with unique dimensions since the present selection can be applied divergently and in a personalized manner:
If you are looking for the right size for RSVP cards, a minimal solution will work best. This format is known as A1 or Baronial and measures 3.5″ × 4.88″.
Rectangular-sized invitations are typical choices for home parties, graduation celebrations, birthdays and more. The folded size can vary from 4″ × 5.25″ to 4.25″ × 5.5″ or 4.5″ × 6.25″. The unfolded version is simple to calculate—its width is twice the size of the length.
The most typical invitation size for wedding cards is 5.13″ × 7″. For users of the metric system, the analogous version of this standard A7 format is 13.03 × 17.78 centimeters, with the width enlarged to 26.67 centimeters when unfolded.
The versions discussed above aren't included in the large category of invitations. If you desire something more voluminous, the so-called A10 format and its slightly smaller alternatives (A9 and A8) will come in handy. Their folded sizes are 5.88″ × 9.25″, 5.63″ × 8.63″ and 5.38″ × 7.88″, respectively.
Square invitation card sizes are also popular. Among several printing agencies, the three solutions below are the most popular:
If you're a fan of compact and meaningful designs, you might choose 5.5″ × 5.5″.
In this case, unfolding will result in doubling the geometric shape's length. For instance, the medium format of this type can be 6.25″ × 6.25″ folded and 6.25″ × 12.5″ unfolded.
For lovers of bright designs to save in frames, the large format is the right option—an equal-sided 6.75″ figure (or a 17.14-centimeter shape in accordance with the metric system).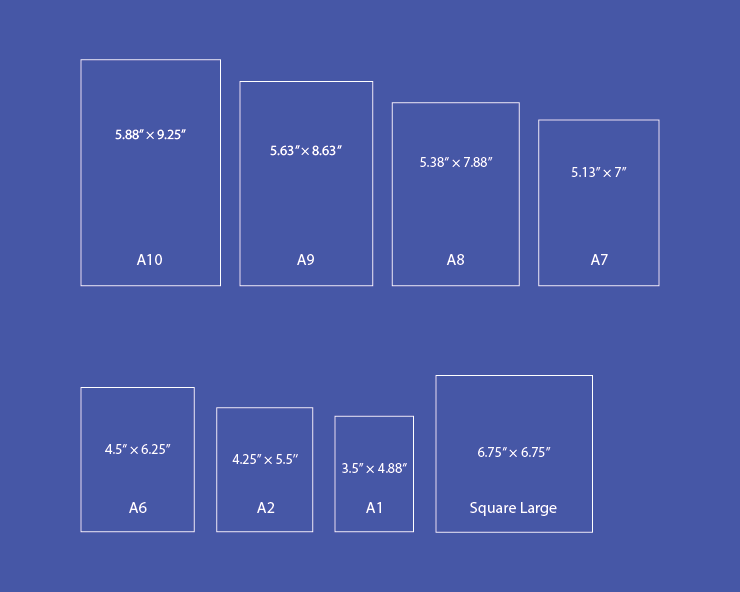 Professional Tips to Style Invitation Cards Perfectly
Aside from determining the invitation card size based on your event theme, the number of guests and more, it is highly important to take into account the following influential factors as well:
Budget—using standard invitation sizes will help you reduce the expected spendings and stay within the desired budget limit.
Delivery—if you are going to present invitations in person, this stage can be skipped. However, if you are going to be using postal services, it is necessary to check their minimum and maximum format requirements to ensure which final solution is better to consider. These standards can differ from country to country.
Color schemes—surely, the impact of a first impression can't be overlooked and can guide your guests along with the text information. This is another quick glimpse, letting invited parties understand what is going to happen during the planned event. If you are inviting guests to a baby shower, you might choose two traditional tones for this party. For team-building events, your company's branding tones are recommended.
Font—modern lettering and typography styles are truly second to none. You don't have to stick to one particular font fashion. To diversify the recipient's name, event date, dress code, etc., you can also apply bold, cursive and italic formats.
Composition—whether your final consideration is large or small invitation card sizes, you don't have to cover the space completely.
Revised: November 2022